In Windows 10, while opening a .WAV file attachment (voicemail files) or files of other formats such as JPG, PNG, Outlook 2016 displays 'How do you want to open this file' message. At other times, even if you have marked the 'Always use this app to open ….. files' checkbox, you may still experience the same problem. Running Outlook as Administrator doesn't help either. Most Outlook users report this issue while trying to open JPG files. But this can happen with other file extensions like PDF or PNG as well. If Microsoft Outlook keeps asking you How do you want to open this file for JPG, PDF, PNG, .WAV, etc. file types, even when you have made your choice clear and selected the Always use this app checkbox, then read further.
How do you want to open this file – Outlook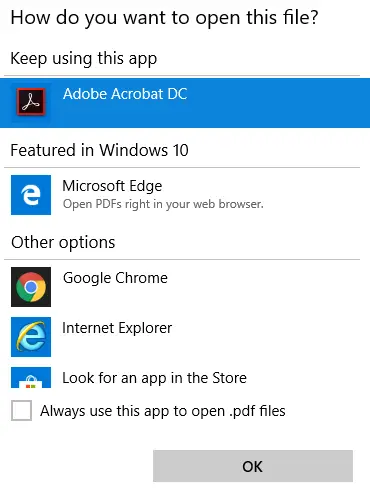 In Windows 10, many types of files can be opened via one or more programs. For example, you can open a photo with the Photos App or with Microsoft Paint, among others. As such, if you have set any of these apps as the default program to open JPG files, other apps like Outlook will keep seeking your permission and ask you How do you want to open this file? In this post, we are talking about JPG files as an example, but a similar process applies for other file formats as well.
Can't open JPG files in Outlook
Try the following solutions and see if they fix the problem.
1] Set a default program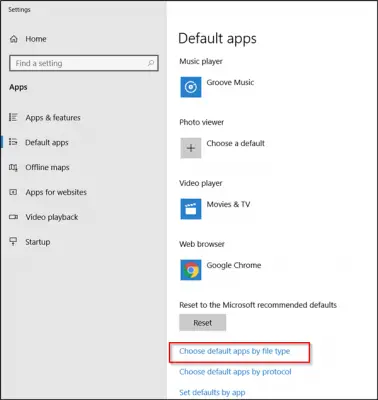 Open Settings > Apps > Default apps. Here, scroll down and move to 'Choose default applications by file type' link.
Now, scroll further to locate JPG and set the program you want to use.
These posts will show you in details how to set Program defaults and how to set File Associations & Extensions defaults.
2] Using Registry Editor
Create a system restore point first and then open Registry Editor and navigate to the following path address
Computer\HKEY_CURRENT_USER\Software\Microsoft\Windows\CurrentVersion\Explorer\FileExts\.jpg
When found, right-click the .JPG folder and select 'Delete' option.
Exit the Registry Editor and restart your computer.
Hereafter, you should not see the popup appearing again and asking you to how to open jpg files.
Fortunately, this solution works in many cases.
If everything fails, uninstall Outlook and try reinstalling it and see if the problem is resolved.