Every file opens with one of the built-in apps in Windows 10 by Microsoft. For example, you may want to set Photos as the default app for a photo viewer. If you are not satisfied with the options suggested by Microsoft, you can look up for additional options in the Microsoft store and choose the one of your preference. Personally, I prefer using the Microsoft recommended apps for better viewing – but your choice may vary and you may have chosen to another app to open a file and selected the Always use this app to open files option.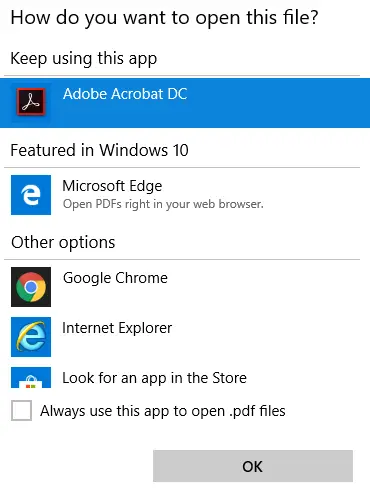 Now having done that, what if you now want to undo this choice and reset the settings to default? If you have selected some option to Always use this app to open a file with, and you would like to undo this action, then this post shows how exactly to do this.
Undo Always use this app to open files option
Click on the Start button and then further click on Settings. The Windows Settings panel will open. You will be able to see all the settings related to Windows.
Select the Apps option.
Next from the left side, select Default apps.
To undo or reset the app association for a single app, click on the app whose association you want to reset and then choose the option of your choice.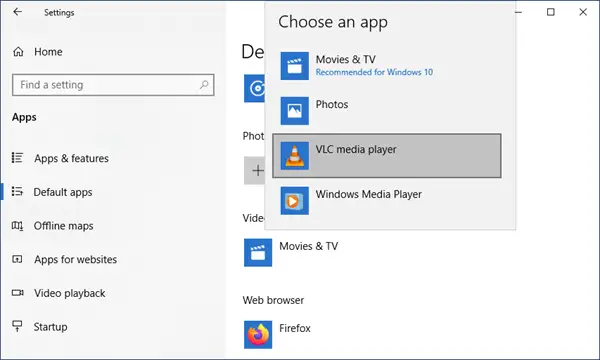 If you want to go back to the default apps for all files, that are recommended by Microsoft, scroll down the page and under Reset to Microsoft recommended defaults and click on Reset. This will reset all File Associations to default.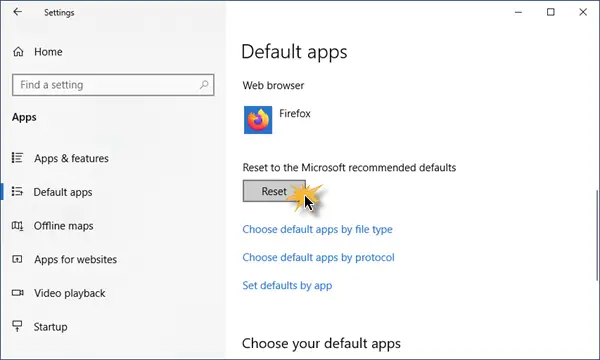 That's it!
This simple exercise will undo your action for the Always use this app to open files option.
Related: How to remove Programs from the Open With menu.