There may be a time when you want to reset all your Program and File Associations to default values in Windows 10. Windows 10 allows you to reset them to Microsoft recommended defaults. Here is how you go about it.
Reset all Apps & File Associations to default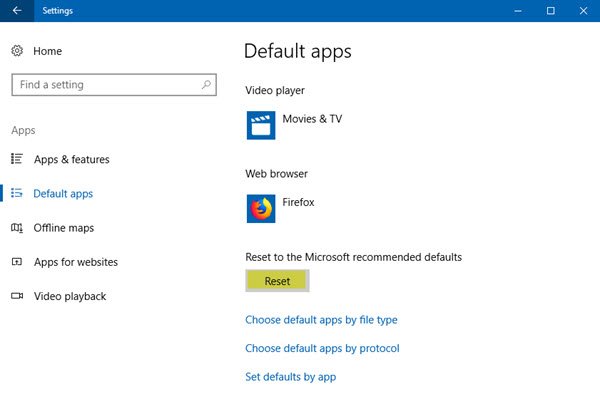 When you click open a file, it will open the file with your OS default app that is associated with it. It could be a web link, video file and so on.
For instance, Edge is the default browser in Windows 10, but you may have changed the file association to one of your choices like Firefox or Chrome. Similarly, you may have changed other file type associations too. Now if you want to reset all of their to their default values, do the following.
From the WinX Menu, open Settings and click on Apps settings.
On the left side, you will see Default apps. Click on it.
Scroll down a bit till you see an item – Reset to Microsoft recommended defaults.
Click on the Reset button and all your File Type Associations will be set to their original values.
It's so simple!
TIP: If you find that you cannot open a particular file type, then our File Association Fixer v2 for Windows 10/8/7 will be able to easily help you fix, repair and restore the broken file associations.