After updating Windows to a new build, you might notice that when you try to sign in to OneDrive, you encounter the error message There was a problem connecting to OneDrive with an error code 0x8004de40. In this post, we will identify the potential cause, as well as provide the most suitable solutions you can try to successfully fix this OneDrive error code.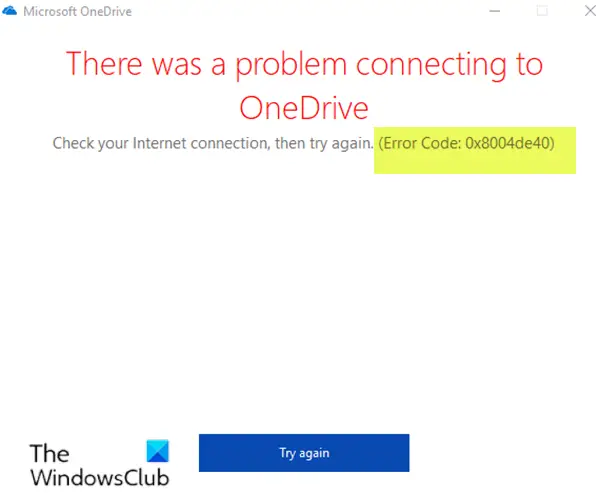 When you encounter this issue. you'll receive the following full error message;
Microsoft OneDrive
There was a problem connecting to OneDrive
Check your Internet connection, then try again. (Error Code: 0x8004de40)
Try again
This OneDrive error means the app is having difficulties connecting to the cloud. And the major cause of this is a poor or unstable internet connection.
However, it does not seem that the culprit of the error is actually the Internet itself. According to affected users, everything else (Outlook, Edge, Chrome, Store, etc.), except OneDrive app works.
Fix OneDrive error 0x8004de40
If you're faced with this issue, you can try our recommended solutions below in no particular order and see if that helps to resolve the issue.
Check Internet Connection
Modify Internet Properties
Disable Proxy settings (if applicable)
Reset OneDrive
Reset Winsock Catalog
Let's take a look at the description of the process involved concerning each of the listed solutions.
1] Check Internet Connection
Refreshing your Internet connection is the first maintenance procedure to try. If you are using Ethernet cable, try unplugging it and re-establish the connection. In case of Wi-Fi, try power cycling the modem and check if that helps to resolve the OneDrive error 0x8004de40.
Do the following:
Switch OFF the modem, router, and computer.
Switch ON the modem only and wait till the lights on the device are stable.
Now switch ON the router and wait till lights in the router are stable.
Finally, switch ON the computer and check if the issue is resolved.
2] Modify Internet Properties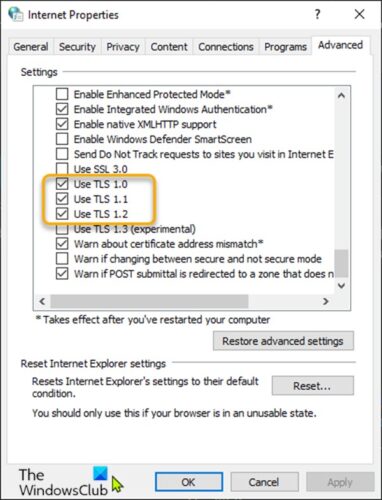 Do the following:
Press Windows key + R, to invoke the Run dialog.
In the Run dialog box, type inetcpl.cpl, and hit Enter to open Internet Properties applet.
In the applet, switch to Advanced tab.
Now, check the following options:
Use TLS 1.0
Use TLS 1.1
Use TLS 1.2
Click Apply and OK to save the changes.
Restart your computer.
See if the issue is resolved. If not, try the next solution.
3] Disable Proxy settings (if applicable)
A Proxy server could trigger this error due to some kind of interference that ends up blocking communications between the OneDrive app installed on your Windows 10 device and the internet/cloud. In this case, you can try to remove any proxy server from your computer and see if that resolves the issue.
4] Reset OneDrive
You can try resetting OneDrive and see if that helps to resolve the issue.
5] Reset Winsock Catalog
This solution requires you to reset Winsock and see if that helps.
Hope this helps you fix this OneDrive error.
How do I fix OneDrive sync issues in Windows 11?
If OneDrive is not syncing files/folders in your Windows 11 system, then connect your OneDrive account to Windows using the Settings app and then restart the sync process. If this doesn't help, check if all folders you want to sync are selected. You need to use the Choose folders section in the Account tab of OneDrive settings for it. You can also unlink your PC and sync once again or reset the OneDrive to fix sync issues.
How do I fix a corrupted OneDrive?
If you are having trouble using the OneDrive app on Windows 11/10, you can reset it to fix your problem. For Microsoft 365 subscribers, there is a Restore your OneDrive feature that can be used to undo all actions on files and folders within the last 30 days (Yesterday, Three weeks ago, custom date and time, etc.). So, if your OneDrive files are infected with some malware, corrupted, overwritten, etc., you will be able to restore your OneDrive account.
Related post: OneDrive error code 0x8004de34.