Are you encountering the Audio service error message One or more audio service isn't running? If so, read on! In this post, we will outline the scenario in which you might experience this issue as well as provide the most appropriate solutions you can try to successfully resolve the issue.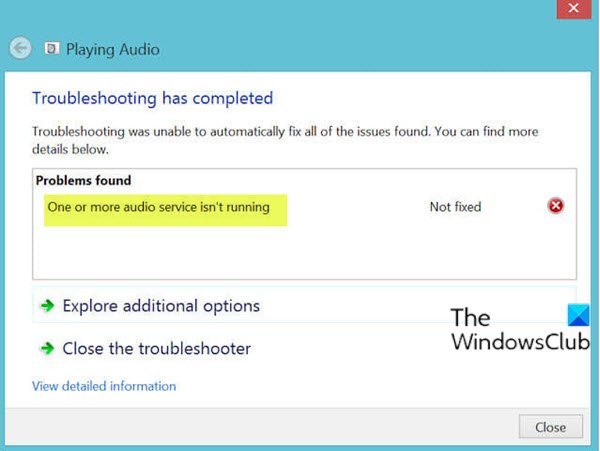 This error on Windows 10 is a common error for users. It occurs when either trying to troubleshoot audio playback or when the PC starts to have some issue while playing sounds.
One or more audio service isn't running
You may see this error when you run the Playing Audio Troubleshooter. Windows 10 includes the Playing Audio Troubleshooter, which you can easily invoke via the Control Panel, the Taskbar Search, or the Troubleshooters tab of our freeware FixWin 10. You can also access it from the Troubleshooters Page in Windows 10.
If you're faced with this issue, you can try our recommended solutions below in no particular order and see if that helps to resolve the issue.
Check the status of audio services
Update audio drivers
Reinstall audio drivers
Let's take a look at the description of the process involved concerning each of the listed solutions.
1] Check the status of audio services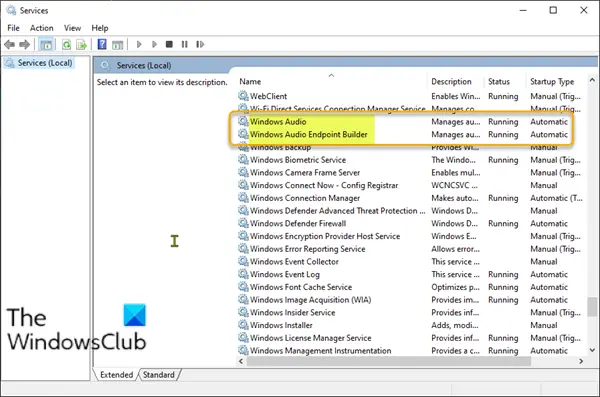 Do the following:
Press Windows key + R to invoke the Run dialog.
In the Run dialog box, type services.msc and hit Enter to open Services.
In the Services window, scroll and locate the Windows Audio service.
Right-click the service and click Restart from the context menu.
Next, double-click on the service to edit it's properties. Make sure the Service status is running and the Startup type is set to Automatic.
Click Apply > OK to save changes.
You should ensure that its Dependency Services are started and have Automatic Startup type:
Remote Procedure Call
Windows Audio Endpoint Builder
If the Multimedia Class Scheduler Service is present on your system, that too should be Started and set on Automatic.
Read: Audio services not responding.
2] Update audio drivers
A missing or outdated audio driver may also trigger the issue. In this case, you can either update your drivers manually via the Device Manager or get the driver updates on the Optional Updates section under Windows Update.
3] Reinstall audio drivers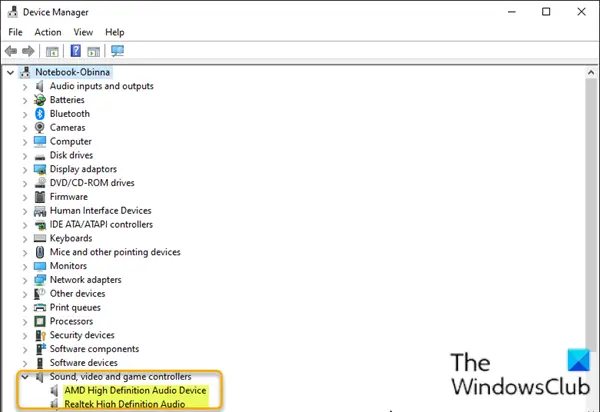 To reinstall your audio drivers via Device Manager, do the following:
Press Windows key + X to open the Power User Menu.
Press M key on the keyboard to open Device Manager.
Once you're inside Device Manager, scroll down through the list of installed devices and expand the Sound, video and game controllers category.
For each audio device under that category, right-click on it and select Uninstall device.  Click Uninstall if prompted for confirmation.
Restart your computer.
On boot, check, if the issue is resolved.
Hope this helps!