To mitigate the threat of viruses, worms, or malware, and help protect your PC, files from the internet or any other potentially unsafe location are opened in Protected View on your Windows 11 or Windows 10 device. In this post, we provide the solutions to the issue of Office document attachments open in Protected View in Outlook. This problem occurs even though the email was sent to you by another user in your organization via Microsoft Exchange Server.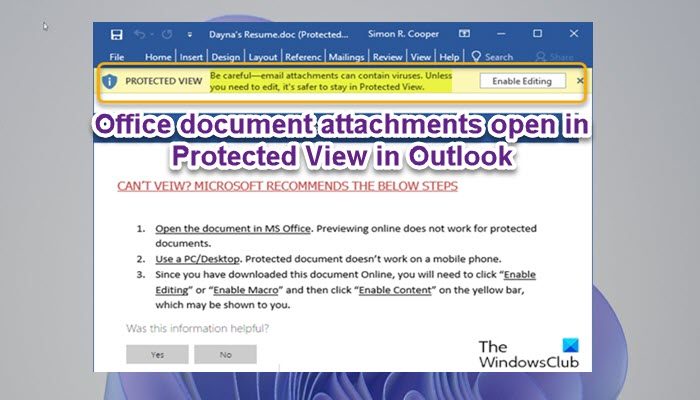 There could be different reasons why your file or attachment is opening in Protected View in Outlook. For example, it can happen if the file was opened from an unsafe location, the file is blocked by File Block Settings, there is a problem with the file because of which the file validation failed, etc. It can also happen if you use the Open in Protected View option for a file.
When this issue occurs, either of the following notification is displayed at the top of the document.
Be careful – email attachments can contain viruses. Unless you need to edit, it's safer to stay in Protected View.
This file originated as an e-mail attachment and might be unsafe. Click for more details.
Office document attachments open in Protected View
If Office document attachments open in Protected View in Outlook on your Windows 11/10 PC, you can try our recommended solutions in the order presented below to resolve the issue on your device.
Disable Protected View
Troubleshoot Outlook in Safe Mode
Temporarily disable security software
Modify MarkInternalAsUnsafe Registry key
Contact IT Administrator
Let's take a look at the description of the process involved concerning each of the listed solutions.
1] Disable Protected View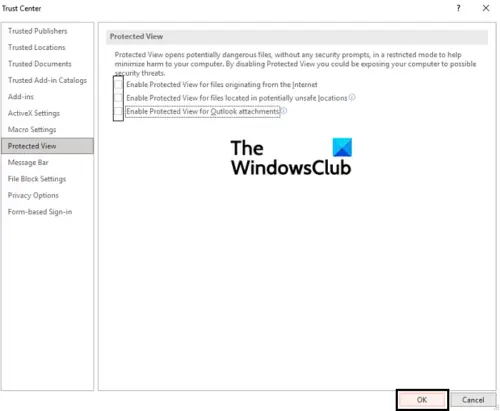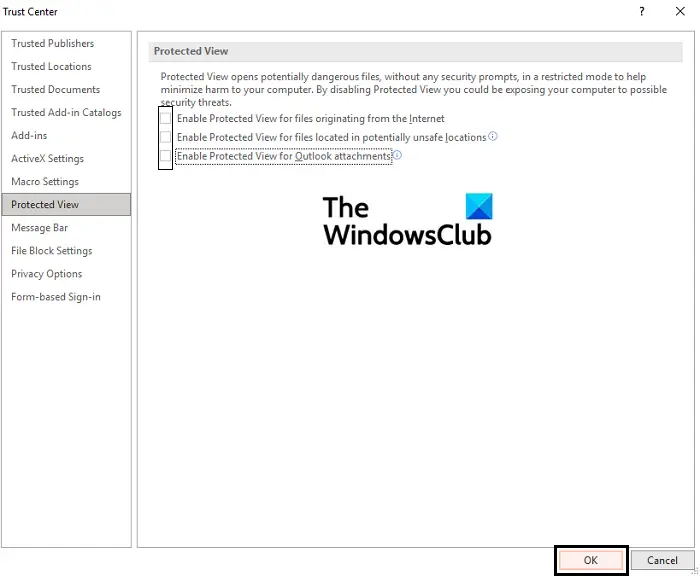 To begin troubleshooting to resolve the Office document attachments open in Protected View in Outlook issue on your Windows 11/10 PC, you can simply disable Protected View in Microsoft Office and see if that helps. Otherwise, try the next solution.
2] Troubleshoot Outlook in Safe Mode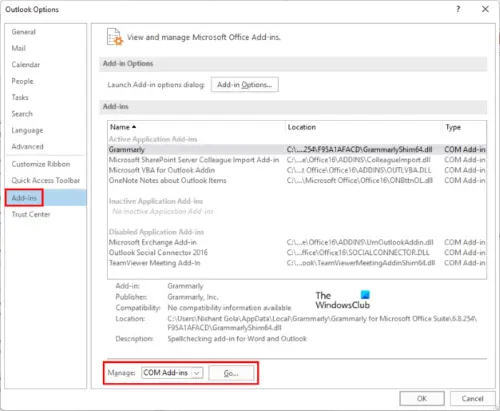 The error in view may occur due to some Outlook third-party add-ins you have installed on your system. To rule out this possibility, you can launch Outlook in Safe Mode. In Safe Mode, Outlook will be launched with add-ins disabled with only the essential add-ins enabled.
To launch Outlook in Safe Mode on your Windows 11/10 PC, do the following:
Press Windows key + R to invoke the Run dialog.
In the Run dialog box, type outlook.exe /safe and hit Enter.
Next, select the Outlook profile from the drop-down menu that you want to launch in the Outlook Safe Mode.
Follow the instructions in the guide on how to fix Outlook error 0x800CCC67 to complete the troubleshooting.
If the issue is still unresolved, you can try the next solution.
3] Temporarily disable security software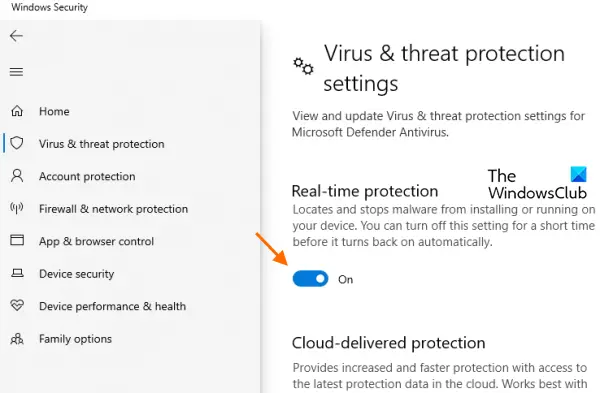 Antivirus and firewall particularly from third-party vendors installed and running on your Windows 11/10 computer can be the culprit here; especially if Protected View is already disabled for Office documents. In this case, you can temporarily disable security software on your PC.
This largely depends on the security software you have installed. Refer to the instruction manual. Generally, to disable your antivirus software, locate its icon in the notification area or system tray on the taskbar (usually in the lower right corner of the desktop). Right-click the icon and choose the option to disable or exit the program.
You can disable Windows Defender if that's the security software you're currently running on your device.
4] Modify MarkInternalAsUnsafe Registry key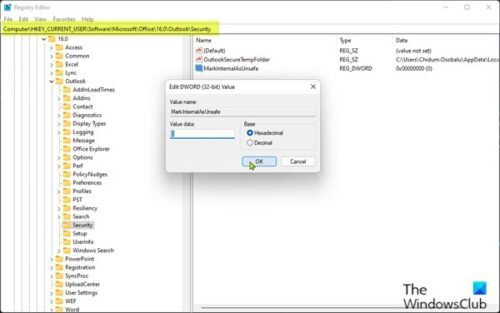 Since this is a registry operation, it is recommended that you back up the registry or create a system restore point as necessary precautionary measures. Once done, you can proceed as follows:
Computer\HKEY_CURRENT_USER\Software\Microsoft\Office\x.0\Outlook\Security
Note: The x.0 placeholder denotes the version of Office Outlook (Outlook 2010 = 14.0, Outlook 2013 = 15.0, Outlook for Microsoft 365, 2019, 2016, 2021 = 16.0) that you're using on your system.
At the location, on the right pane, double-click the MarkInternalAsUnsafe entry to edit its properties.
In the properties dialog box change the Value data from 1 to 0.
Click OK or hit Enter to save the change.
Exit Registry Editor.
Launch Outlook.
5] Contact IT Administrator
By default, Office document attachments are not opened in Protected View if the email message originates from inside your own Exchange organization. So, if nothing has worked so far for you and the issue in hand is still unresolved, you can contact your IT/Exchange Server administrator. Your system administrator may have to disable the Use Protected View for attachments from internal senders policy in the Group Policy Management Console.
Hope this helps!
Related post: Microsoft Word opens files in Read-only mode in Windows 10
How do I open attachments in Outlook without asking?
To open attachments in Outlook without asking, follow these instructions:
Start Outlook as an administrator by pressing and holding the CTRL+SHIFT key while clicking on the Outlook icon.
Accept the User Account Control (UAC) security prompt.
Provide administrator credentials when prompted.
Open the attachment and uncheck the box for the Always ask option.
Close Outlook and start it normally.
Hope this helps.