The NO USER MODE CONTEXT, 0x0000000E stop error can occur when a program is trying to leverage the use of a system driver but fails to do so. Some of the causes of NO USER MODE CONTEXT bluescreen of death error are corrupted or incompatible drivers, incorrectly configured Windows Registry entries, Malware infection, damaged memory locations, etc. This Stop Error occurs infrequently and indicates that an attempt to enter user mode with no context was made.
Fix NO_USER_MODE_CONTEXT Blue Screen
If this is the first time you have restarted after installing additional hardware, remove the hardware and restart again. Check the Microsoft Hardware Compatibility List to verify that the hardware and its drivers are compatible with your OS. If that does not help, then the following potential fixes will be carried out to fix NO_USER_CONTEXT stop error on Windows 10-
Update, Rollback or Disable certain Drivers.
Run System File Checker.
Use Windows Memory Diagnostics
If you tend to create a System Restore point usually, you can try to undo any modifications on your computer, by performing System Restore. It is also recommended that you carry out the tasks mentioned below in Safe Mode.
1] Update, Rollback or Disable select Drivers
The best practice for you should be to go to the website of your manufacturers like NVIDIA, AMD or Intel. Go to the section called Drivers and download the latest definitions from there.
After the download has been completed, just install the graphics driver and reboot your computer.
Alternatively, after booting into the Safe Mode, open Device Manager.
The main drivers that might be a cause for this Blue Screen will be listed under the section of Display Adapters inside of the Device Manager. So if you recently updated these drivers, roll back and see. If you did not, then we suggest you update these drivers.
2] Run System File Checker
Right-click on the Start button and click on Command Prompt (Admin), type in the following command to run System File Checker and then hit Enter.
sfc /scannow
Restart your system after the scan is completed.
You can also use our freeware FixWin to run the System File Checker utility with a click.
3] Use Windows Memory Diagnostics
In order to fix any issues with your RAM, follow the following steps.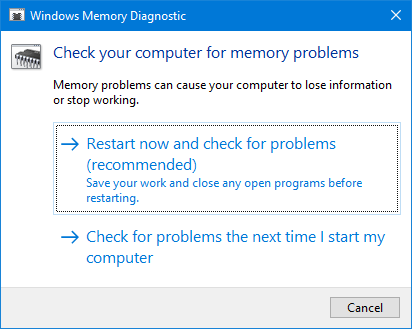 Run the Memory Check on your computer. Start by hitting the WINKEY + R button combination to launch the Run utility. Then type in, mdsched.exe and then hit Enter. It will launch the Windows Memory Diagnostic Tool and will give out two options-
Restart now and check for problems (Recommended)
Check for problems the next time I start my computer
Now, according to the option selected by you, the computer will restart and check for memory-based problems. If you get any issues there, it will fix it automatically else if no issues are detected, this is probably not the cause of the issue.
Can a PC blue screen for no reason?
A Blue Screen occurs due to hardware or software issues. You will no longer see a blue screen until Windows detects a critical hardware or software fault on your system. A BSOD can be an indication of damage to a hardware or a hardware component, like RAM, hard disk, etc. In some cases, BSOD can also occur due to a corrupted device driver.
Can a blue screen fix itself?
Hardware and software issues are responsible for a blue screen on Windows computers. When a blue screen occurs, your computer displays an error message and restarts automatically. If there is a serious hardware issue, the blue screen keeps occurring. A BSOD error cannot be fixed by itself. You have to troubleshoot the BSOD error to resolve the issue. To troubleshoot the BSOD error, you can view the BSOD log file created by Windows.
Did this help?