MSI Afterburner is the most used graphics card software. Usually, it works seamlessly, however, at times, you may find that your MSI Afterburner is not detecting GPU on Windows systems – and everything is greyed out. In this article, we are going to talk about this issue in detail and see what should be done to resolve this issue.
Why is my GPU not being detected?
There are various reasons why your GPU drivers are not detected, first of all, it can be because of improper connection. You have either not connected your display to the right port, or your connecting cable has malfunctioned. We should also check the settings and make sure it is not misconfigured. Other reasons include outdated Graphics Drivers, Vanguard anti-cheat programs, corrupted software, and interfering applications. We will talk about everything in detail and see what should be done to resolve the issue.
MSI Afterburner not detecting GPU
If MSI Afterburner is not detecting, showing or recognizing GPU on your Windows 11/10 computers, here are some suggestions to help you.
Check the connection and cable
Disable low-level IO driver
Update your Graphis Drivers
Do you have Vanguard anticheat?
Troubleshoot in Clean Boot
Reinstall MSI Afterburner
Let us talk about them in detail.
1] Check the connection and cable
If you are using an external monitor then make sure to connect it to the dedicated GPU port and not the integrated one. Also, do check the cables and make sure that they working fine. You can connect the same cable to a different computer to know if it is faulty, replacing a faulty cable is pretty inexpensive. After ruling out these possibilities move to the solutions.
2] Disable low-level IO driver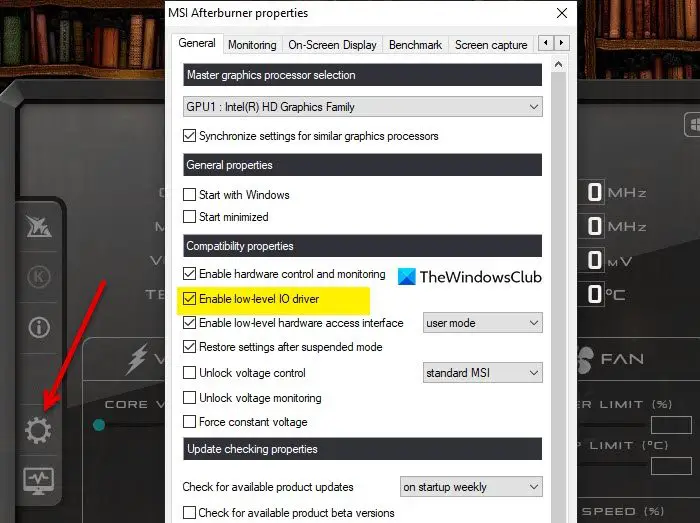 The issue can be because of misconfigured settings. For a lot of users, disabling low-level IO drivers from MSI AB's properties has worked. So, follow the given steps to do the same.
Open MSI Afterburner.
Click on the cog button to go to its settings.
From Compatibility properties, untick Enable low-level IO driver.
Click Apply > Ok.
Finally, restart your computer and see if the issue persists.
3] Update your Graphics Driver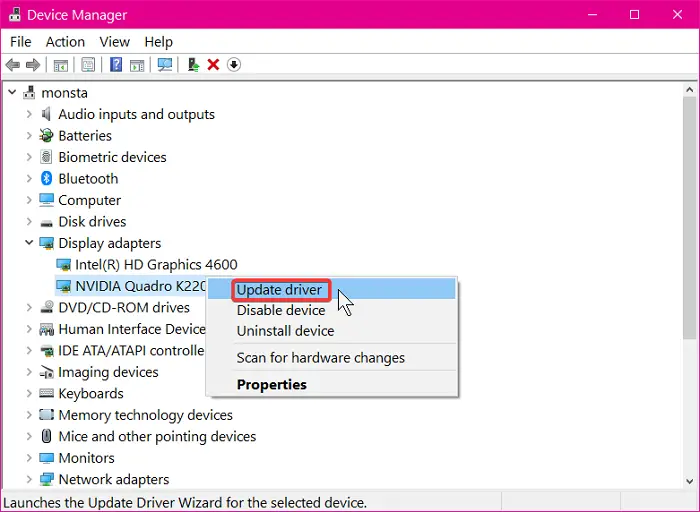 Chances are outdated GPU drivers are triggering this issue because of compatibility issues or because of a bug. We have to update those drivers and see if that works.
After updating your Graphics driver, restart your computer, open MSI AB, and check if the issue persists.
4] Do you have Vanguard Anticheat?
According to a lot of users, Volarent's Vanguard anti-cheat program has been causing the issue. The anti-cheat program is interfering with the MSI AB and causing the issue. However, we can not be sure about this, that is why you should first disable the app and see if it works. If the issue is resolved, then uninstalling the program will definitely resolve the issue. To uninstall Vanguard on Windows 11/10 computer, follow the prescribed steps.
Open Windows Settings by Win + I.
Go to Apps > Apps & Features.
For Windows 11: Click on the three vertical dots and click Uninstall. For Windows 10: Select the app and click Uninstall.
Finally, restart your computer and reopen MSI Afterburner. Hopefully, this will resolve the issue for you.
5] Troubleshoot in Clean Boot
Vanguard is not the only application that can interfere with MSI Afterburner, there are a lot more culprits here. To find them out, you have to perform Clean Boot. This way, you will boil down the possible culprits to find the exact one. Once, you know what's causing the problem, just remove and you will be good to go.
6] Reinstall MSI Afterburner
If nothing worked, then maybe we are dealing with a corrupted installation package of MSI Afterburner. There are various reasons why your package got corrupted, missing features, improper download, etc are some of the common causes. We won't go into the details of it, but we are going to tell you the only way to resolve the issue, that is, by reinstalling the program. First of all, uninstall the program from your system, then restart the computer. Go to msi.com and download Afterburner. Hopefully, this will do the job for you.
Hopefully, you are able to resolve the issue with the mentioned solutions.
Can MSI Afterburner damage my GPU?
MSI Afterburner won't damage your GPU. It is there to alter your Graphics Drivers, and we haven't heard any reports of the software damaging the GPU in any shape or form. However, it can cause abrupt crashes of third-party software and games. So, bear in mind, if you are using the app to overclock, and your game starts crashing, try disabling MSI AB and then check the application.
Also Read: Best free tools to benchmark CPU and GPU on Windows computer.