If you have some Markdown (*.md) format documents for which you want to generate a copy of PDF documents, then this post is helpful. We have covered some best free Markdown to PDF converter software and online tools for Windows 11/10 in this post. You get a pretty good output containing the headings, links, and/or images from the Markdown format file. Once you get the PDF file, you can open it in some browser or PDF reader software to check the output.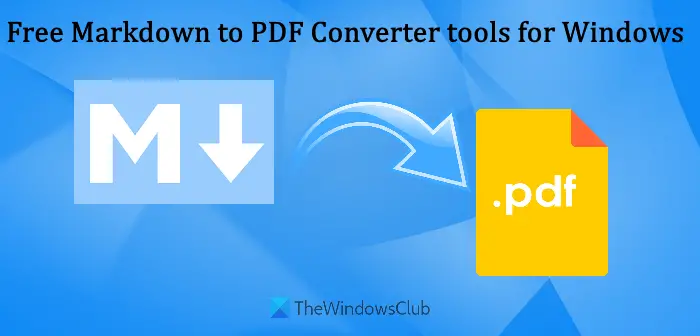 Free Markdown to PDF converter software and online tools
Here is a list of free Markdown to PDF converter tools to help you convert .MD to PDF easily:
MarkText
Markdown Edit
CloudConvert
Markdown to PDF
PDFCreatorOnline.
Let's check all these Markdown to PDF converters one by one.
1] MarkText
MarkText is open-source software that comes with a distraction-free interface. This tool lets you create and edit Markdown files with ease. It supports a tabbed interface. So, once you have added a folder, you can access files present in that folder from the left section, and open your Markdown files in different tabs.
One of its unique features that makes it a bit better than other similar tools is you can set export options for the output PDF file. Options like set paper size (US Legal, A4, A3, US Letter, etc.), page margins, auto numbering headings, set header and footer, and adding the table of contents can be used by you to generate a better PDF document.
There are some other interesting features that make it a handy Markdown editor and Markdown converter software. It lets you:
Save document changes after defined milliseconds
Wrap text in tables
Use spell checker
Set line-height and font size to work with its editor
Turn on the auto-complete markdown syntax option
Show real-time word count (number of paragraphs, characters, and words)
Insert custom table
Copy text as plain text, Markdown, or HTML
Export Markdown as PDF or HTML
Enable focus mode (fades all lines and paragraphs excluding the selected line)
Choose from any of the 6 different themes to work comfortably.
So, the features are pretty good that you can use from the menus available on its interface.
To use this tool for converting Markdown to PDF, grab it from github.com. After opening its interface, use the File menu to add a Markdown file or a folder containing your Markdown files.
After that, select a file and start editing it (if necessary) using the options present in the given menus. When your file is ready, access the Export section present in the File menu, and select the PDF option in that section.
An Export Options box will open where you can set available options related to the output PDF. When everything is ready, use the Export… button and save the PDF file to a folder of your choice.
2] Markdown Edit
Markdown Edit is portable software that comes with a clean interface and some interesting features. It lets you create, add, and edit an HTML, DOCX, or Markdown file on its interface. You can also see a live preview of the input file. The left section is there to create a new file or edit an input file and the right section shows the output content (including word count). This is a good feature as you will get to know how your output PDF will look after converting the Markdown file.
It also lets you access all the supported hotkeys (by pressing F1) to use this tool more easily. Apart from that, you can also access its Settings to toggle options like spell check, word wrap, autosave, highlight current line, line numbers, etc. The feature to convert a Markdown file to PDF is also supported. Let's check how to use this tool as a Markdown to PDF converter:
Grab the MSI file of this tool from softpedia.com
Install the tool and launch its interface
Use the Open (or Ctrl+O hotkey) option available on the top right part to add a Markdown file
Now you can start the editing the file using the left section (if necessary) and preview the output on the right section
When you are done, click on Save as icon
In Save as window, select a location where you want to store the output file
Enter a name for the output file
Select PDF from the Save as type drop-down menu
Press the Save button.
Also read: Best free Open Source Document Editor software for Windows 11/10.
3] CloudConvert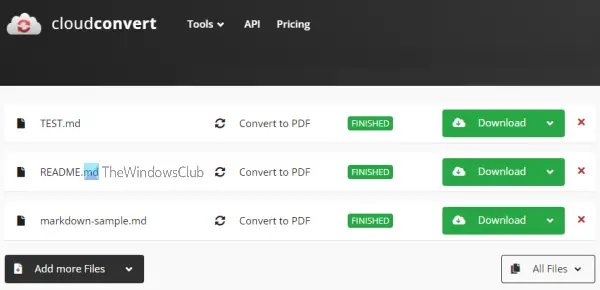 CloudConvert is one of the best free services for PDF conversion and other tasks. There are more than 200 formats supported by this tool for conversion. Whether you want to convert audio-video files, a Word document, images, eBooks, archives, etc., it has separate tools for each file type.
An MD to PDF Converter tool is also there that lets you convert a single MD file or multiple Markdown files to separate PDF files. You can also set Input Markdown Syntax (strict, mmd, Pandoc, or GitHub) before conversion or leave it to default (none). Its free plan lets you perform 25 conversions per day but that would be sufficient in most cases.
To convert Markdown files to PDF, open the homepage of this tool, and use the Select File button to add input files from your computer. You can also use the drop-down menu available in the Select File button to add an online Markdown file or upload input files from your OneDrive, Google Drive, or Dropbox account.
When the files are added, set the Input Markdown Syntax if needed, and then hit the Convert button. After that, this tool will upload those files, process them, and convert them to PDF files. This tool also lets you preview all the converted files which is a good feature. This will help you check if the output is good or if you need to change its syntax. If you are satisfied with the output, then you can download each file one by one or all files in one go in a ZIP archive.
4] Markdown to PDF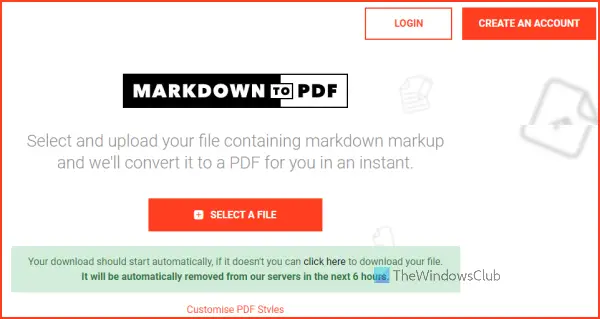 Markdown to PDF is a very simple online tool on this list. It doesn't provide any extra options to get the output PDF from a Markdown file. Though the options are present to set heading font color, font size, paragraph font size, link color, etc., such options are present in its paid subscription, and you need to sign up to get a trial for those options.
To use it, open its homepage from markdowntopdf.com. There, click on the SELECT A FILE button, and done. It will automatically process the input Markdown file and then the download prompt will open to help you save the output PDF in a folder of your choice.
Its free (without signing up) plan is good enough to quickly convert Markdown to a PDF document. Also, this tool doesn't mention any size limit and number of conversions per day, and it processed input files successfully during my testing without showing any limit notification or warning.
5] PDFCreatorOnline
PDFCreatorOnline is a PDF suite that comes with more than 25 different tools. You can use it to convert Word to PDF, compare PDF files, add a stamp to PDF, extract images from PDF, validate PDF/A, remove password from PDF, merge PDF files, split PDF files, add page numbers to PDF, etc. A Markdown to PDF converter tool is also there.
The free plan of this tool lets you upload a maximum 250 MB Markdown file(s). You can also upload multiple Markdown files and generate a single PDF file from input documents by merging them.
Access this tool from tools.pdfforge.org. There either drag n drop Markdown files from your computer to its interface or use the Select file button to upload input files. You can also insert an online file URL for conversion.
Once the files are uploaded, use the left section to set:
Page orientation: Portrait or landscape
Paper size: Letter, legal, or A4
Style: Modest Monospace, Open Sens Serif, Retro Monospace, etc.
An option to insert a page break is also there. You can either set all these options or keep the default settings. Finally, click on the Convert button available in the right section, and you will get the PDF file that you can save to your computer.
How do I convert a Markdown file to PDF?
There are some free tools available over the internet that let you convert a Markdown file to PDF. You can use some online Markdown to PDF converter or software to convert your Markdown documents to PDF files. While online tools may have file size limitations and few features, software don't come with a file size limit and support other features like previewing a Markdown file, creating a new Markdown file, and editing your Markdown file before converting to PDF. Keeping all such things in mind, we have created a list above that covers some best free Markdown to PDF converter tools. You can go through this list and see which one is good for you.
How do I open MD files in Windows 11?
An MD (Markdown Document) file can be opened in any text editor software like Notepad, Notepad++, etc. However, if you want to open as well as edit some markdown files with features like previewing the output content (as HTML), using a spell checker, inserting tables, etc., then you should use a feature-rich Markdown editor that includes all such options. Thankfully, there are some best free Markdown Editor software for Windows 11/10 that serve this purpose. You can either use such tools or simply use a simple text editor that helps to show the content of your Markdown file.
Hope this is helpful.
Read next: Best free PDF to audio converter software and online tools.