If your laptop doesn't start when using the battery but starts when plugged in, read this post to learn how to fix the issue. A few Windows users have reported that their laptop doesn't boot while on battery power, but as soon they connect it to the adapter, it boots without any issue. For some users, the issue only occurs when they turn on the PC, while for others, it continues after the PC has booted (when they remove the adapter, the laptop shuts off instead of switching to the battery mode).
If you're in a similar situation, continue reading this post. We will walk you through some effective troubleshooting tips that will help resolve this issue on your Windows 11/10 PC.
Laptop doesn't start when using battery but starts when plugged in
If your laptop doesn't boot without the adapter, ensure your battery is not completely drained. Plug in the laptop and let it charge for a while. Then try starting the laptop without any external devices connected (USB drives or other peripherals can sometimes cause booting issues in Windows). If your laptop still doesn't start while on battery but starts when plugged in, the battery itself may be faulty. To fix this, you'll need to replace the battery.
If you're sure it is not a battery issue, use the following solutions to fix the problem:
Reset Windows default power plans.
Reinstall the battery/AC adapter drivers via Device Manager
Check for a dead CMOS battery.
Update BIOS/Windows/drivers.
Perform an EC reset (Hard reset).
Let us see these in detail.
1] Reset Windows default power plans

Each Windows laptop has a default power plan selected that balances performance and power-saving features in the system's settings. When these settings are changed or the laptop is being operated in high-performance mode, battery-related issues may appear. In such a case, resetting the power plans to their factory settings helps fix the issue.
Open Command Prompt using administrator privileges and execute the following command:
powercfg -restoredefaultschemes
Reboot your PC and see if it starts without being plugged in.
2] Reinstall the battery/AC adapter drivers via Device Manager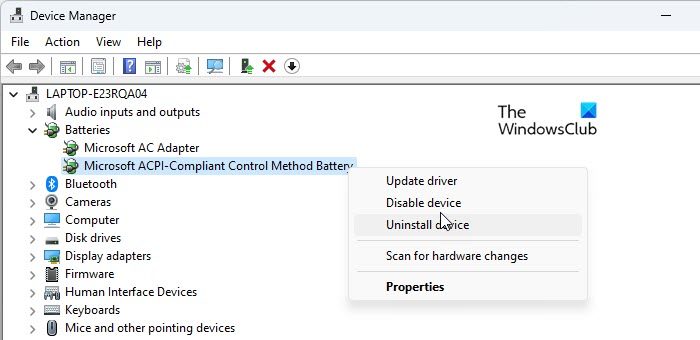 Next, reinstall the battery/AC adapter drivers and see if it helps.
Right-click on the Start button icon and select Device Manager. Double-click on the Batteries option to expand the section. Then right-click on Microsoft ACPI-Compliant Control Method Battery and select Uninstall Device. Again, select Uninstall in the confirmation popup.
Repeat the same steps to uninstall the Microsoft AC Adapter driver (located under the Batteries section in the Device Manager).
Once both the drivers are uninstalled, reboot your PC. Windows will automatically re-install the missing drivers. Check if the issue is resolved.
3] Check for a dead CMOS battery
A few users have been able to successfully resolve the issue by clearing the CMOS battery in their laptops. CMOS battery is a piece of hardware that powers the BIOS firmware in a laptop. Even when your computer is not plugged into a power source, BIOS must continue to function (It instructs the system how to boot up the OS). The CMOS battery supplies this power to BIOS.
A dead CMOS battery can cause your laptop to encounter boot-up issues. If you receive signs or symptoms of a CMOS battery failure, you should reset or clear CMOS to fix the issue.
4] Update BIOS/Windows/drivers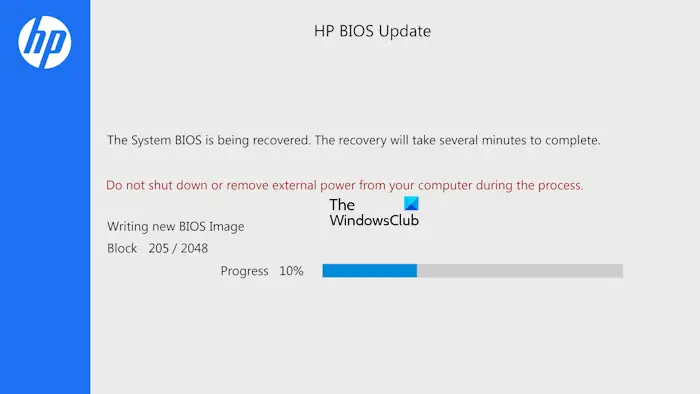 Keeping your system up-to-date might help resolve many issues, including battery issues in laptops.
A BIOS update could possibly bring fixes or improvements related to battery management in your system. However, it carries risks and challenges and can lead to further issues if not done correctly. Consult your manufacturer's support documentation for precise instructions on performing a BIOS update. If you're not confident about doing it on your own, take your laptop to a technician for help.
Also install any pending Windows updates, as well as driver and optional updates and see if it helps.
5] Perform an EC reset (Hard reset)
Embedded Controller (EC) is a chip on the motherboard that controls the hardware and power management settings on a Windows PC. A hard reset is performed to restore system hardware to its default state and troubleshoot hardware and battery management issues in laptops.
The steps to perform an EC reset may vary depending on your laptop's manufacturer and model; however, following is a general description of the procedure:
Remove all external devices from your system and save all your work.
Turn off the laptop and unplug the adaptor to disconnect the power. If your laptop has a removable battery, remove it as well.
Press and hold the power button for atleast 40 seconds.
Release the power button.
Reinsert the battery if you've removed it in step 2. Now reconnect the power adapter and turn on the computer. See if the issue is resolved.
If none of the above solutions help, and your laptop is still under warranty, contact your PC manufacturer's customer support for further assistance. If the warranty has expired, consider hiring a skilled technician to diagnose and fix the issue.
Also Read: Windows laptop turns off when unplugged even with new Battery.
Why does my laptop start only when plugged in?
Several potential reasons could lead to battery issues in your laptop. The most common cause is a discharged or faulty battery. Other reasons could be loose or damaged battery connectors, incorrect power management settings, an outdated or corrupt BIOS, outdated drivers, or a malfunctioning hardware.
How to reset laptop battery?
The steps to calibrate the laptop's battery may vary for different laptop models and operating systems, but here's a general outline. Let the battery drain until the laptop shuts down automatically. Turn off the laptop and open the battery compartment. If the battery has a dedicated 'Reset' button, press it. If there's no such button, plugin the adapter and power on your laptop. Once it boots into the OS, turn it off. If the laptop requires the battery to turn on, long press the power button for 30 seconds. Now while the laptop is still off, reconnect the battery and let it charge for atleast an hour. Then restart the PC. The battery should be reset nicely.
Read Next: Windows Laptop Battery Plugged in but Charging slowly or Not charging.