If you are waiting for a tool, which can do many of your tasks within minutes and make your work easy, then your wait is over. The name of this tool is Copilot which Microsoft has launched and it depends on open AI ChatGPT. The Microsoft 365 Copilot feature automates several processes in Outlook and offers helpful ideas to help your work more productively. This tool will allow people to create documents, read and summarise emails, and craft presentations. In this tutorial, we will discuss how to add and use Copilot in Outlook.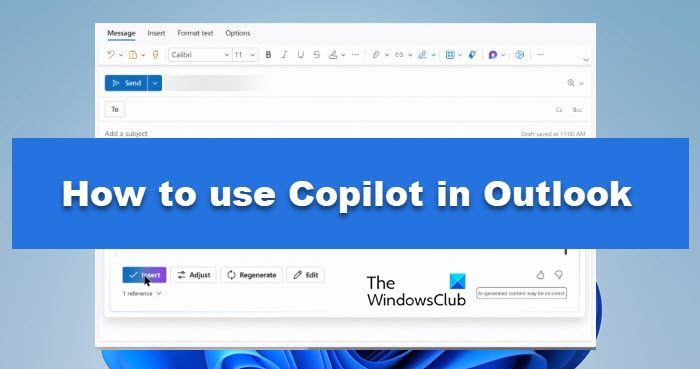 What is Microsoft 365 Copilot.?
Microsoft 365 Copilot is a new tool that helps users to create high-quality content with the help of artificial intelligence(AI). This tool can help you with various tasks like writing blogs, emails, making presentations, and making suggestions for style, tone, grammar, and spelling mistakes in a very efficient way. As you can see the copilot is very easy to answer anything, if users give any instruction to the copilot then it will give a relevant answer which matches the user's intent. This feature is available in various Microsoft 365 applications such as Word, Outlook, PowerPoint, and Teams.
How to add and use Copilot In Outlook?
In this section, we will see how you can add and use Copilot in Outlook. Follow the prescribed steps to add Microsoft Copilot in Outlook:
Open Outlook and go to the File tab.
Click on Options and select Mail from the left side of the menu.
Here, in the Compose messages section, check the box next to Enable Microsoft 365 Copilot.
Finally, click OK to save the changes and close the Options window.
Here's how to use Microsoft Copilot in Outlook:
To use Copilot, compose a new email.
As you start writing your email, you will see a blue icon at the bottom right corner of the message window. This means that Microsoft 365 Copilot is verifying your word and it will display relevant suggestions in real-time.
To view Copilot suggestions, press Ctrl + space on your keyboard.
A sidebar will appear on the right side of the window and it will show the suggestions such as clarity, conciseness, formality, politeness, and tone.
You have seen many suggestions here, you can select as per your requirement.
At the top of the sidebar, you can also view an overall score for your email based on how well it adheres to the style and tone you planned.
Click on Send as usual after finishing revising your email.
That's how you can enable Copilot in Outlook.
Read:
How do I activate Microsoft Copilot?
To activate Microsoft Copilot, you need to make changes to Outlook's Settings. You need to check the box of Enable Microsoft 365 Copilot. To know how to do the same, check the aforementioned steps.
Read: How to add a Custom Dictionary in Word, Excel, and Outlook?
Is Copilot available in Microsoft 365?
Yes, Copilot is available for Microsoft 365. With the help of Large Language Models (LLMs), Copilot integrates your data from Microsoft Graph and Microsoft 365 apps to make it efficient for you to use Office apps.
Read: How to use Copilot in Excel.