Designed especially for professionals, Microsoft 365 Copilot has caused quite a stir since its release. Whether it's the AI chatbots like ChatGPT or Microsoft Copilot, the entire purpose of these tools is to boost your overall productivity.
That said, the Microsoft 365 Copilot comes integrated with the apps like Word, PowePoint, Outlook, Teams, and Excel, which makes your life easier with your daily tasks. So, if you are new to Copilot and wondering how to use it in Microsoft Excel, we have a quick guide for you.
What is Microsoft Copilot?
Microsoft 365 Copilot is designed to help you with your mundane tasks, thus, saving your overall work time. It comes built-in with the Microsoft 365 office apps and more of their other products like emails. This next-gen AI chatbot was created by OpenAI and is based on Multi-modal Large Language Model (LLM). It's especially useful for organizations looking to enhance productivity.
However, at this moment, Microsoft Copilot is not available for general Windows users. Having said that, you can enable its preview version in MS Word and Excel. We have created a short guide for beginners on how to enable and use Copilot in Excel.
How to use Copilot in Excel
While it's a lot similar to Bing Chat, it's more useful for those working on spreadsheets. The chatbot allows you to be in control of your Excel sheet data and be more analytical. You can also ask anything using natural language, get suggestions for formulas for your queries, predictions for "what if "scenarios, create a SWOT analysis, and more.
So, if you are a finance professional working on Finance models, it can be super beneficial for you. Here's a quick guide on how to enable and use Copilot in Microsoft Excel and take advantage of its strengths.
1] Join Microsoft 365 Insider program
Before you enable and use Copilot in Microsoft Excel, make sure that you are using the 16.0.16401.20000 or higher version of the Excel app. But, if you are not, then you will have to register your Office installation in the Insider program. For this, you would need to subscribe to Microsoft 365 Family or Personal.
To join the Microsoft 365 Insider program, launch Microsoft Excel > File > Account > Office Insider > Join Office Insider > Beta Channel > OK. Once you are enrolled, exit the Office apps, launch Excel, navigate to File, and then click on Accounts again. Here, check for updates and make sure it's updated to the latest preview version.
Read: How to join Microsoft's Early App Preview Program
2] Enable Microsoft 365 Copilot in Excel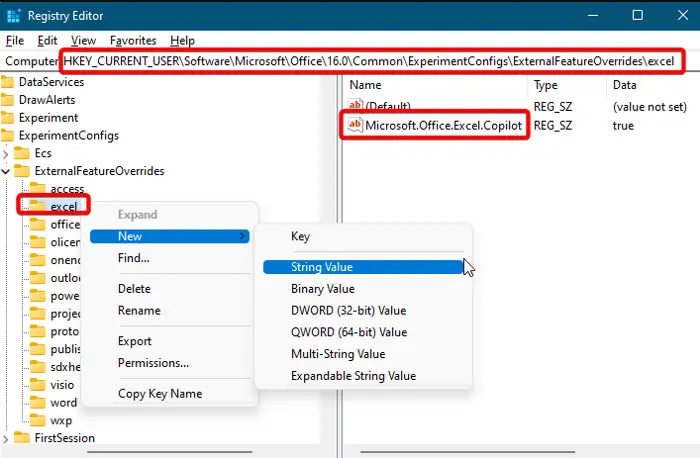 Now, you can proceed to enable the preview version of Copilot in Microsoft Excel using Registry Editor. However, before you proceed to make any changes to the registry settings, make sure that you create a backup of the registry data. This is to ensure that you can recover any lost data during the process.  Now, Open the Registry Editor, and navigate to the below path:
HKEY_CURRENT_USER\Software\Microsoft\Office\16.0\Common\ExperimentConfigs\ExternalFeatureOverrides\excel
Next, right-click on the Excel key, select New, and click on String Value. Now, rename the new String Value as Microsoft.Office.Excel.Copilot. Double-click on it, set the value as true, and press OK to save the changes. Once done, exit the Registry Editor, and restart your PC for the changes to be effective.
Now, launch Microsoft Excel and the Copilot button should appear on the upper right side. However, since this is the preview version, it may not function properly. To undo the changes, delete Microsoft.Office.Excel.Copilot string that you created under the Excel key.
Read: How to use Copilot in Outlook
3] Using Copilot in Microsoft Excel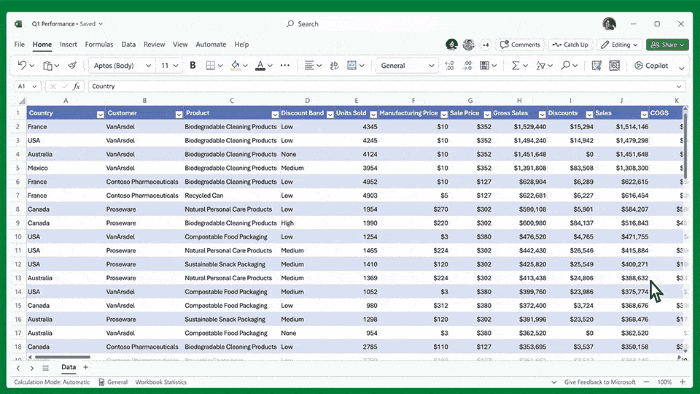 Once the Copilot feature is successfully enabled, launch Excel. To start using the feature, create a new workbook or open the current one you have been working on. Click on the Home tab in the toolbar, press the Copilot button, and a sidebar will open on the right side of the screen.
Here, you will see suggestions and insights about your current data. Moreover, you can do a lot more using natural language queries, financial modeling & scenario analysis, create intense visualizations, and streamline the financial process. Here's how:
You can ask a question about your data set or type in a cell, and Copilot will recommend formulas and functions based on the current data on your worksheet.
Use prompts like "Create a financial model on how a shift in the growth rate for [variable] would affect my gross margin."
Generate visuals to present your results using prompts like "Project the impact of [a variable change] and generate a chart to help visualize".
Ask Copilot to assist you with certain processes and request recommendations. This will help you make your daily financial tasks like budgeting, forecasting, etc., more efficient.
Read: How to use Copilot in PowerPoint
How do I add Copilot to Microsoft Office?
Copilot is the AI chatbot service that will come embedded with all Microsoft apps and its other products. So, to enable the service, you need to click on the Copilot button in the app. You can then start using it by typing in commands, like insert a table, please group the sales records by location, etc.
Read: How to use Microsoft Copilot in Word
Is Microsoft Copilot free?
Microsoft will promote its chat-based AI assistant, the Copilot, as a licensed add-on subscription which will cost $30 per user per month. According to reports, it will be a Premium subscription that you should use along with Microsoft 365 E3 or E5 licenses which cost 36$ and 57$.