ChatGPT is emerging to be one of the significant inventions in the field of natural language processing. It is a conversational AI model developed by OpenAI based on GPT (Generative Pre-trained Transformer) architecture. Using it, you can generate human-like responses based on your inputs. It can be used for various purposes including content creation, generating programming codes and scripts, language translation, question-answering systems, chatbots, and much more.
This service can be used on the OpenAI website in a web browser. You can open the main page of ChatGPT, click on TRY CHATGPT, sign in with your account, and start querying the chatbot. While it is great on the web, what if you want to use it as a standalone desktop app on your PC? Well, you can do that too. Let us check out how.
ChatGPT Desktop App for Windows 11/10
ChatGPT is an amazing AI-powered chatbot available on the web. The good thing is that the service is also available as a desktop app. A desktop application of ChatGPT is available for Windows as well as other operating systems. Although the official desktop app by OpenAI is not yet available, you can use the website wrapper of ChatGPT by a front-end developer. It works exactly like how you use it in a web browser.
How to install ChatGPT on Windows?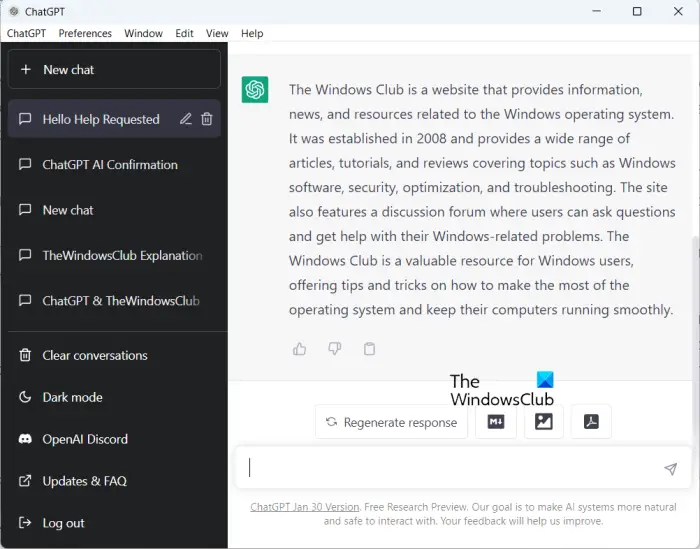 The ChatGPT Desktop Application is available on GitHub to download. It is an open-source application. Thus, you can also download, study, and manipulate its source code. Simply navigate to the Releases section on its GitHub page and download the latest version of ChatGPT for Windows. After downloading the main executable, double-click on it and install the application on your computer. It is also available for Mac and Linux in case you want to use it on these platforms. Once ChatGPT is installed on your computer, you can launch it and start using its features.
The first thing you need to do to use this app is to log in with your registered account. If you don't have a registered account, you can sign up with an email account and then log into ChatGPT. It also allows you to log in with your Google and Microsoft account. When you are logged in, you can start a conversation with ChatGPT and it will reply with relevant information.
Read: Things you can do with ChatGPT.
Key Features of ChatGPT Desktop Application:
As this desktop app is simply a website wrapper of ChatGPT, all those features that you get in the web app version of ChatGPT are available in it. You can just click on the New Chat button and start a fresh and different conversation.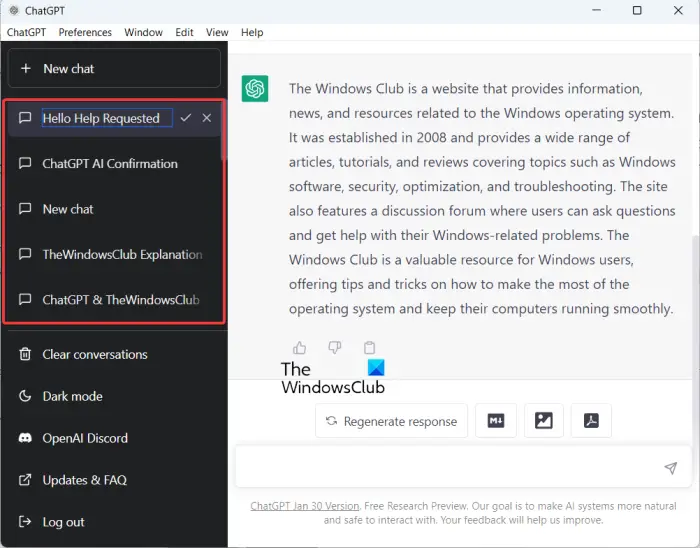 It also stores all the previous conversation threads that you can access from its left-side panel. So, if you want to check any of your previous chats, you can simply click on them and access all the previously generated responses from ChatGPT. You can also rename a particular chat or delete a chat as per your requirements.
Read: How to use Bing Chat in Edge?
ChatGPT desktop application also offers a Regenerate Response button using which you can regenerate a particular response if you didn't like an answer. It lets you like or dislike a particular response to send your feedback.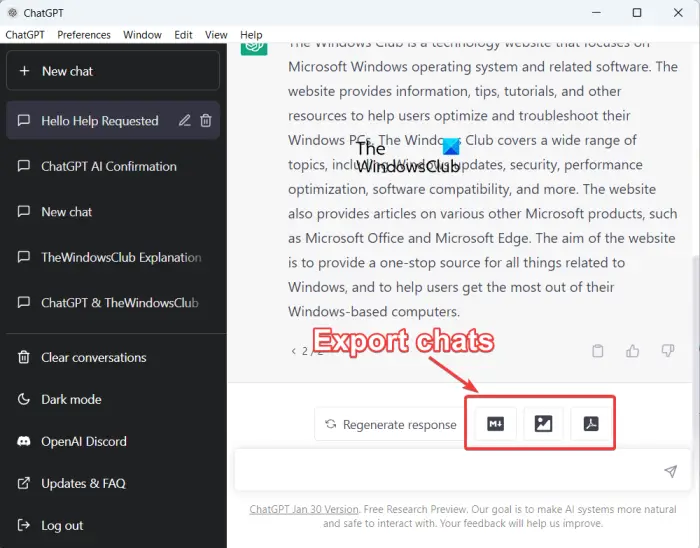 The advantage of this desktop app is that it also offers export features that are not available on the main web app. These export features allow you to save a particular chat locally in different formats. It lets you export conversations in Markdown format, PNG image format, and PDF document format. You can even copy the response to the clipboard.
Read: ChatGPT is at capacity right now; How to bypass?
Besides the above-mentioned features, you can change the appearance of the app using Light or Dark mode. In case you want to delete all the conversations, click on the Clear conversations button from the left panel and confirm the action. It will clear all your previous conversations.
TIP: Use ChatGPT on Google Search and Bing Search.
Here are some other features that enable you to customize the app:
You can set up application preferences using options like Stay On Top, Theme, Syn Prompts, Clear Config, Pop-up Search, etc.
It also provides various view options that include Go Back, Go Forward, Scroll to Top of Screen, Scroll to Bottom of Screen, Zoom Out, Zoom In, etc.
All in all, it is a nice free and open-source ChatGPT desktop app for Windows 11/10.
Now read: Best free ChatGPT alternatives.