Here is a list of the best free ChatGPT alternatives. ChatGPT is a hot topic these days. It is an AI-powered chatbot platform based on GPT (Generative Pre-trained Transformer) architecture developed by OpenAI. It uses natural language processing (NLP) and deep learning algorithms to understand user input and generate relevant responses. It helps businesses generate brand names, business taglines, advertising content, and much more. It also helps individuals in different aspects like blog writing, content rewriting, etc.
You can use ChatGPT for free. OpenAI has released the tool to the general public for free currently. You can visit the OpenAI website and select its ChatGPT tool. And then, click on the TRY CHATGPT button, create a free account, log in with the account, and start using it.
While ChatGPT is amazing, you might also want to explore more options that you can use as an AI chatbot. Thus, we have curated this list of some great free ChatGPT alternative tools that you can use. Now, let us check out this list.
Best free ChatGPT alternatives
Here are the best free alternatives to ChatGPT that are great language model chatbots:
Perplexity AI
Chatsonic
Character AI
OpenAI Playground
Rytr
Peppertype.ai
1] Perplexity AI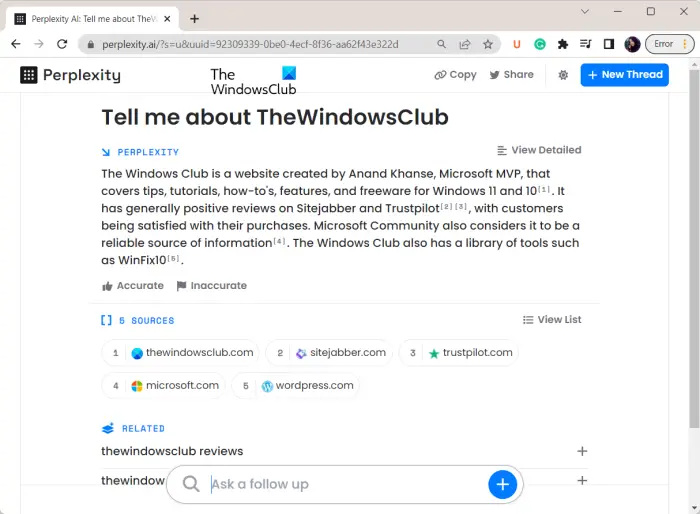 Perplexity AI is another free ChatGPT alternative which is very good. The advantage of this tool is that you can use it without registering an account. Just go to its website, enter your query, and it will reply in a blink of an eye. It also shows some trendy topics that you can ask about.
It generates quite accurate content on queries. You can view the concise or detailed answer as per your requirements. It also quotes the source from where it has fetched the information. So, you can click on the source link and then look up the accuracy of generated data. Besides that, it also shows a Related section where it mentions some related queries that you can get information about. It lets you ask a follow-up question or create a new thread by pressing the New thread button for a new query.
You can copy the link of the page to your query and share it with others online. You can also share the results via Twitter.
I quite liked this tool as you can use it without any signup. Plus, the AI-generated answers by this tool are precise. You can use Perplexity AI for free here.
Read: Things you can do with ChatGPT.
2] Chatsonic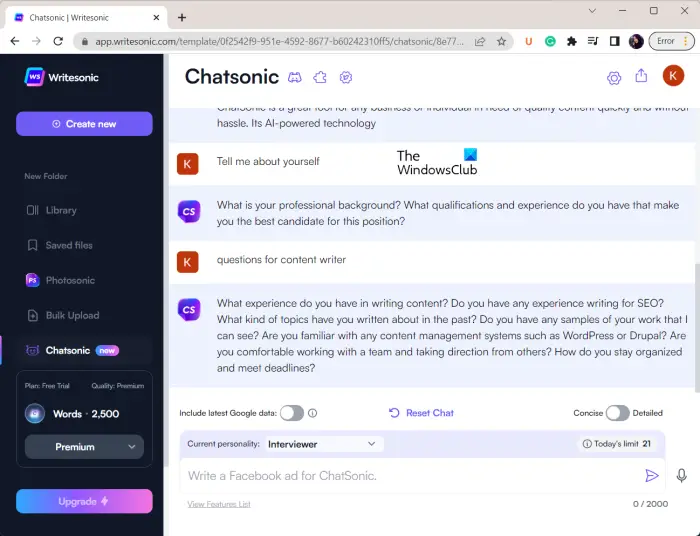 Chatsonic is one of the best free ChatGPT alternatives. It is a conversational AI chatbot that uses NLP and machine learning to quickly generates factual content for you. You can have a question-answer session with it, ask about the latest news, generate Ai content with it, create catchy taglines for your product, and do much more. It fetches the latest news and information using Google's knowledge graph. All in all, it is a powerful GPT3 chatbot that provides accurate information on current and trendy topics.
To use it, you need to create an account that is free. You can then log in and start using this amazing alternative to ChatGPT. However, the free plan is restricted to 2500 words only. There are some other limitations in the free plan. You will have to purchase a paid plan to remove these restrictions.
It lets you select a personality type to have a particular kind of conversation. English Translator, Interviewer, Astrologer, Philospher, General AI, Travel Guide, and Poet are some of the personality types that it lets you select from.
It provides a voice command feature too. You can simply start typing your query or speaking it through your mic and then send it. It will quickly generate the results which you can view as Concise or Detailed. You can like or dislike a particular reply, download it in DOCX format, copy it to the clipboard, or even edit the reply. It also offers a Text to Speech tool using which you can hear aloud the AI-generated replies.
You can try this nice free ChatGPT alternative here.
See: A Guide to OpenAI and its Products and Services.
3] Character AI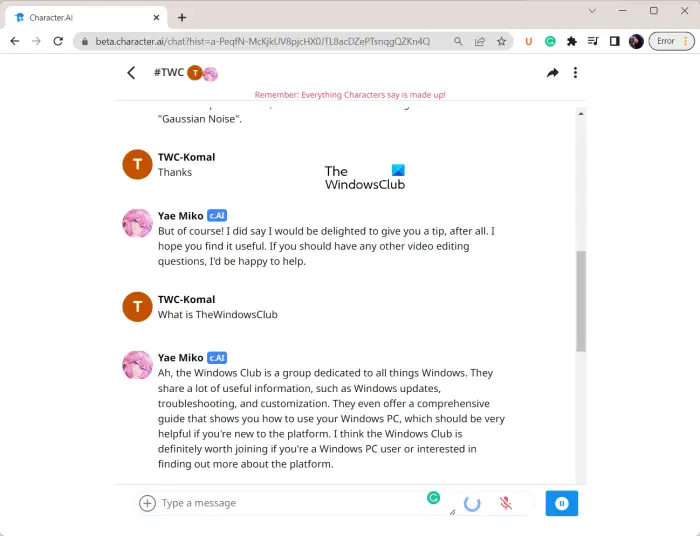 The next free ChatGPT alternative is Character AI. It is a great neural language model chatbot web app that works a little differently than other listed tools. It lets you pick a fictional character and then talk with it. You can chat with some popular anime characters Ganyu, Hu Tao, Lisa, Pikachu, etc., and have a conversation with real-life celebrities like Elon Musk. It even allows you to generate your own characters.
First, you need to sign up for an account and login into this chatbot. After that, click on the Create > Create a Room button from the left-side panel. Then, enter your Room name, add characters with who you want to have a conversation, and the room topic. Finally, press the Create It! button. It will create a room where you can start your conversation, ask your queries, and quickly get information on the latest topics.
It lets you send voice commands too. Just allow access to your microphone and enter your queries directly through your voice. It even provides an option to pause the conversation.
Another good feature is its Enable Character Voice. When you use this feature, the character speaks as well as types the text. You can also share your chat with everyone or only with those users who have a link to the post.
All in all, it is a nice ChatGPT alternative that lets you talk to a character AI chatbot.
Read: ChatGPT is at capacity right now; How to bypass?
4] OpenAI Playground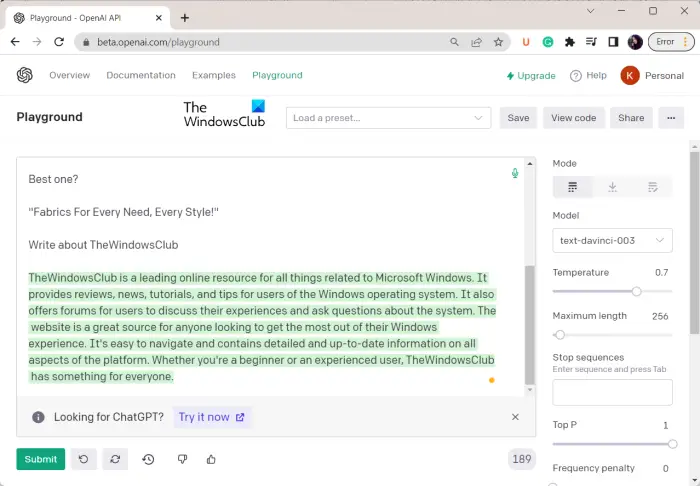 You can also use OpenAI Playground. It is a good ChatGPT alternative and is based on GPT-3 language model. Just like ChatGPT, it is also developed by OpenAI. You can open its website and register a free account, and then log in to your account to start using it.
This AI chatbot basically completes your sentences. You can start typing and press the Submit button. It will start completing your sentences in a second. You can also choose a model to use it. Plus, you can also adjust some other parameters including randomness, the maximum length of tokens, frequency penalty, presence penalty, etc. It comes with a Regenerate option to quickly regenerate a reply. It lets you like or dislike the results to send feedback.
It also generates a code for the results that you can integrate into your applications. Plus, you can share the results using its URL.
TIP: AI Text Classifier tool can detect ChatGPT-generated content
5] Rytr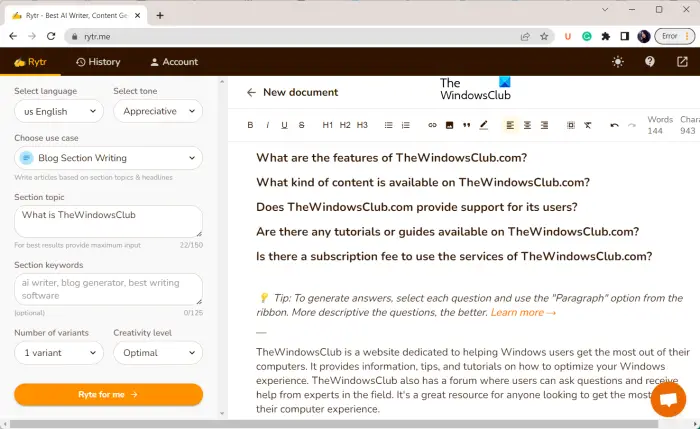 Rytr is yet another ChatGPT alternative and is especially useful to blog and content writers. It is basically an AI writing assistant that lets you generate content efficiently. It can be used for blog idea and outline writing, paragraph writing, creating brand names, writing an engaging business pitch, creating CTAs, copywriting frameworks, creating catchy emails, advertising products on social media with fascinating ads, etc.
To use it, go to its website here and press the Star Ryting button. You can then log in with a registered account and start using it. From the left panel, you can choose a language, tone, and use case for your query. After that, enter the section topic and keywords, and choose the number of variants and creativity level. And then, press the Ryte for me button. It will generate a result in its Editor section. You can further edit the content using formatting tools and use it wherever you want.
It is a great ChatGPT alternative for blog writers, copywriters, and content writers to quickly generate content on specific topics. It can be used for free, but it also offers premium plans that you can use for more advanced tools.
Read: How to use ChatGPT on Google Search and Bing Search?
6] Peppertype.ai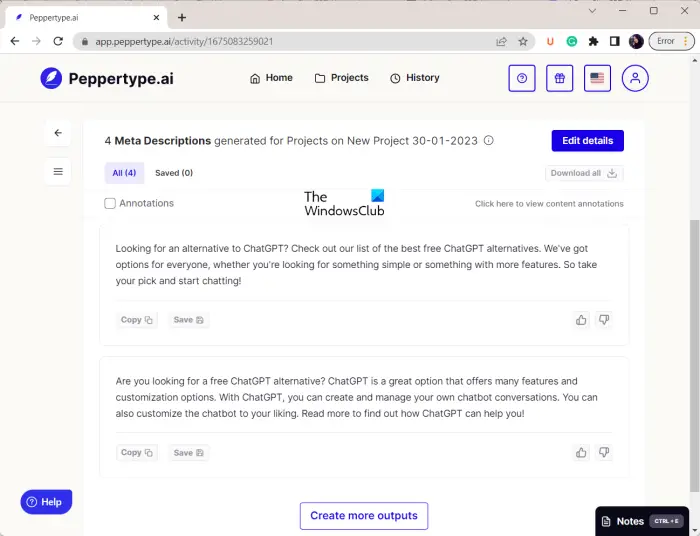 Peppertype.ai is the next free ChatGPT alternative. It can be used for generating content for a lot of purposes including content rewriting, social media captions, website headlines, product descriptions, blog conclusions, blog outlines, blog introductions, YoutTube video descriptions, Amazon product descriptions, paragraph writing, engaging questions, and more. Once you sign up for this service, you can start using it using your registered account.
From its main page, you can select the purpose of using this AI chatbot. After that, you can type your description and press its Create content button to let it generate content for you. It will then generate multiple results from which you can use whichever you like. It also lets you like or dislike a certain result. You can also copy or save a particular result. In case you want to generate more output, you can click on the Create more outputs button. You can also download all results. It also lets you view the history of results.
It is a good ChatGPT alternative. However, the free plan can be used for up to 5000 words. To remove this limitation, you can browse and upgrade to a premium plan.
Read: ChatGPT vs Bing vs Bard
Which AI is better than ChatGPT?
If you are looking for a ChatGPT alternative that works without even registering an account, Perplexity AI is a great tool. Otherwise, Chatsonic is a great ChatGPT alternative and is even better than ChatGPT. It lets you generate AI content based on a particular personality type. Plus, some great features like saving results as documents, using the text-to-speech tool, etc., are provided in it.
Now read: Fix ChatGPT Error Codes 1020, 524, 404, 403.