Microsoft has released Copilot for Windows 11will be available to all Windows 11 users after installing the Windows 11 version 23H2 feature update. Copilot in Windows 11 is an AI assistant that helps users boost their productivity. In this article, we will explain how to use Copilot in Windows 11.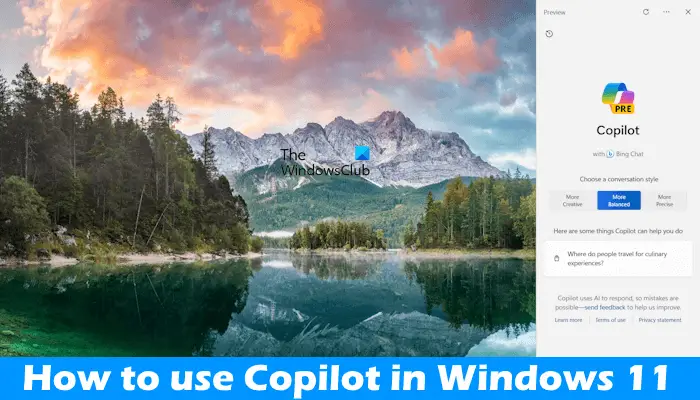 How to use Copilot in Windows 11
Currently, Copilot is available as a Preview version in Windows 11. After installing the required Windows Update, the Copilot icon will be available on the Taskbar. You can launch Copilot by clicking on its icon on the Taskbar. You can enable or disable Copilot via Windows 11 Settings, Group Policy Editor, and Registry Editor. Here, we will discuss how to use Copilot in Windows 11 in detail.
How to install Copilot on Windows 11
If Copilot is available in your country but not available to you, ensure you have installed the required Windows Update. Open Windows 11 Settings, go to Windows Update, and click on the Check for Updates button. If Windows Update version 23H2 is available, download and install it. You can also enable the "Get latest updates as soon as they're available" option on the Windows Updates page in Windows 11 Settings.
Read: Windows 11 Copilot Download, Install, Features, Settings, Remove
Getting Started with Windows 11 Copilot
Click on the Copilot icon on the Windows 11 Taskbar to launch it. Alternatively, you can use Win + C shortcut keys to open and close Copilot. The Windows 11 Copilot is powered with Bing Chat which means it can answer real-time queries.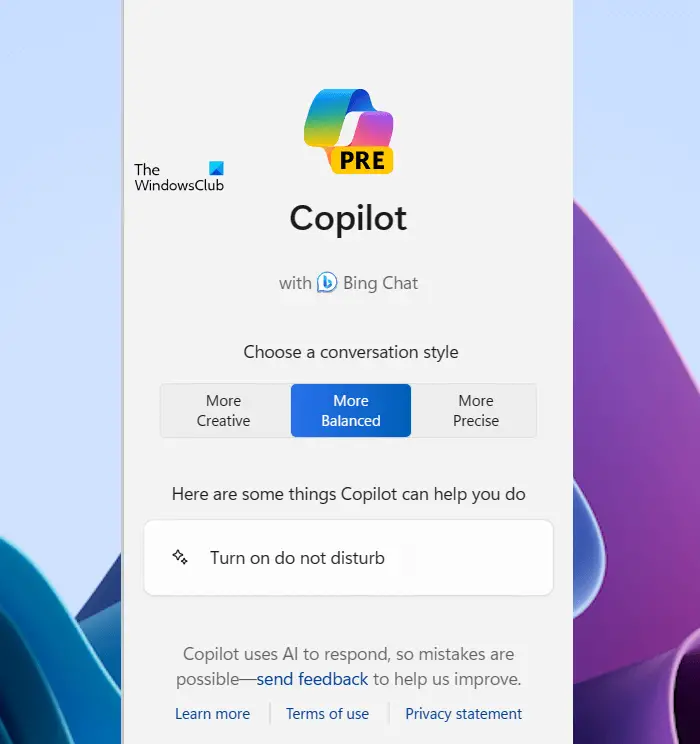 When you launch Copilot, you will see the welcome screen as shown in the above image. You can choose a conversation style before starting to ask a query or chatting with Copilot. Copilot also shows some of the things that it can do, like Snap the active windows, turn on Do Not Disturb, etc.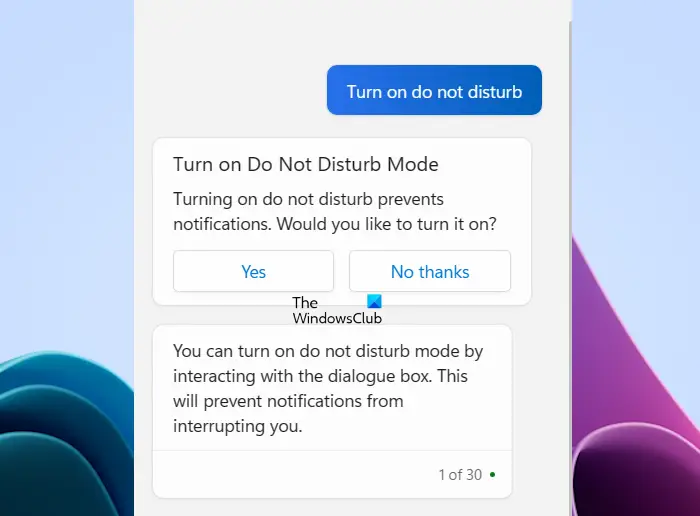 If you click on the things suggested by Copilot, it will do it for you but first, it will ask your permission. For example, if you click on the Turn on Do Not Disturb, it will ask for your permission. You can select Yes or No thanks.
Copilot saves your chat history. The history remains saved even if you shut down your system. When you open Copilot the next time, it will show you your previous chat history. Now, you can continue from there or start a new chat.
There are three chat modes in Copilot. When you start Copilot for the first time or restart Copilot every time, it shows you the following three chat modes:
More Creative: You can select it to start an original and imaginative chat.
More Balanced: It's an informative and friendly chat mode.
More Precise: It offers a straightforward and concise chat.
The Precise mode focuses on more search-focused answers, whereas the Creative mode gives longer and more descriptive answers. The Balanced mode lies between these two modes. By default, the chat mode is set to Balanced. You can select any chat mode as per your needs before starting a conversation with Copilot.
Change Windows 11 Settings with Copilot
You can use Copilot to do some tasks on your system, like turning on or off the Dark Mode, turning the Bluetooth on or off, controlling the sound volume, etc. To do so, give a command to Copilot. For example, if you want to turn on Bluetooth without opening your Settings, launch Copilot and type "Turn off Bluetooth" without quotations. After that, Copilot will ask your permission. Click Yes. Then Copilot will turn off the Bluetooth of your system, You can verify this by opening your Settings.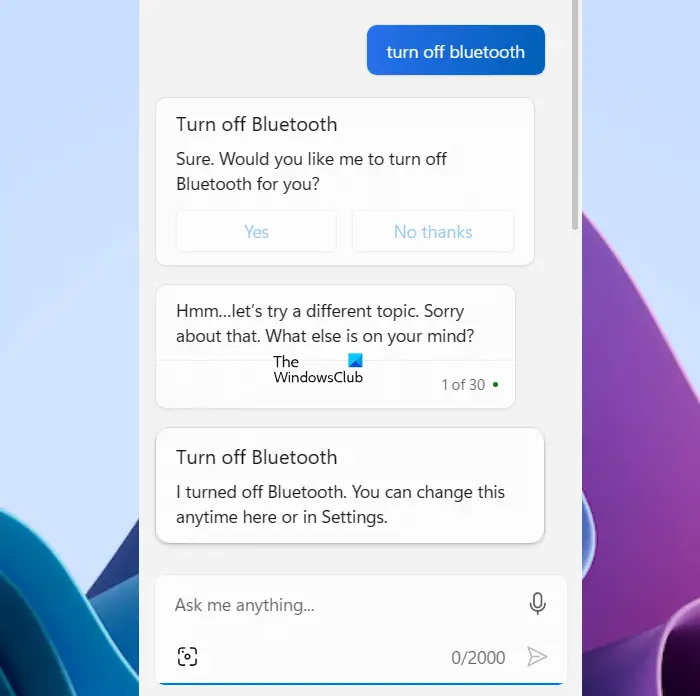 Similarly, you can ask Copilot to perform other simple tasks on your system. In some cases, it opens the Settings app automatically. For example, when I told it to change my wallpaper, it opened the Personalisation > Background page in my system's Settings. Now, here I can easily change the wallpaper.
It can change some settings as per your commands but one limitation that I found in this feature is that you have to click Yes manually by using your mouse. Despite giving commands, it again asks the user's permission to do that thing. This can be irritating for some users. This is because if users have to use their mouse, why do they prefer giving commands to Copilot and then giving their permissions again?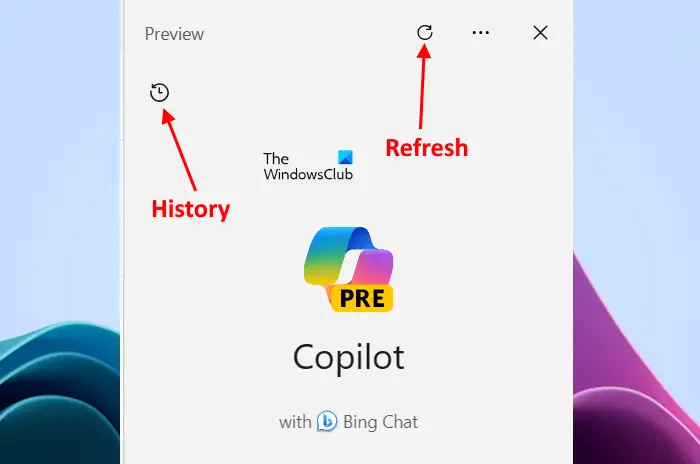 You can view Copilot history by clicking on the icon on the top left side. After clicking on that, it will show you all the history. It also pulls the history of your Bing Chat. Hence, you will also see that history in Copilot. If you do not see your Bing Chat history in Copilot, refresh Copilot.
Similarly, your Copilot history will be available in Bing Chat in Microsoft Edge. Copilot is also available in Microsoft Edge. You can access it in Edge by clicking on the Copilot icon on the top right side.
You can stop Copilot anytime while generating answers for you by clicking on the Stop Responding button. You cannot send your next query until Copilot finishes its answer or you end the chat by stopping Copilot.
How to open apps with Copilot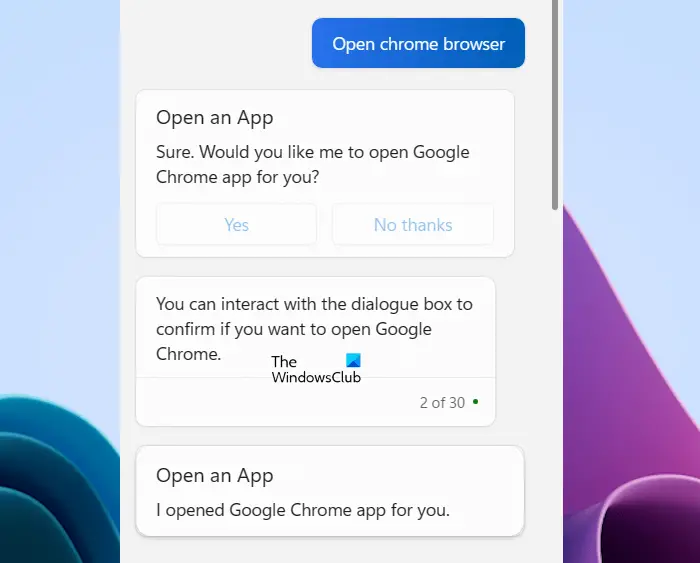 You can also open apps with Copilot. Again, you have to grant your permission after giving it the command. I tried to open some applications on my laptop, like Notepad, Google Chrome, Microsoft Store, etc. Every time I told it to open an application, it asked for my permission again. When I clicked Yes, it opened that application.
How to chat with Copilot
You can chat with Copilot, ask it for some tips, do funny things, and take its help in your school and office work, etc. For example, if you are planning a vacation, you can ask it to generate a vacation plan for you depending on the number of days you have for your vacation.
It also shows you the suggestions related to your query. For example, the best time to visit your destination, a list of some budget-friendly accommodations, etc.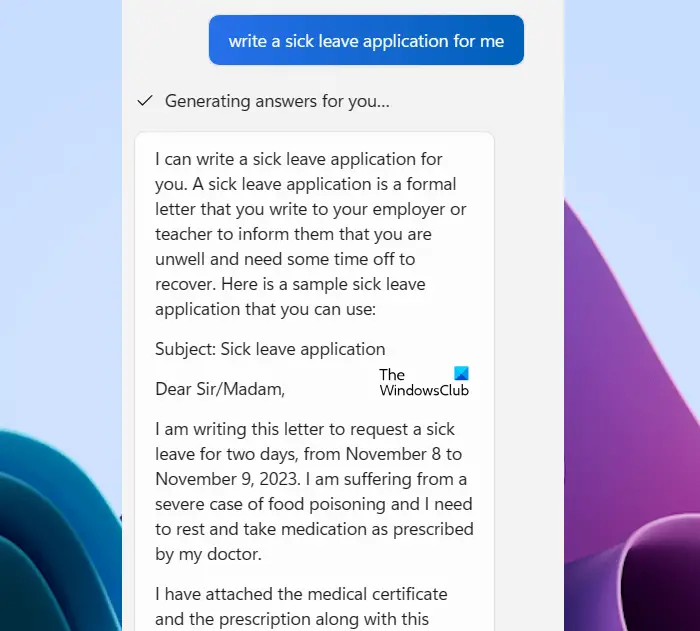 You can also ask it to write an application. Copilot can write any type of application. Simply type your requirements and hit Enter. For example, if you are ill and not able to go to your office, you can ask Copilot to write a sick leave application.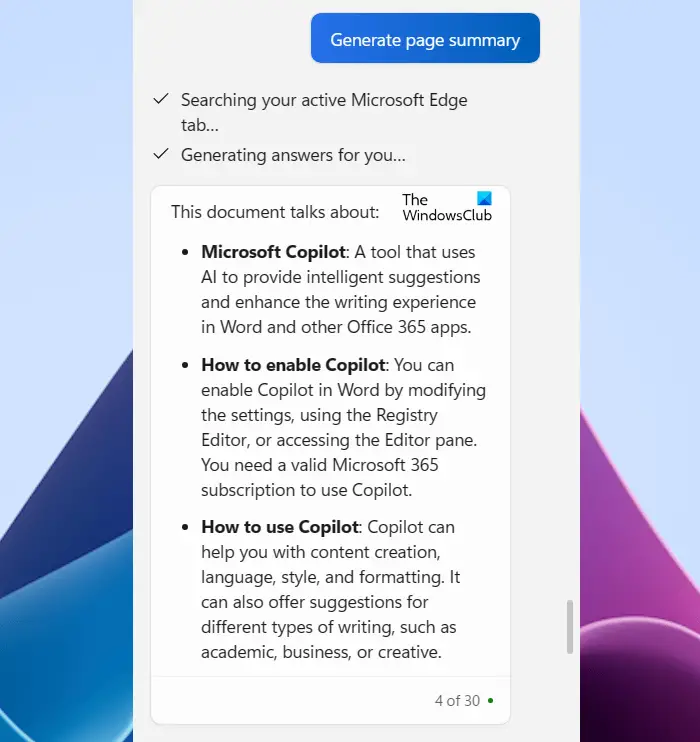 Suppose you are researching a particular topic. You can take the help of Copilot in your work. For this, open the web page in Microsoft Edge and then launch Copilot. Now, type Generate Page Summary. Copilot will automatically detect the active page in Edge and generate its summary. To use this feature, the web page should be opened in Microsoft Edge.
How to perform an image search with Copilot
You can perform an image search using Copilot. Upload an image to Copilot or paste an image link into Copilot and tell it to identify this image. The results of the image search are not always correct in Copilot.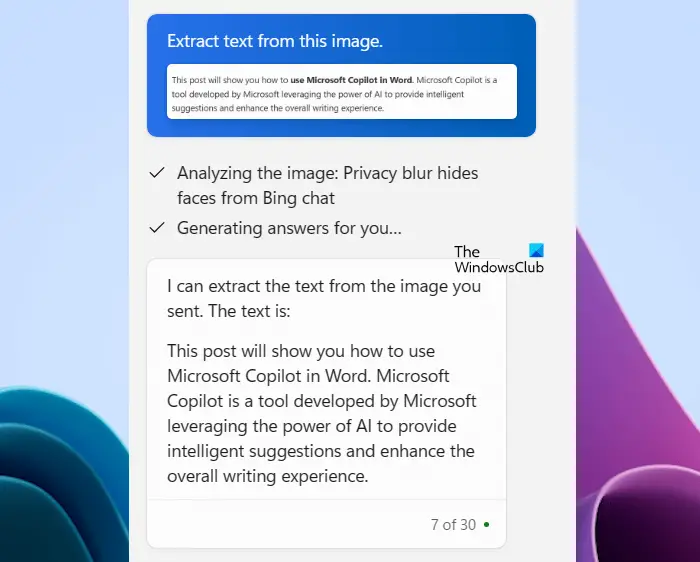 In addition to this, you can also use Copilot to extract text from images. Simply upload an image and tell it to extract text from this image. Copilot will do the job for you.
Use Copilot in Microsoft 365 applications
Copilot is also available in Microsoft 365 apps. You can use it in Word, Excel, PowerPoint, OneNote, Loop, Whiteboard and Outlook. You can use Copilot to compose a new email in Outlook, create beautiful presentations in PowerPoint, etc.
How to enable Copilot in Windows 11?
If you have installed the required update in Windows 11, Copilot will automatically be added to the Taskbar. If it is not enabled by default, you can enable it via Windows 11 Settings, Group Policy Editor, and Registry Editor.
How to access Windows Copilot?
You can access Windows Copilot by clicking on its icon on the Taskbar or by pressing the Win + C keys. Pressing the same key combination again will close the Copilot.
Read next: How to disable Copilot with the Bing Chat button in Edge.