Microsoft OneNote is a digital app where you can keep all your important records like notes, research papers, and your day-to-day plans.OneNote has a feature, that paper in the notebook never ends. This app is easy to arrange, print and share and if you need any information, it  Will provide that information quickly. This powerful tool is very useful for professional users. Adding Copilot to this app will make it work better than ever. In this article, we will learn how to add and use Copilot in OneNote.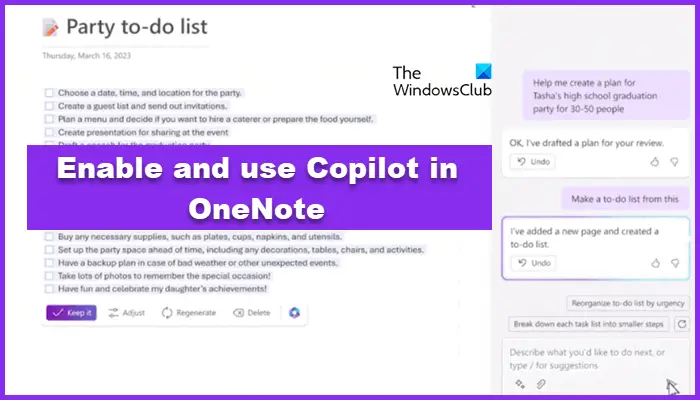 How to enable and use Copilot on OneNote
In OneNote, the AI chatbot assists you to create content, such as text, pages, etc. Additionally, you can ask Copilot to perform almost any task, such as making a list, summarising your notes, recalling information, generating ideas, and many more. However, Copilot is not available for OneNote as of now. But this won't stop us from using Copilot. Before making any changes to the Registry Editor, it is recommended to take a backup of the same.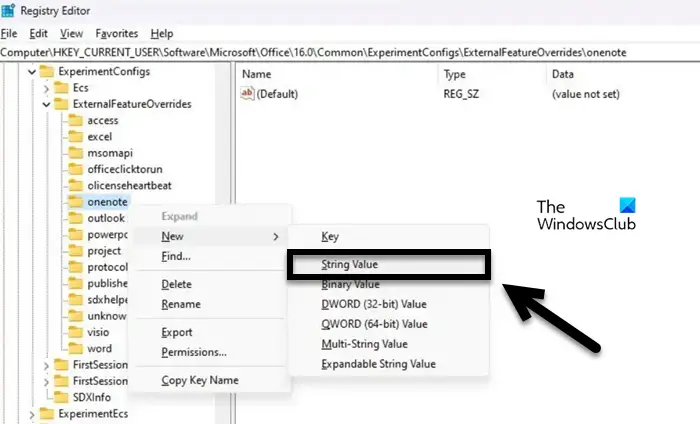 So, follow the prescribed steps to enable Copilot on OneNote:
Press Windows + R key to open the run dialog box.
Type regedit in the run dialog box and press enter button.
Go to the following path:
HKEY_CURRENT_USER\Software\Microsoft\Office\16.0\Common\ExperimentConfigs\ExternalFeatureOverrides\onenote
Here, right-click the OneNote key, select New, and select the String Value option.
Name the key Microsoft.Office.OneNote.Copilot and press Enter button.
Double-click on the newly created key and set its value to true to enable Copilot in OneNote.
Click the OK button.
Finally, restart the computer.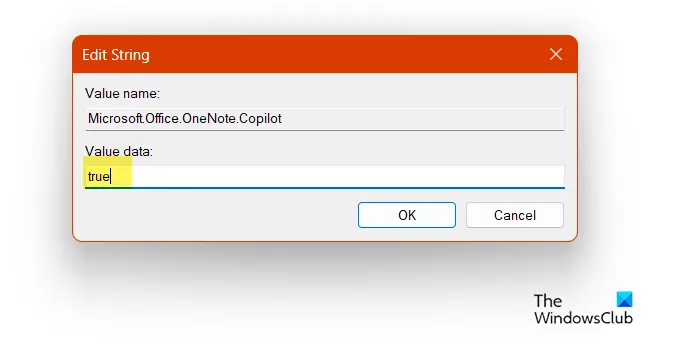 This will do the job for you. In case, after a while, you think Copilot is of no use, and want to disable it, just open Registry Editor, go to the same location, and delete the newly created key, Microsoft.Office.OneNote.Copilot. Once done, reboot your computer and OneNote will not have Copilot.
Read: How to use Copilot in PowerPoint?
How do I add a Copilot to OneNote?
In order to add Copilot to OneNote, you need to make changes to the Registry Editor since the feature is not yet rolled out officially. We have mentioned steps to do the same in this post. So, if you want to try out the feature for yourself, check out the aforementioned guide.
Read: How to Zoom in and Zoom out in OneNote?
What is the Copilot in OneNote?
Copilot in OneNote is an AI-powered chatbot that can take user input and make things happen. For example, you can give it some details of what you have to do and ask it to create a To-Do list for you. It will nonchalantly create a perfect list for you.
Read: