In this post, we will learn how to uninstall the League of Legends game from Windows PC the right way.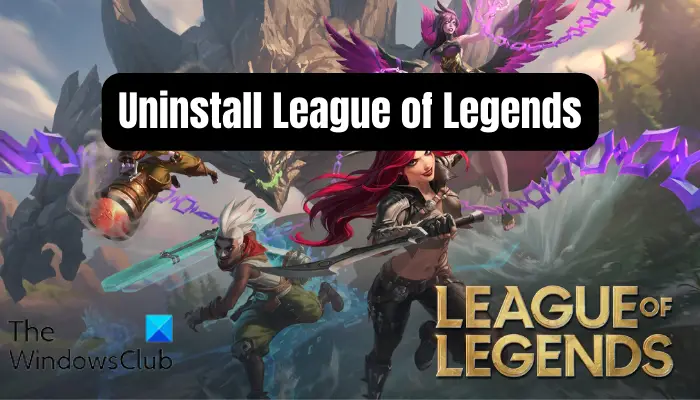 League of Legends (LoL) is a popular multiplayer online battle arena video game by Riot Games available for Windows and other platforms. But, sometimes the game installation gets corrupted or infected and it doesn't perform well or you start facing issues in the game.
In that case, users need to perform a clean installation of the game as a troubleshooting step to fix the problem. And for that, you first have to uninstall the game completely from your PC. It might also be that you don't want to play the LoL game anymore and wish to uninstall it from your computer.
Now, there are different methods to uninstall LoL in Windows. Here, we will discuss step-by-step procedures to uninstall the LoL game from Windows 11/10. Let us check out now.
How do I uninstall LoL and Riot Games?
Riot Games, including Leagues of Legends, can be uninstalled conventionally using Windows Settings or Control Panel. Now, if you don't want to put in any effort, you can also use a third-party uninstaller application to uninstall Riot games from your PC. Several free software uninstallers allow you to remove multiple Riot games at once.
How to Uninstall League of Legends in Windows?
You can use Windows Settings to remove League of Legends from your PC. Here are the main steps that you need to follow to uninstall LoL completely on Windows 11/10:
Open the Settings app.
Go to Apps > Installed apps.
Locate League of Legends and tap on the three-dot menu button.
Select the Uninstall option and follow prompted instructions.
Delete leftover folders and files.
Reboot your computer.
Let us discuss the above steps in detail now.
First of all, launch the Settings app using the Win+I hotkey and navigate to the Apps tab on the left pane. And then, click on the Installed apps option from the right-side pane where you can see all your installed apps and games.
Now, under the list of installed apps, scroll down and locate the League of Legends game. After that, click on the three-dot menu button associated with the game. From the appeared options, choose the Uninstall option and then follow the onscreen guide to complete the uninstallation process. The Riot Client will uninstall the game from your PC.
See: League of Legends not opening or loading on Windows PC.
When the uninstallation process is finished, you need to remove the residual and leftover files of the game from your system to completely uninstall it. To do that, open File Explorer using Win+E and locate the installation directory of Leagues of Legends. It is installed at the below location by default:
C:\Riot Games\League of Legends
Simply select the League of Legends folder and press the Delete button to clear the folder. Besides that, you can also manually search with the "League of Legends" or "LoL" keyword in the C drive and delete any related leftover files.
Once done, you can reboot your PC to complete the uninstallation of the League of Legends game.
You can also uninstall LoL using the Control Panel.
Read: Fix RADS Error on League of Legends on Windows PC.
Remove League of Legends using a free Software Uninstaller
Another easy method is to use a third-party software uninstaller to uninstall the League of Legends game from Windows completely. There are multiple bulk program uninstallers that also remove residual files and registry entries associated with the applications to remove them from your system completely. You don't have to manually look for leftover files to delete them, which is an advantage over the above-discussed conventional method to uninstall the game.
Thankfully, there are free program uninstallers too. So, you can use free software like Bulk Crap Uninstaller, IObit Uninstaller, or Absolute Uninstaller to uninstall the League of Legends game from Windows PC. Download and install any of these uninstallers, launch it, select the LoL game, and press the respective Uninstall option. Rest everything will be done by the software itself.
See: Fix League of Legends Error Code 003 on Windows PC.
Why can't I delete League of Legends?
If you cannot uninstall League of Legends from Settings, you can also use Control Panel to do the same. Open Control Panel using Windows Search and go to the Programs > Uninstall a program option. After that, select the League of Legends game, press the Uninstall button from the top, and confirm the uninstallation process. If that does not help, uninstall the game in Safe Mode.
Now read: League of Legends ping spikes on Windows PC.