This post shows how to count Pages in multiple PDF files in Windows 11/10. While there are so many best free PDF readers available to use, counting the total number of pages present in different PDF documents is not possible with most such tools as either only one PDF can be opened at a time or there is no such option present. So, if you ever need to check how many pages are there in your PDF collection, then the PDF page counter options covered below will be helpful. Whether you have scanned PDF files or password-protected PDFs, the page count for all the PDF documents can be done with ease.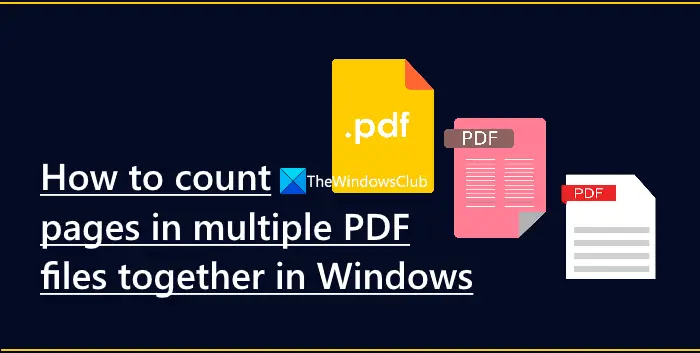 How to count pages in multiple PDF files together in Windows 11/10
To count pages in multiple PDF files together on a Windows 11/10 computer, use the following options:
Use a web browser
Use PDFMate Free PDF Merger
Use PDF Count.
Let's have a look at all these options.
1] Use a web browser
This is a very simple option to use and doesn't require any extra tool to install on your PC. All the popular browsers (Edge, Chrome, Firefox, Opera, etc.) support PDF files and when you open a PDF file in a browser, the total number of pages is visible on the PDF toolbar. Depending upon the browser you use, the page count is visible in the middle section or left section of the toolbar.
So, what you need to do is open PDFs in different tabs of your web browser and the page count for each PDF will be visible to you. You can also check the page count for a PDF using Document Properties. And then, you can make a total of all the pages and note it somewhere for later use.
In a similar way, you can also use Adobe Acrobat Reader DC (free) to count PDF pages.
2] PDFMate Free PDF Merger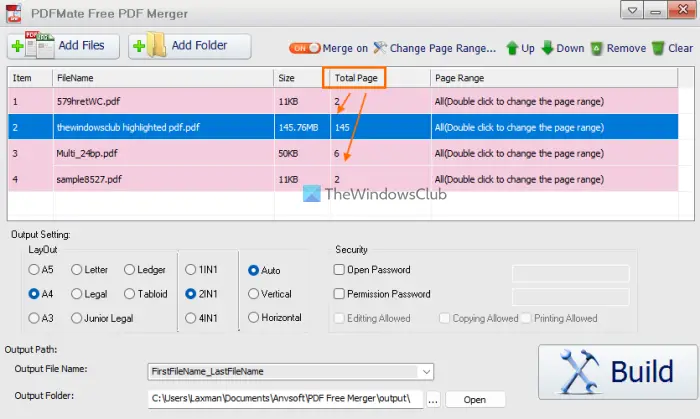 PDFMate Free PDF Merger tool, as the name indicates, helps to combine or merge PDF files to create a single PDF document. But this freeware can also be used to encrypt PDF, convert PNG, TIF, and JPG to PDF, extract pages from PDF, and count pages of multiple PDF files at once.
You can get the setup file of PDFMate Free PDF Merger software from pdfmate.com. Launch the software after installation and then you can add a folder containing your PDF documents or use Add Files button to add the selected files.
After adding the PDF files, you can check the Total Page column which will show the page count for each PDF in the list. The tool works well, but it fails to load a password-protected PDF file.
Related: How to see the word count in Word and PowerPoint
3] PDF Count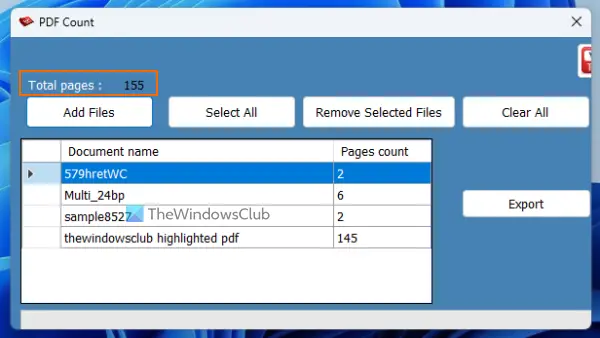 PDF Count (or TTFA PDF Page Counter) is also a free software and one of the best options to count pages in multiple PDF files together. With this option, you don't have to open PDF files. Just add them to its interface using Add Files button and the total page count for all PDF documents will be visible on the top left part. Also, you can add as many PDF files as you want. If a PDF is password protected, then you can also provide the password to enter that PDF in the list.
Apart from this, it also provides a page count for each individual PDF separately. You will see the document name and page count for that PDF document. The option to export the total page count as TXT and Excel files (XLSX or XLS) is also there. To use this tool, download it from softpedia.com.
That's all!
Also read: How to sign a PDF using free software or online tools
How do I combine PDF files in Windows 11 for free?
There are multiple ways to combine PDF files into one PDF for free on a Windows 11/10 PC. You can use some free online PDF merger tools or free PDF merger software like PDFMate Free PDF Merger and PDF24 Creator. A free Microsoft Store app called PDF Merger & Splitter can also be used to create a single PDF file from multiple PDFs.
How do you count a PDF?
If you want to count words in PDF documents, then you can use a free PDF word counter tool for this purpose. Foxit Reader, CountWordsFree (an online tool), and Kennis Counter are some good options to use for this purpose. Some PDF word counter tools also help you check the number of lines, number of characters, etc., present in the input PDF document. On other hand, if you are looking for a way to count pages in multiple PDFs at a time, then the options covered in this post will help you. Check them out.
Read next: How to extract Tables from PDF documents.