If you need to combine or merge multiple PDF documents into one PDF, then this post will help you. Files packaged in a PDF are easy to share across devices, occupy minimal space, and maintain file quality. As a student, it is common for me to want to put together a bunch of scanned documents together in one PDF file. In this post, we are going to be looking at several ways to combine multiple scanned documents into one PDF file.
It's a hassle to send a recipient multiple documents when they could all be put together in one package, so you would find yourself better off learning how to combine documents in a single PDF.
How to combine Multiple PDFs into one PDF
Unlike MacOS users, who have a utility for this purpose built into their OS, Windows users must use third-party apps. There are primarily three ways in which you can achieve this:
Using PDF Merger and Splitter
Using Google Docs
Using the Online PDF combiner Online2PDF
Using Combine PDF freeware for Windows PC
1] Combine documents in a single PDF using PDF Merger and Splitter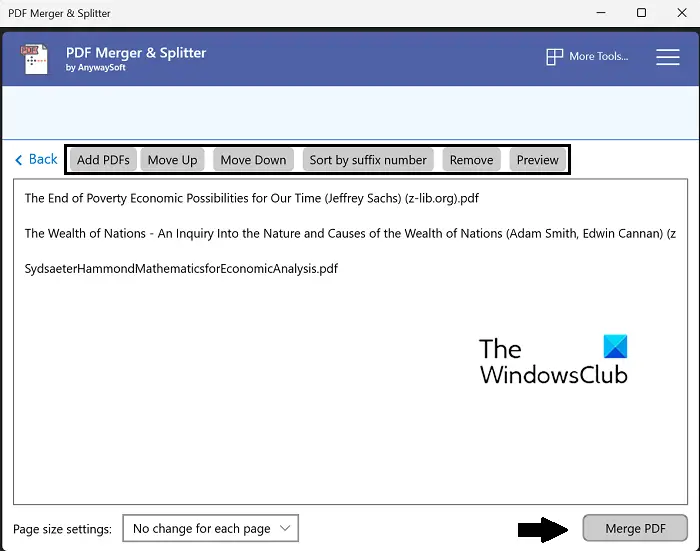 Our first solution involves putting different scanned documents together using a Windows app. For this tutorial, we will be using the PDF Merger and Splitter app. You can split, reorder, rotate or merge PDFs using this tool. Another good thing about this app is that it's free, so your PDF rearrangement needs will all be taken care of without going through a paywall. Here's what you need to do:
Search for and download PDF Merger and Splitter on the Windows Store
Open the app and from the homepage, select Merge
Click on the Add PDFs option from the array at the top and add the documents that you want to turn into one single document
You also get some rearrangement options like moving them up or down or sorting them
Once you've selected all the PDFs and decided  how you want them to be merged, click on Merge PDF from the bottom right corner
This will open a prompt of the file manager, from which you have to select the documents that you want to merge into one PDF
Your scanned documents will then be merged
You can get PDF Merger and Splitter from the Microsoft Store.
2] Combine documents in a single PDF using Google Docs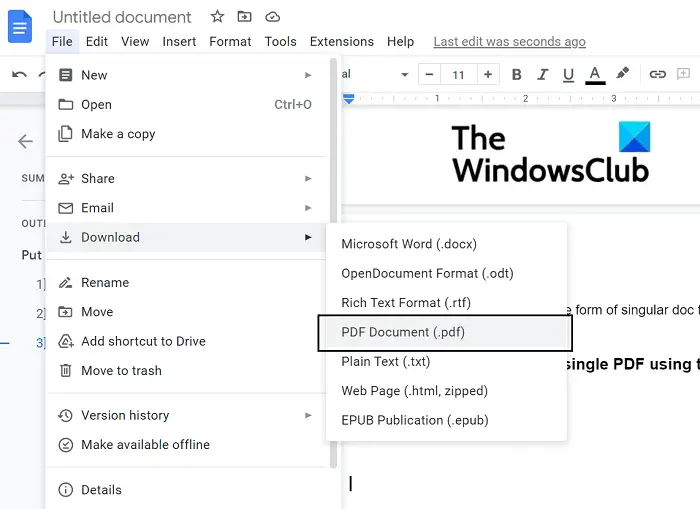 If your scanned documents are in the form of singular doc format pages or in the form of pictures, then even Google Docs can do the trick for you.
Open Google Docs on your web browser
Click to create a new document
If your scanned documents are in the form of .jpeg or .png images, paste one picture on each page of this Google Doc Sheet
Once you've imported all the scanned documents onto this doc page, click on File > Download
Select 'PDF document (.pdf)' and give a name to this combined document
The unfortunate thing with this method is that it's an unlikely case for scanned documents to be in a picture format since they individually take the form of a PDF file too. In that case, you can use an online tool like Online2PDF.
3] Combine documents in a single PDF using the online PDF combiner Online2PDF
There are several PDF file manager and converters available online, and one of the best of the lot is Online2PDF. Here's how you can use it to bundle a bunch of scanned documents into a single PDF file:
Visit Online2PDF.com
Open the files that you want to combine with the Select Files option. You can open as many as 20 files but make sure that their combined file size isn't more than 150MB
Now, click on the Convert button, and once it's done processing, your combined file will begin to download
The only problem with an online tool like Online2PDF is the lack of security since we're uploading our documents on a privately-hosted third-party tool with no virtual encryption settings.
4] Combine PDF freeware for Windows PC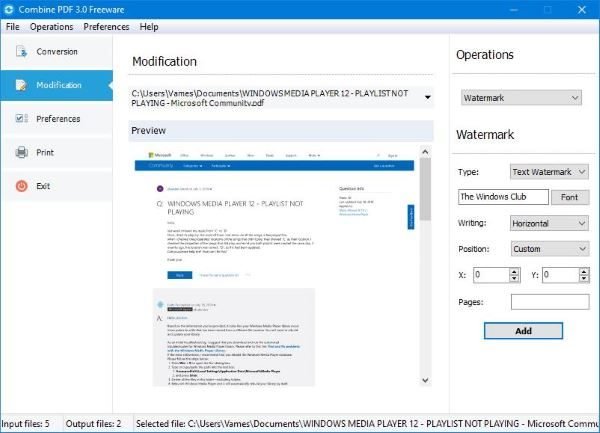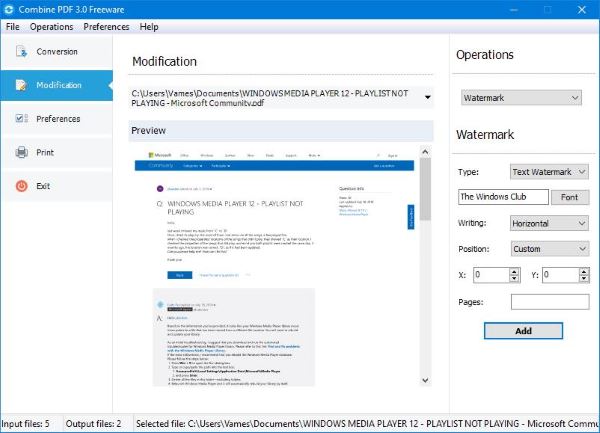 You can easily combine or merge multiple files, into a single PDF document with Combine PDF free software for Windows 10 PC. The first thing users will notice about this tool is the size. It's a little over 12MB in size, and not to mention, the user interface is quite simple and easy on the eyes.
You can download Combine PDF right now via the official website – www.best-pdf-tools.com.
Why can I no longer combine PDF files?
You may, sometimes, face an issue where you're not able to combine PDF files into a single bundle using online tools. One of the reasons behind this can be file encryption. If one of the individual files is secured or digitally signed, then it won't be possible to bundle it with other PDFs into a single one.
Read: How to annotate a PDF on Windows 11/10
How do I combine PDF files in Windows 11/10?
If you're an Adobe Acrobat user, this process of PDF file integration can be done from there too. To do so, simply open Adobe Acrobat > drag and drop your files or open them with the Select files button > select Merge once all the files have been uploaded.
These files, when merged into one, can also be organized or reordered if the need arises. We hope that all your doubts about putting together several scanned documents in one PDF file have now been cleared.