In this post, you will see how to sign a PDF document. You can draw a signature or type signature and convert it to a handwriting-style signature. After that, you can add your signature to any part of a page in the PDF document and save PDF with added signature. You will also be able to change the color of the signature and its size.
Though a lot of paid and free PDF editor tools are available to use, the feature to add signatures to a PDF is missing in most of those tools. Therefore, we created this list that covers some best free tools to sign PDF documents.
Add a signature to PDF
If you want to sign a PDF, this post talks of free tools that let you add a signature to PDF. You can type or draw a signature using them.
Adobe Acrobat Reader DC
Gaaiho Reader
Foxit Reader
SmallPDF
LightPDF.
1] Adobe Acrobat Reader DC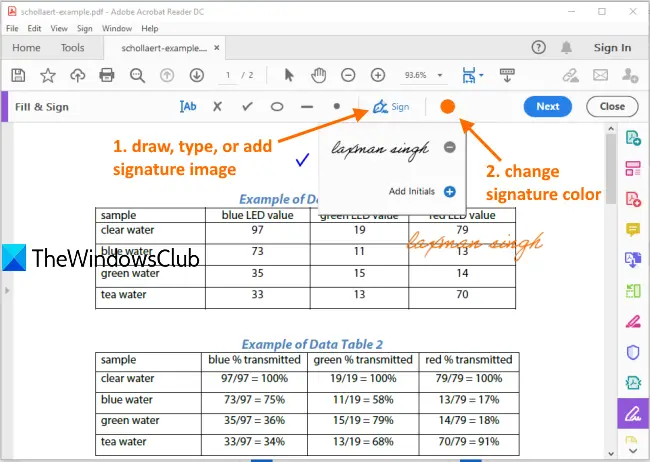 Adobe Acrobat Reader DC is a very popular PDF reader. It comes with dozens of useful tools in which some of them are paid and others are free. It has a Fill & Sign tool which is free. You can use this tool to type your signature, draw a signature, and add a signature image (TIFF, GIF, TIF, JPG, and PNG). It also lets you add signature initials or delete a signature. The option to invite signees to add signatures is also present, but you need an Adobe account for that.
Download Adobe Acrobat Reader DC and install it. On the download page, you should uncheck optional offers and extra tools. Install and launch the software.
Open a PDF using the File menu and then press Sign document by typing or drawing a signature icon. Or else, you can also access the Tools menu and select Fill & Sign tool.
You will see two options: Add Signature and Add Initials. Use the first option. Now you can use any of the available options: Type, Draw, and Image.
For the first option, it provides 4 different handwriting styles. For the second option, it lets you draw in free-hand mode to create your signature. When your signature is created, press the Apply button.
After that, again use the same Sign document…icon, and this time you will see the signature created by you. Click on that signature and it will visible on your PDF document. Now, you can use the Color icon to change the default color of the signature. 18 different colors are available.
Place your signature anywhere on a PDF page and change its size using the given option. Finally, you can save PDF with an added signature using Save As or Save option present in the File menu.
Read: How to Electronically Sign a Document in Windows
2] Gaaiho Reader
Gaaiho Reader is a good competitor to other free PDF readers tools and an alternative to Adobe Acrobat Reader DC. It also comes with a lot of features and adding signatures to a PDF document is one of them. It provides two types of options to add a signature to a PDF: Draw my signature and Type my signature.
In the first option, you can start a free-hand draw to create a signature with custom color and signature thickness. In the second option, you can type some words as a signature and set its color, font, and make it bold and italic. You can't select a handwriting style, but the option to manage signatures is present which lets you delete created signatures, add signatures, rename a signature, etc.
Download this software using this link. Add a PDF and then click on the Handwritten Signature tool present under the Home menu. After that, click on Place a Handwritten Signature option. It will open a box.
In that box, select the signature type, and then you can draw or type your signature. Use the options given for the selected signature type, give a name to your signature, and save it.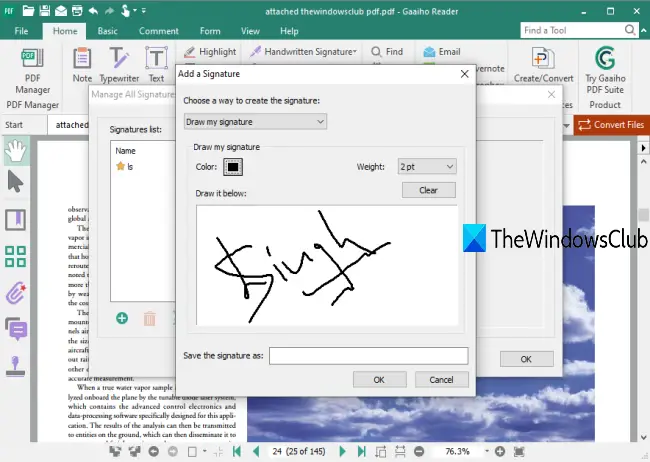 The next time, use the same Handwritten Signature tool to select a signature and add it to your PDF document. Finally, create a copy of your PDF or overwrite the original PDF using Save As or Save button present under the File menu. This will generate PDF with your signature.
TIP: Google Chrome users can convert, compress, sign PDF documents using New Acrobat Online.
3] Foxit Reader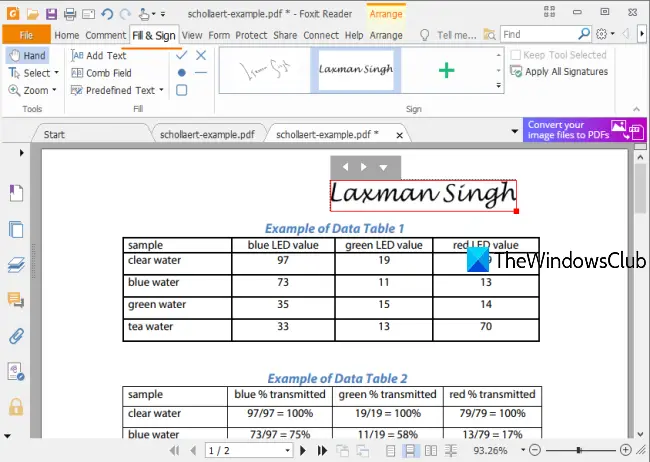 Foxit Reader is another nice option to sign a PDF file. It lets you Draw Signature, Import signature file (PDF, BMP, GIF, TIFF, PNG, JPG, etc.), Type Signature, and Paste Signature from clipboard (text or image). The option to add Online Signature is also there but it didn't work for me as I encountered an error.
Download Foxit Reader and begin the installation process. Uncheck unwanted or extra options during the installation. When the interface is opened, add a PDF file.
Go to Fill & Sign tab and click on the Create Signature button. Now a box will open where you will see different buttons to create a signature. Use Draw Signature or any other button to make your signature and save it. Create as many signatures as you want.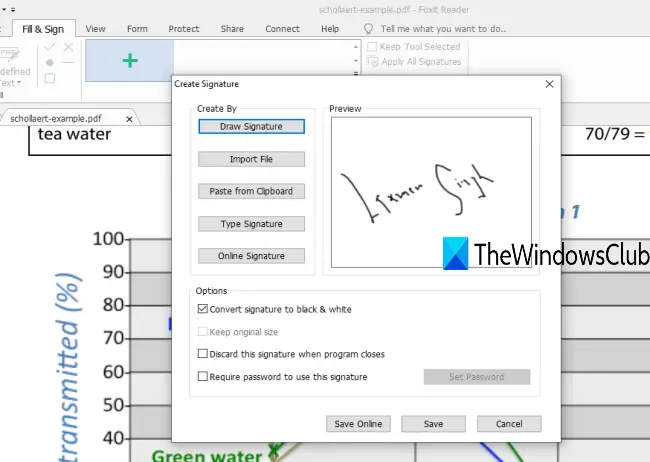 After that, you can again use the Fill & Sign tab and use any of the available signatures. When the signature is added, you can also change its size. At last, use create a copy of the original PDF or add changes to existing PDF using the File menu and save your PDF with signature(s).
Read: How to Sign a PDF document in Microsoft Edge
4] SmallPDF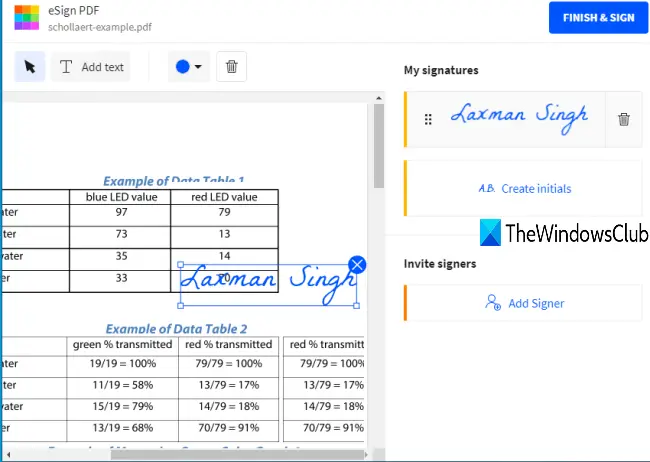 SmallPDF brings 20+ tools to split, compress, merge, convert, protect PDF, etc. You need to use eSign PDF tool to create signatures in a free-hand style or upload a signature image from the PC and add it to a particular place in the PDF document.
You can also invite signers to add their signatures to that PDF. Its free plan lets you create two signatures (initials and actual signature) and process only two PDF documents in a day, but it is pretty good to sign PDF online.
Use this link to open the eSign PDF page of this service. After that, you can upload PDF from the device (or desktop), Google Drive, or Dropbox. Once the PDF document is uploaded, you can view its pages. On the right sidebar, you will see the Create signature and Create initials buttons.
Use the first button and a box will open. Using that box, you can draw your own signature, type a signature, and select any of the three handwriting styles, or upload a signature image (JPG, GIF, PNG, or BMP). Three different colors are available to draw a signature.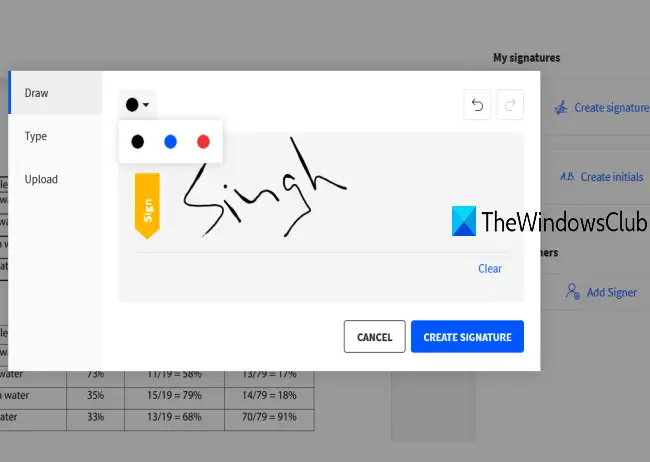 The same options are available for creating initials. It also automatically optimizes the signature to make it look even good.
When the signature is ready, it is added to the right sidebar. Just drag n drop the signature to a part on your PDF document. After that, you can press the FINISH & SIGN button to grab the output PDF with your signatures.
If you want, you can also invite signers using the button available on the right sidebar. You can add the first and last names of signers, your email address, and their email addresses. They will receive a link to open PDF and sign that PDF using this tool. Once all signers have signed the PDF, you will receive a download link for PDF in your email.
TIP: DocuSign lets you sign documents electronically
5] LightPDF
LightPDF service brings a very simple but effective tool to add signatures to PDF online. Its Sign PDF tool lets you draw a signature or upload signature (JPG, PNG, JFIF, etc.) image. You can create multiple signatures and then use any of them. It also has one interesting feature using which you can add a signature to all the pages of your PDF document in a single click.
This link will open its sign PDF page. There, you can use the Choose File button to upload PDF from the desktop. When PDF is uploaded, use the Create signature button and you will see two options. Draw Signature and Upload Image. Use the first option and you can draw your signature using 60+ colors. Press the Save button.
Now your signature is ready, place your mouse cursor on the Create signature option. Now you will see the signature added by you. Drag n drop that signature to any part on PDF. It also lets you increase/decrease the size of the signature. There is also a + button using which you can add a signature to all the pages.
These free tools are good enough to fulfill the need to sign PDF files with ease. The software have an advantage over online services because you don't have to worry about file size limit.