Microsoft Edge brings a PDF highlighter feature that helps to highlight PDF text with any of the four colors: Light Blue, Green, Yellow, and Pink. You can simply select text in PDF file and use the right-click context menu to highlight that text. Though the feature works well, sometimes you may face an issue when you're not able to highlight PDF in Microsoft Edge browser.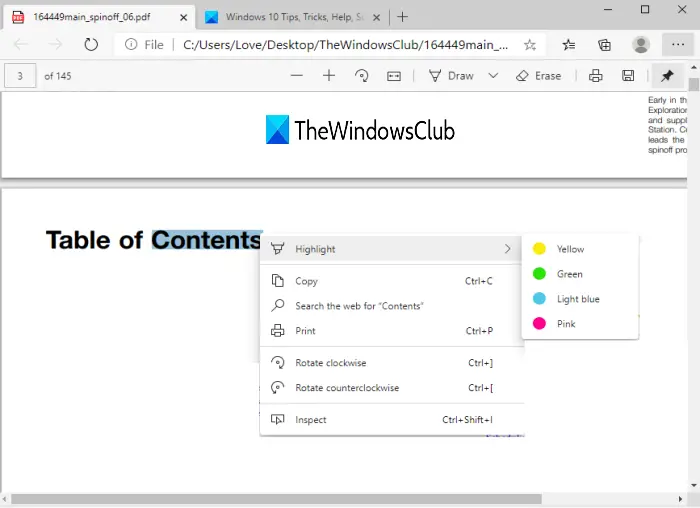 Text Highlighter not working in Microsoft Edge
Microsoft Edge lets you highlight PDF with 4 colors. If your Microsoft Edge can't highlight text in PDF documents in Windows 10, then some of these suggestions are sure to help you:
Update the Microsoft Edge browser to the latest version.
Remove modification restrictions from PDF.
Check if PDF is scanned.
Reset Microsoft Edge browser settings.
Let's start with these options one by one.
1] Update Microsoft Edge Browser to the latest version
It may happen that you are using an older version which is causing the issue that Microsoft Edge highlighter is not working. If so, simply update the browser to the latest version.
For this, open 'Settings and more menu' of Edge browser using the shortcut 'Alt+F'. Alternatively, you can click those three horizontal dots on the top right corner to open this menu. In that menu, click the Settings option.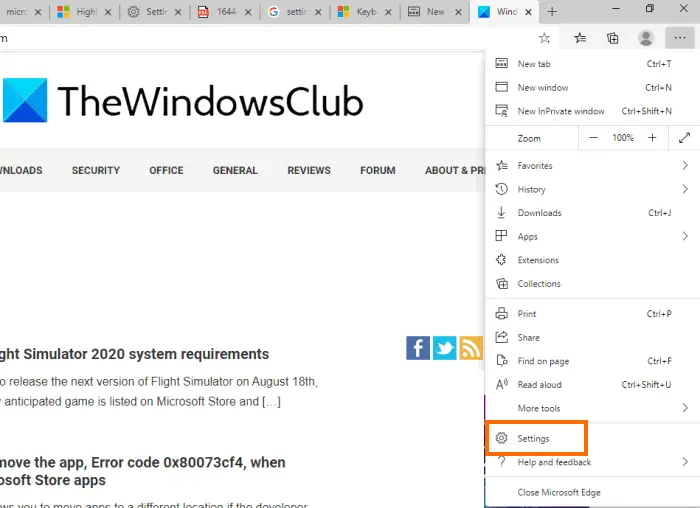 On the Settings page, select About Microsoft Edge option.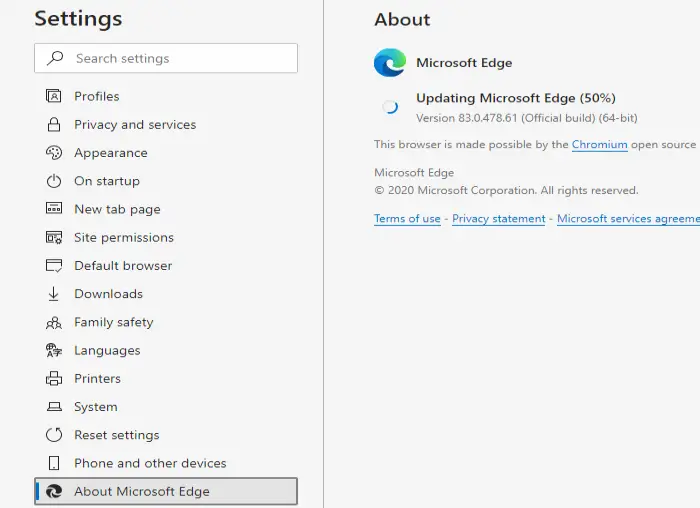 Now, it will start checking for updates. If updates are available, it will automatically start updating Microsoft Edge. Wait for a few seconds.
When the update is completed, use the Restart button.
When the browser is restarted, open a PDF file, and try to highlight it. This should fix the issue. If not, you can try other options.
2] Reset Microsoft Edge Browser Settings
Sometimes, resetting the browser settings can also solve this problem. This option doesn't clear your saved passwords, history, and bookmarks (or favorites). Still, you must be careful before using this option as it will reset the default search engine, start page, pinned tabs, new tab page, clear cookies of Microsoft Edge, etc.
To reset settings of Microsoft Edge, open Settings page using Settings and more menu (Alt+F shortcut), and select Settings option.
In the Settings page of Edge browser, use the Reset settings option.
Click on Restore settings to their default values and Reset Settings pop-up will open. Press the Reset button.
Now restart Microsoft Edge, add PDF file, and check if you can highlight PDF. This should fix the problem.
3] Remove Modification Restrictions from PDF File
It is possible that the PDF file you want to highlight has modification restrictions or permissions. In that case, your PDF file becomes Read-only. You can't make any changes to that PDF. You can definitely select text in PDF, but the highlight feature of Microsoft Edge won't work when the content modification is restricted.
If this is the case, then you need to remove modification permissions from that PDF. There are some free services and software available to help you remove such permissions/restrictions from a PDF document.
Once the content modification permissions are removed, you can highlight PDF using the Microsoft Edge browser.
4] Check if PDF is scanned
A scanned PDF contains pages as images. When there is a scanned PDF, the text content available in that PDF can't be copied or highlighted. In this case, you need to convert that scanned PDF to searchable PDF. Again, there exist some services and software that can help you convert scanned PDF to normal PDF.
When the PDF is converted to searchable PDF, you will be able to highlight it on the Microsoft Edge browser.
These are some options you can try to get rid of the issue that Microsoft Edge highlighting feature is not working. Hope something helps.