If you want to extract pages from PDF files, then you can try some good free PDF page extractor software or online tools covered in this post. These tools are handy as you don't have to open your large PDF file just to access a few specific pages. You can simply extract all those PDF pages that you use frequently and generate a separate PDF for those pages.
These tools help you set a custom page range (like 10-20, 25, 30-35, etc.), and then that range is fetched as a single PDF file. No watermark is added to the output PDFs.
Extract pages from PDF
In this post, we have included 3 free software to extract PDF pages and 2 free online PDF page extractor tools. These are:
ByteScout PDF Multitool
PDFMate Free PDF Merger
PDF Splitter and Merger
iLovePDF
Online2PDF.com.
Let's check all these tools.
1] ByteScout PDF Multitool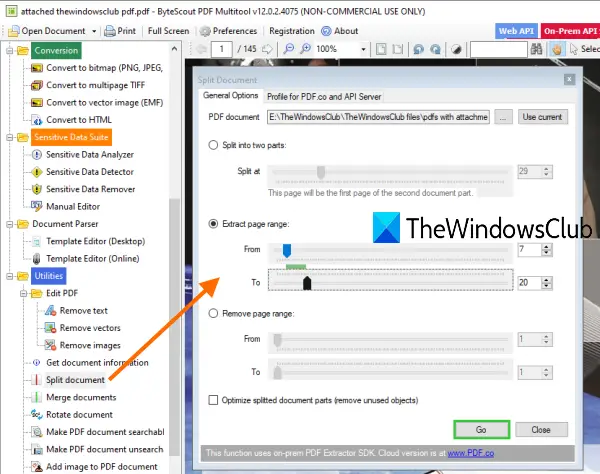 As its name indicates, ByteScout PDF Multitool is a multipurpose software. It is free for non-commercial use only and It brings 25+ tools to perform different operations on PDF. You can use it to extract attachments from PDF, convert PDF to multipage TIFF, make PDF document searchable, rotate a document, etc. Extract pages from the PDF feature are also supported.
Grab this software and install it. Open its UI and click on Open Document (on the top-left side) option to add a PDF. You can also preview the input PDF on its interface.
Now click on the Split document option visible on the left sidebar and a window will open. There, press the Use current button to select the input PDF. Now you will have three options to extract pages from PDF:
Split into two parts: This option helps to make two PDF files from the input PDF
Extract page range: This is the option that you should use. It lets you set page range and only that page range is extracted as a PDF file
Remove page range: Using this option, the page range set by you is excluded and the rest of the pages are stored in the output PDF.
Use any option and press the Go button. It will ask you to select the output folder and save the PDF.
2] PDFMate Free PDF Merger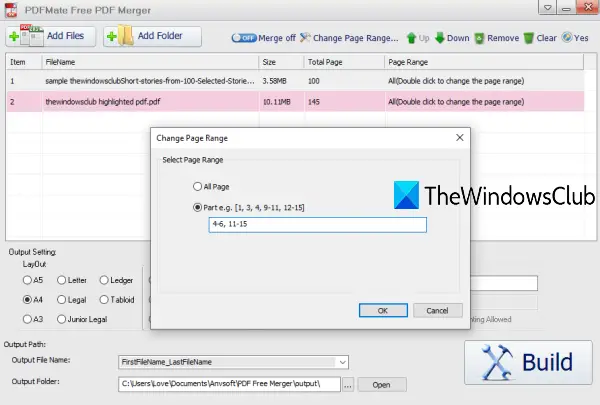 PDFMate Free PDF Merger is actually helpful to combine multiple PDF files into a single file. But, you can also use it to extract pages from PDF. You can add multiple PDF files and set a custom page range for each PDF and get the output that will contain only those pages as separate PDF documents.
This tool also lets you add an open password and security password for output PDFs. Moreover, you can also set the output page layout (1IN1, 2IN1, A5 sheet, A4, etc.). So, pretty good options are present.
Here is its homepage link. Grab it and install it. Open its interface and then add PDF files using Add Folder or Add Files button. Now the very first thing you should do is turn off Merge button so that you can get separate output PDF files. It is available on the top middle part of its interface.
Now double-click on a PDF and a window to set page range will open. Set any custom range and do this for the rest of the PDFs as well. Apart from that, you can also use the bottom section of its interface to set output layout, password, output folder, etc.
At last, click on the Build button. It will process input PDFs and give you the output PDF documents.
3] PDF Splitter and Merger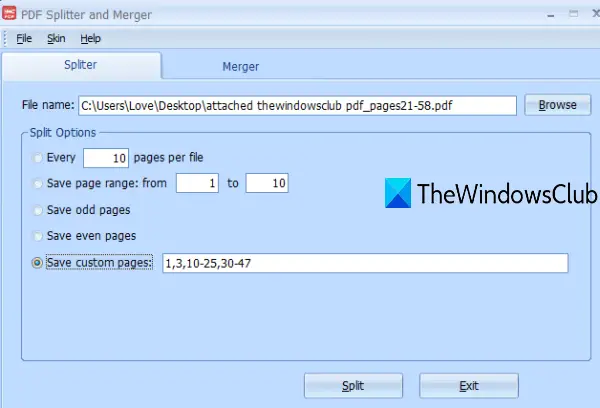 PDF Splitter and Merger can extract pages from one PDF at a time but its options are pretty good. You can extract pages in the following ways:
Extract every N (say 7 or 10) pages per file
Extract only odd pages
Only even pages
Extract a specific page range (say 11-20)
Extract custom pages (like 1-3, 7-9, 11, 13-16, etc.).
You should use the last option so that you can fetch desired pages to generate a PDF for those pages.
Click here and download its set up file. After installation, launch it and access the Splitter tab. Use the Browse button to add input PDF and select an option.
Use the Split button and a Save as window will open. Provide PDF name and output folder and it will generate output based on your selected option.
4] iLovePDF
iLovePDF website brings its Split PDF file tool that is quite good to extract PDF pages. The free registered plan of this website lets you process 1 PDF at a time with up to 100 MB size. Also, you have the option to add PDF from your Google Drive account, PC, or Dropbox.
Open this tool and add a PDF file from any of the supported sources. After adding the PDF, it will show thumbnails of all the pages. Now, you can extract pages in 2 different ways:
Split by range: Using this option, you can set a fixed range (say 10 or 20) or custom range (from 1 to 7, 10-10, 13-15, etc.) to extract PDF pages.
Extract pages: This option lets you extract all pages or select pages to extract (like 1, 5-8, etc.).
Use any option and then click on the Split PDF button. It will process your PDF and provide the download link.
5] Online2PDF.com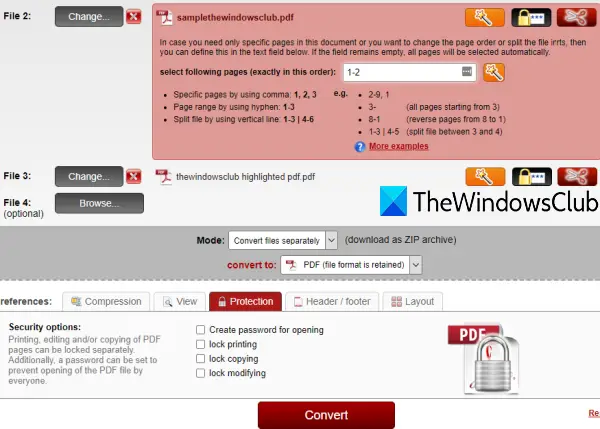 Online2PDF.com brings a fantastic tool to Extract pages from PDF. Its features are really good which makes it a better PDF page extractor tool. You can upload up to 20 PDF files and set a custom page range for each PDF. The size limit to upload a single PDF is 100 MB and 150 MB for multiple PDFs.
You can also select where you want a single PDF for all the page ranges of all input PDFs or generate separate PDF files. The options like add password protection to open PDF, lock copying, lock modifying are also there.
Open it using this link and use the Select files button to add PDF files. When PDFs are added, the select pages box for a PDF document will visible. There, you can add custom page range one by one.
If you want, you can use some other available options such as the Mode drop-down menu to get a single PDF or separate output PDF files, add protection, etc. After that, use the Convert button. One by one, all PDFs are processed, and you get the output files.
Hope you like these PDF page extractor tools.