This article will show you how to extract tables from PDF documents. You might have many PDF files that contain multiple tables that you want to use separately. Copying and pasting those tables is not a good option as it may not give the expected output, therefore you need some other simple options that can extract tables from a PDF file and save those tables as separate files.
Most of these PDF table extractor tools can't help if the PDF table is scanned. In such a case, you should first make the PDF searchable and then try these options.
Extract Tables from PDF documents
In this post, we have added 2 free online services and 3 free software to extract tables from a PDF file:
PDF to XLS
PDFtoExcel.com
Tabula
ByteScout PDF Multitool
Sejda PDF Desktop.
1] PDF to XLS
PDF to XLS is one of the best options for extracting tables from PDF. It has two features that make it handy. You can fetch tables from 20 PDF documents together. Also, the PDF table extraction is automatic. It generates the output as an XLSX file. If a PDF has multiple tables, then each table is stored separately in different sheets of output XLSX file.
Open the homepage of this service. After that, drag n drop PDF files or use UPLOAD FILES button. Each uploaded PDF is converted to XLSX format file automatically. When the output files are ready, you can download them one by one or download a ZIP file that will contain all the output files.
2] PDFtoExcel.com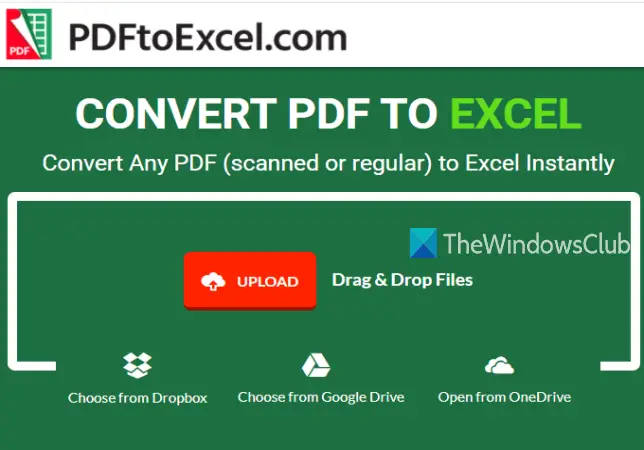 PDFtoExcel.com service can extract tables from one PDF at once but it supports multiple platforms to upload PDF. It supports OneDrive, desktop, Google Drive, and Dropbox platforms to upload a PDF. Also, the conversion process is automatic.
This service homepage is here. There, select an upload option to add PDF. After that, it automatically uploads and converts PDF to Excel (XLSX) file. When the output is ready, you will get the download link to save the output file containing PDF table(s).
Note: Though this service mentions that it can extract tables from scanned PDF files also, it didn't work for me. You can still try it for scanned PDF.
3] Tabula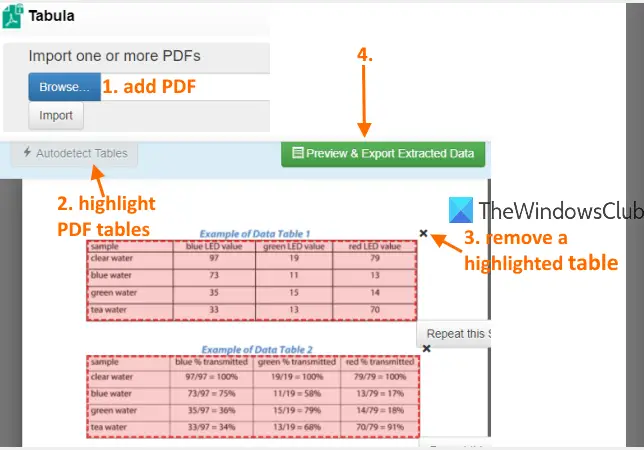 Tabula is a powerful software that can automatically detect tables present in a PDF and then lets you save those tables as TSV, JSON, or CSV file. You can select the option to save separate CSV files for each PDF table or save all the tables in a single CSV file.
To download this open-source PDF table extractor, click here. It also requires Java to run and use it successfully.
Extract the ZIP file that you downloaded, and run tabula.exe file. It will open a page in your default browser. If the page is not opened, then add http://localhost:8080 in your browser and press Enter.
Now you will see its interface where you can use the Browse option to add a PDF. After that, press Import button. When the PDF is added, you can see PDF pages on its interface.
Use Autodetect Tables button and it will highlight all the tables present in that PDF automatically. You can also manually highlight a table by selecting a particular table. If you want, you can also remove selected tables of your choice.
This will help you save only those tables that you want. When PDF tables are highlighted, click on the Preview & Export Extracted Data button.
Finally, use the drop-down menu available on the top part to select an output format, and press Export button. This will save PDF tables in the output format file selected by you.
4] ByteScout PDF Multitool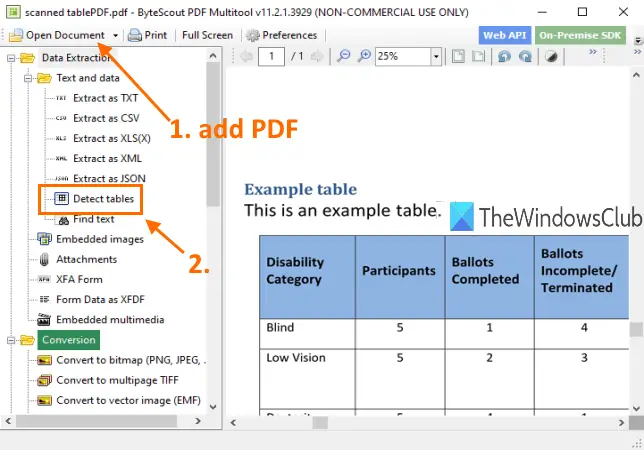 As the name suggests, this software comes with multiple tools. It has tools such as convert PDF to multipage TIFF, rotate PDF document, make PDF unsearchable, optimize PDF, add an image to PDF, and more. PDF table detector feature is also there which is pretty awesome. The advantage of this tool is you can extract tables from scanned PDF too. You can detect tables in multiple pages and then extract those tables as CSV, XLS, XML, TXT, or JSON format file. Before extraction, it also lets you set a page range to extract tables from specified pages only.
You can grab this software here. It is free for non-commercial use only. After installation, run this software and use Open Document option to add a PDF. After that, click on the Detect tables tool as highlighted in the image above. This tool is present under Data Extraction category.
It will open a box where you can set conditions to detect tables. For example, you can set a minimum number of columns, rows, minimum line breaks between tables, set table detection mode to bordered or borderless table, etc. Use options or keep the default settings.
After that, press Detect next table button in that box. It will identify and select a table on the current page. In that way, you can move to another page and detect more tables.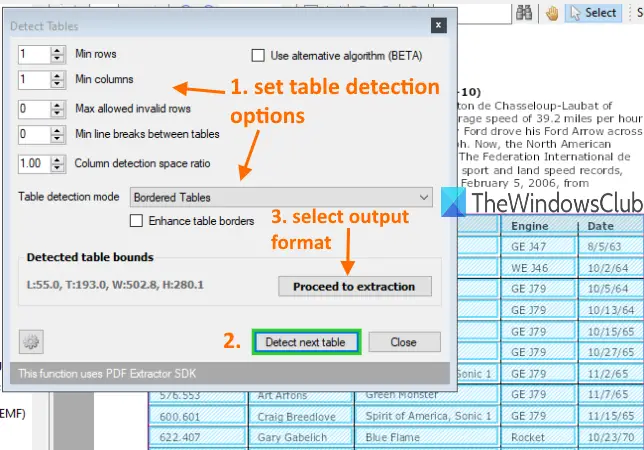 When you're done, use Proceed to extraction button, and select the output format. Finally, you can use options to save the tables from the current page or define a page range, and save the output.
The tool gives a satisfactory output. But sometimes, it might detect other content in PDF, and might not be able to extract tables from multiple pages. In that case, you should use it to fetch and save tables one by one.
5] Sejda PDF Desktop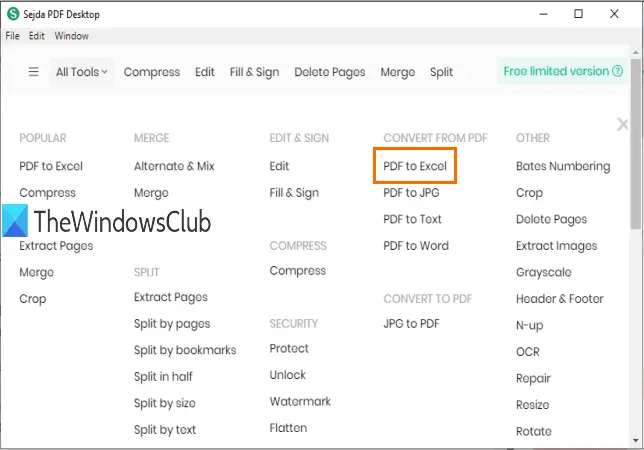 Sejda PDF Desktop is also a multipurpose software. It can optimize or compress PDF, add watermark to PDF, remove restrictions from PDF, edit PDF document, etc. However, its free plan has limitations. In the free plan, only 3 tasks per day can be done. Also, the PDF size limit is 50 MB or 10 pages.
You can use its PDF to Excel conversion tool to extract PDF tables. It automatically detects the tables in PDF pages and lets you save those tables as XLSX or CSV.
Its download link is here. After installation, use PDF to Excel tool from its main interface. After selecting that tool, use Choose PDF files button. Only one PDF can be added to the free plan.
When the PDF is added, it will provide Convert PDF to CSV and Convert PDF to Excel buttons. Use a button and then you can save the output to the desired location on your PC.
Its PDF table detection tool is good. You don't have to manually detect tables. Still, sometimes it might include other text content as a PDF table and store it in the output. But overall results are good.
That's all.
These are some good tools to extract tables from PDF. Tabula software is more effective than other tools. Still, you can try all the tools and check which helps.
Similar reads: