Some PC gamers may not be aware that on Steam it's possible you can bulk/batch download and install multiple games at once on your Windows 11 or Windows 10 gaming system. In this post, we will show you how to easily and successfully carry out this task!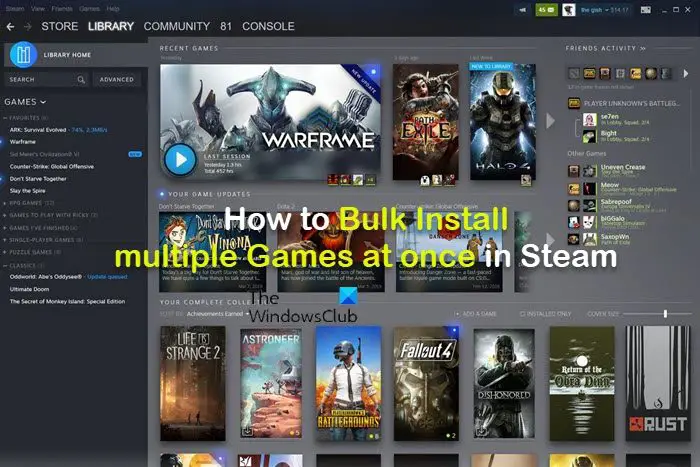 For one reason or another, you may want to bulk, or batch install multiple Steam games at once on your Windows 11/10 gaming rig. For example, you may be in a situation where originally you had everything on your desktop PC, and you just swapped your SSD to another PC, so you didn't have to install or move anything. Now, you have got a new laptop and you don't want to void the warranty by opening it up and swapping out the drive, neither do you want to just format the disk and move everything into it because you kind of want to keep the software that shipped with the computer; even though bloatware is annoying but some of it is necessary or even quite useful.
Therein lies your conundrum. Although, you can use software like PCmover Express or EaseUS Todo PCTrans which might not be an option you want to explore due to the limitations of the free version, nor cloning to the internal drive using any free Disk Cloning software which will overwrite the target disk.
In this typical scenario, you can simply upload your files to a cloud storage service, then download them to the new PC, and then you can install multiple programs at once using the free Bulk Software Installer for Windows 11/10. For your Steam games, you can follow the instructions below to bulk or batch-install multiple games at once. Keep in mind that the download will be a bit slower that way because your download band will divide between the game titles in your Steam downloads queue.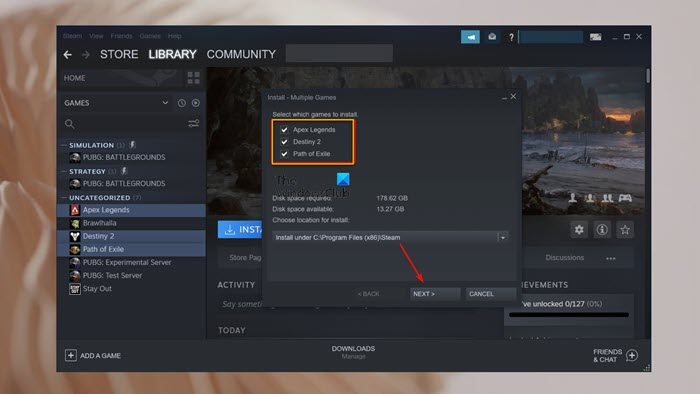 Bulk or batch install multiple games at once in Steam
Launch the Steam app on your gaming PC.
Login with your Steam account credentials.
Next, click on STORE at the menu bar in the Steam app.
Now, search for your game and open the game page.
Scroll down the game page and click Add to Library.
Repeat the same steps to add other games to your Steam library.
Once you are done adding the games, click LIBRARY at the menu bar in the Steam app.
Select GAMES from the dropdown option under Home on Top to display all the games added to the Steam library from the Store.
Now, to download and install multiple games at once on Steam, you need to select those games first by pressing and holding the Ctrl key and clicking to select those games one by one.
After you have selected the games, right-click on any one of the selected games and click Install selected from the context menu.
On the Install – Multiple Games pop-up, click the Next button to proceed.
Next, click I Agree in the Agreement and Terms & Conditions window of the selected games to queue and start the installation.
You can check if those games are queued for download in the downloads by clicking on Downloads at the bottom of the Steam app. Once the games are downloaded and installed, you can start playing.
Now read: How to install multiple instances of a Game in Steam
Can you install multiple games at once on a PC?
You can store and install as many games on your PC and what limits you are the capacity of your storage device or hard drive. As for how many PCs you can install Steam games on, you may authorize Family Library Sharing on up to 10 devices at a given time, and for up to 5 accounts that may then use your game library on any of your authorized computers.
Read: How to downgrade Steam games to previous versions
How many games can 256GB hold on a PC?
Your operating system takes up storage space in the neighborhood of 30GB. This means that by calculating your operating system disk space and a library of games of around 30-40GB, your 256GB SSD will be able to hold a maximum of about 5 games simultaneously. Putting it in perspective how many Steam games that can fit on 1TB depends on the games – at least 10 AAA games.
Also read: How to Install Steam and Manage Steam Games.