Steam is one of the strongest players in PC gaming, and for many, Steam is PC gaming. If you are not much interested in Xbox Game Pass, Steam is a great alternative that holds a huge library of games that you can install. This post shares how you can install Steam and Manage Steam Games on your Windows 11/10 PC.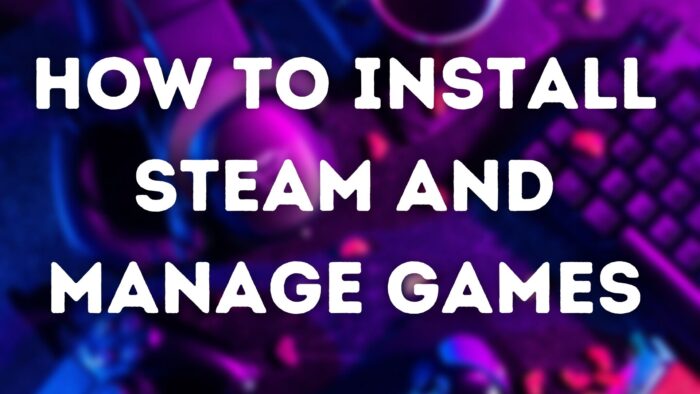 Steam client is feature-rich and comes with library management tools that help with many games installed on the computer. Steam client is also a platform that allows developers to integrate their games with Steam Achievements and Steam Cloud and offer basic social networking features.
How to Install Steam Games on your PC
The installation process of Steam is fairly easy, and we shall go over a brief step-by-step guide on how to do it in this section. Here are the steps:
Once your PC/Laptop is connected to the internet, open any web browser and enter the URL https://store.steampowered.com. It will take you to the official site of Steam, from where you can install Steam on your PC and laptop.
Click on the button that says Install Steam on the top right-hand corner of the site that you've opened. It will open a new page where you'll see a button named Install Steam, and you'll also see the platforms Steam is currently available for. Currently, Windows and macOS are the platforms that support Steam.
Download the Steam installer, and it will start downloading to your PC/laptop. Once it is complete, open the download folder, and double click on the Steam installer to begin the installation.
Once the installation is complete, it will automatically launch. The last step is to either create an account or sign in using an existing account.
Now let's take a look at how you can efficiently manage your games on Steam.
How to Manage Games on Steam
There are tonnes of games/software of almost all genres available on Steam. Some of them are either paid or free. In this section, you will learn a step-by-step guide on how to manage your games and software on Steam.
Search for Games
Add Game to Steam Library
Buy Game from Steam
Change Steam Game Location
Uninstall Steam Games
Completely Remove Steam Games
These steps will assist you in finding games/software( both paid and free) of a genre of your choice, adding them to your cart/library/wishlist, installing them, and removing them.
1] Search for Games
You can search for new games and software from the Steam Library management option in the top left corner. Here you'll see many elements on your screen, including a search bar and a column on the left side that'll have several sections.
You can look for any game of your choice under these sections. These sections contain games and software that are recommended. It can be sorted out based on tags, are top sellers, grossing, etc. It will be easier to find something of your choice from these categories.
If you can't decide, you also get the option of using the search bar, where you can use several search filters to find the game of your choice.
2] Add Game to Steam Library
In this step, we'll discuss how to add any game or software to your library. There are a few differences between paid and free games when adding them to your Steam Library. Once you've installed Steam and set it up, you'll be taken to the Library, where you'll find all of the games/software (both paid and free) that you've added to it.
In the case of free-to-play games, all you need to do is click on the game name, and when its page opens, click on Play Game. That's all you need to do. The game will be automatically added to your Steam Library.
3] Buy Game from Steam
In the case of paid games, you need to add them to your cart and complete the transaction. You can add any paid software or game to your cart by clicking the Add to Cart button on the right side below their titles. Once you've done this, you'll see that they've been added to your Steam Library as well.
After you're done adding the games of choice to your Steam Library, the next step that follows is their installation on your computer. It is a fairly easy step. All you've to do is right-click on the game name followed by clicking the Install button, and the game will start downloading.
4] Change Steam Game Location
If you've partitioned your storage drive into multiple partitions, you'll be asked to choose an install location every time you attempt to install a game or software. The games get installed on the same drive where Steam is installed by default.
You can find the installed games and software files under the Steam folder in the drive where you installed Steam. There's a way to change a game's install location after it has already been installed. Here are the steps you need to follow:
Navigate to the desired game under Steam Library
Right-click on the game name and navigate to Properties. Doing so will lead to a pop-up window.
Navigate to Local Files in the pop-up, and click on the Move install folder option. After that, all you need to do is browse the desired location, and that's it.
5] Uninstall Steam Games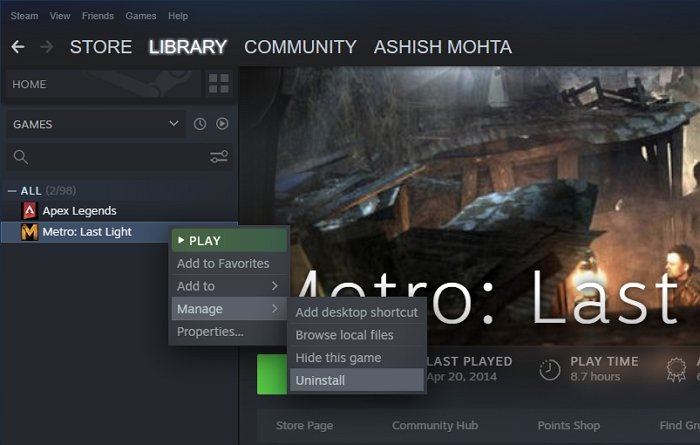 You'll need to uninstall some games from your PC to free up some space. It is also an easy task. Navigate to your desired game under the Steam Library, right-click on its name, click on Manage, and there you'll find the Uninstall option. Remember that uninstalling any game or software will not remove it from your Steam Library.
6] Completely Remove Steam Games
Suppose you want to completely unlink any game or software from your Steam Library/account. Practice extra caution with this step in terms of the games you've purchased with real money. Once you remove them from your account, you'll have to repurchase them the next time you wish to play them. For completely removing a game or software from your Steam Library, follow the steps listed below: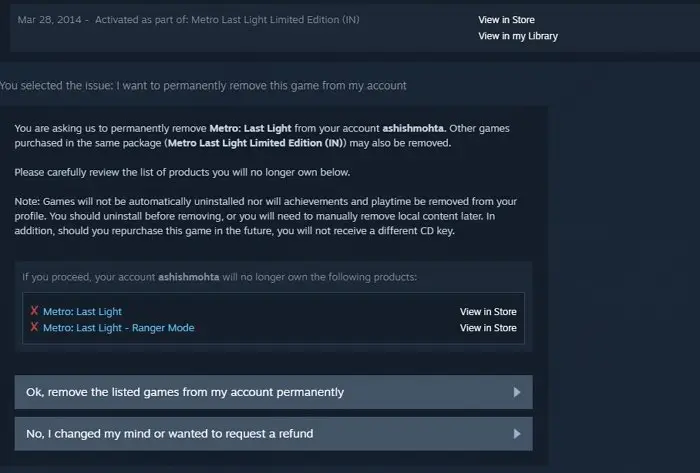 Go to Steam Support https://help.steampowered.com/en/.
Sign in with your account
Locate the game in the Products list and click to open it
Then click on I want to permanently remove this game from my account
It will give you a fair warning on what will happen when you remove the game from your account.
Once you are sure, click on the Ok, remove the listed games from my account permanently button, and it will be removed from the account.
Read:
How To Manage Gifted Games?
Gifted games are treated no differently than games that you've bought yourself. That means once you've removed them from your Steam Library, they have to be purchased again, and only then will they show up in your Steam Library.
Will Uninstalling Steam Delete The Games Installed On PCs?
Yes. Uninstalling the Steam application from your PC will end up deleting all of the files, including your installed games that were stored in the Steam folder that was created when you installed Steam. However, the games you added to your Steam Library will still be completely intact, and you can reinstall them whenever you want.
What Is Library Sharing in Steam?
Steam, at its core, is software that uses cloud services. It enables a lot of unique features, and one of them is Steam Family Library Sharing. It allows you to share games or software across multiple Steam accounts. It mainly means that you can access each other's Steam Libraries and play games that might not be available in your own Library.
How Do Steam Cloud Services Work?
Steam uses cloud services to enable a tonne of features that altogether aim at providing a great experience. Managing games and data is a lot easier in this manner. Once we make an account on Steam and add some games to our Steam Library, all that data stays safe on the cloud. Even if you uninstall Steam, the data available on the cloud will always be there for us.
What Are The Common Troubles We Can Face While Using Steam And Its Cloud Services?
It's not likely for anyone using Steam to encounter troubles often. However, it can't be denied that many people have faced issues when it comes to their Steam Library management. Commonly reported troubles of Steam Library mostly are related to Family Library Sharing feature and can be quickly resolved by the Steam troubleshooting section available on their site.
Steam is a wonderful Game store for anyone who likes PC Gaming. Not only the application gives you complete control over the game installation, location, buying, but it also ensures you can share your library with family delivering a complete solution.
I hope the post explained to you in full detail how you can install Steam and manage Games on Windows PC. However, most of the steps will remain the same even on macOS and other supported platforms.