You might not have known this, but Steam synchronizes a lot of your saved files to its servers for easy access. This means if you uninstall a game and reinstall it again, the tile will automatically download the save files from the Steam servers. Now, there is another way to get these saved files. Yes, you can download them from your preferred web browser as well, which is a nice touch from the folks at Valve. The question is, how can we get this done? Well, this is exactly what we're going to discuss right now.
How to download Steam Cloud Saves to PC
Let us see how to download your Saved Games from Steam Cloud to your Windows PC using the Sync feature. Getting this feature up and running is a simple affair. So, let us look at how to do it before we move on to other steps.
Open the Steam app on Windows
Navigate to Properties
Enable the Sync games feature
1] Open the Steam app on Windows
OK, so to begin, you must fire up the Steam app on Windows. By default, Steam after installation will auto-start, but if that is not the case, then open it via the Desktop, Task Manager, or Start Menu.
2] Navigate to Properties
Just go to your games' library, then right-click on the title you want to sync, and from there, select Properties.
3] Enable the Sync games feature
After firing up the Properties section, click on the General tab, and once that is done, be sure that "Keep games saves in the Steam Cloud for Game" option is enabled by checking the box next to it.
Steam Cloud option is not available
We should point out that if no Steam Cloud option is available, then it simply means the game is not supported.
Launch your web browser
Visit the official Steam Cloud page
Select the preferred game from the list
Download the game files
To begin, you must first fire up your favorite web browser. As long as the browser is supported, you should have little to no problems at all.
OK, so the next step t take here, is to visit the official Steam Cloud page by clicking on https://store.steampowered.com/account/remotestorage. Visiting the page will showcase a list of games that are currently storing saved files on Steam Cloud.
Find the correct game on the list and from there, click on the Show Files button to the right of it. This will load a new page right away.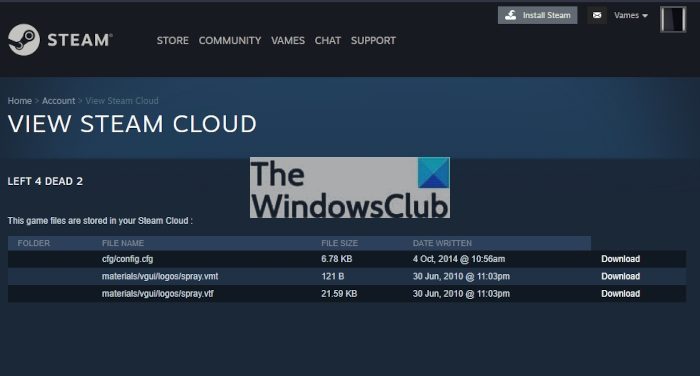 When it comes down to getting the game files on your computer, you must click on the Download button to the right of the file name.
Read:
Is Steam for free?
The Steam app is available for download for free, however, most of the games situated on the platform are not. A typical video game costs around $60, but there are quite a few that come in at a lower cost.
Read: How to change the Language of individual Games in Steam
Is Steam safe to install?
Yes, Steam is safe to install. However, you must ensure you are always downloading the official application from Valve. The official website is located at www.steampowered.com, so as long as you've downloaded the file from there or any other official Steam URL, then you can feel a sense of safety.
How does Steam Cloud work?
The simple explanation is this. Steam Cloud automatically stores your saved files from your game on Steams many servers so gamers can gain access to the files from any computer and anywhere in the world.
Does Steam Cloud have a limit?
At the moment, Valve hasn't set a limit for cloud save data. However, each game has its own size limit, though it's not something you have to worry about since most games will never reach the limit. And no, we do not know the exact limit a developer may put on their games.