You can switch to any of the twenty-eight languages available for games on the Steam platform in just a few clicks or taps. More importantly, the process to change the language of individual games in Steam is not as complicated as it seems to be. Here's how you can get started.
How to change the Language of individual Games in Steam
Like other Settings, the Steam language setting determines which language the Steam client application displays, as well as the language in which games are presented. If needed, you can change it to a language of your choice. However, the platform must support it.
Open your Steam Library
Right-click the game title and choose Properties.
Switch to the Language tab.
Select the language you wish to use from the drop-down menu
Download the files for that language before you can play.
Please note that some languages may not be available for the game you wish to play. In such a case, you'll need to check the Steam store page for the game to see which languages are offered.
On your Windows PC, log into your Steam account if you have the client installed.
Next, click the Steam heading on the menu bar as shown in the image above and scroll down the Settings option.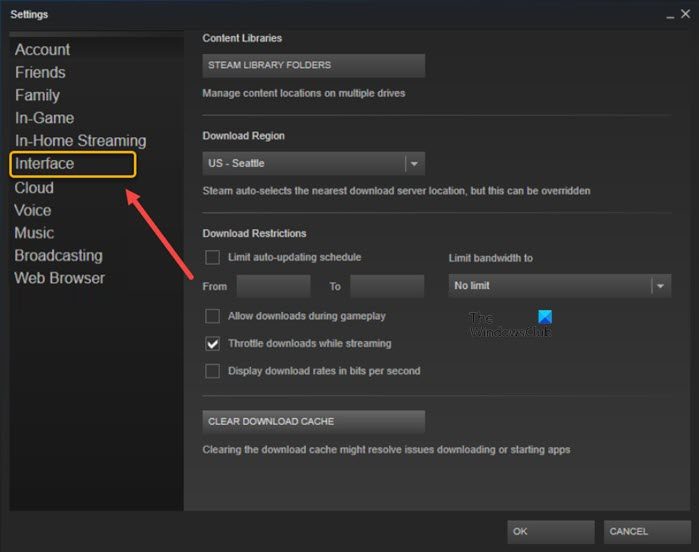 Then, switch to the Interface tab.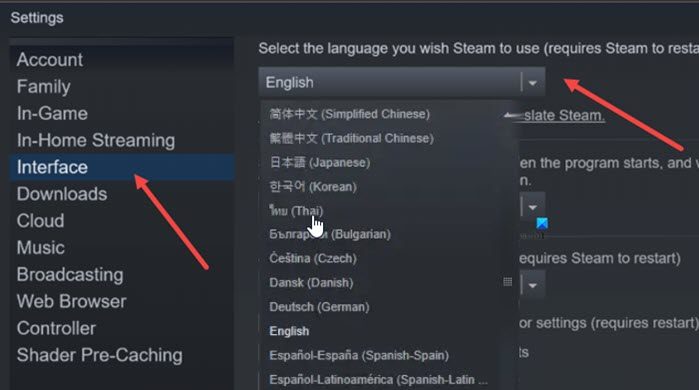 Hit the drop-down menu and select the language you wish to use.
Click OK and then select the option to Restart Steam.
Once the Steam client restarts, you will be able to use Steam and Valve games in the language you prefer to use.
Lastly, if you have games installed that support the language you have selected, files for that language may need to be downloaded before you can play.
Is Steam for free?
Yes, Steam itself is free to download and use, but many of the games available on its platform for playing come with a price tag. Moreover, the third-party titles may have their own language settings – these settings will generally be independent of the Steam language setting.
Is Steam the most popular?
Firstly. it has a pile of good free-to-play games. Also, there are tons of sales, many of which are 75% off sales. Since Valve launched Steam in 2003, it has grown to become the leading PC gaming platform. It's very popular and has over 150 million users worldwide.