Those still looking for better and safer options might want to check out our list of some MegaUpload alternatives for free file sharing and online storage websites. Here is a list of free secure online file sharing and storage services you should be using. These sites offer the best services for storing and sharing files online.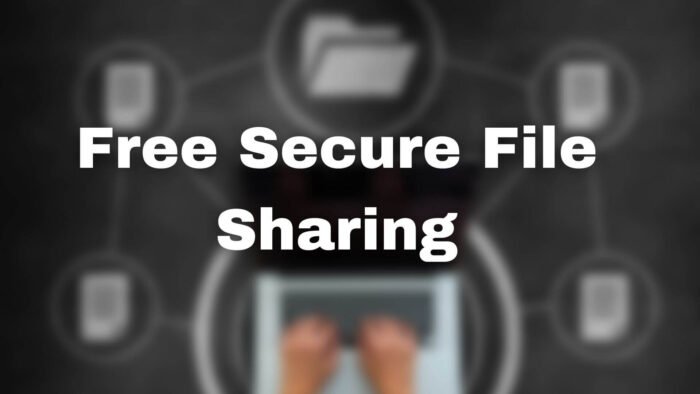 Free secure online file sharing & storage services
Check out our list of 10 free secure online file sharing and storage sites.
OneDrive
MediaFire
Amazon Cloud Drive
DropBox
YouSENDit
SugarSync
Minus
RapidShare
Deposit Files
Box
Make sure to go through all the features before choosing one of them.
1] OneDrive
OneDrive is Microsoft's free online file storage service. It allows sharing individual files via email or on social networks. It offers 5 GB of free personal storage, with an individual file size limited to 100 MB. It has now simplified the ability to share by introducing a new HTML5-based drag-and-drop feature. After dropping the file, a user needs to right-click on a file to open up a pop-up menu where you can select the 'Share' command. By default, OneDrive keeps all your files confidential unless you specifically elect to share them.
2] MediaFire
After agreeing to its terms and conditions, any user who legitimately wants to store, access, and shares his data online can use MediaFire. It offers a free, secure, and unlimited cloud storage service for its users and welcomes any former MegaUpload user. MediaFire includes a storage and sharing model that is similar to Amazon S3, Akamai, YouSendIt, etc.
3] Amazon Cloud Drive
The cloud service is somewhat convenient as it gives you 5GB of online storage free plus the choice to buy music on Amazon's MP3 online store and save it to your Amazon Cloud. However, it has one shortfall; it offers no guarantee of privacy or security. Only first-time users are required to register (those having an Amazon account get a Cloud Drive account). By default, the service provides folders for Documents, Music, Pictures, and Videos, and if you want, you can add subfolders.
4] DropBox
DropBox is a top-rated service for file storage and sharing purposes. Any file you save to Dropbox is automatically and instantly saved to your computers, phones, and the Dropbox website.  You can edit files in your Dropbox from your phone and share them freely with anyone when required. Dropbox ensures that your stuff remains safe using Secure Sockets Layer (SSL) and AES-256 bit encryption. It keeps a one-month history of your work too. If you decide to go in for this service, you might want to check out DropBox Automator.
5] YouSENDit
It allows a user to send their files quickly and share them securely. YouSENDIt operates on a freemium basis. Its basic features are offered free, and more advanced features can be accessed by switching to a subscription plan. Sending a 50 MB file is free; paid accounts can send files up to 2 GB. The service uses comprehensive audit and tracking tools that enable users to monitor all their download activity.
6] SugarSync
With SugarSync, you get secure cloud storage for all your files, whether a document, music file, photo, or video. Whether you are sharing a single file or an entire folder, the service does it all for you with just a few clicks. The service allows its users to generate a public link for any file and share it on Facebook, Twitter, email, IM, or their blog. It has now even increased the capacity of its eponymous online storage offering from 2GB to 5GB. Also, the company said that current users of its free 2GB cloud-based storage service would be automatically upgraded to the higher-capacity service.
7] Minus
It is one of the best file-sharing tools available on the Internet today. Files can be uploaded via a simple 'Drag and Dropping' method in a designated window. Once done, files get arranged in a linear gallery. An alternative method to upload and access files is via a desktop client (available for Windows, Mac) and mobile apps. The free service supports an upload limit of 50MB per file.
8] RapidShare
The popular file hoster provides its users with an infrastructure that enables them to save their electronic files on Internet servers. If the files are not required anymore, a user gets a 'Delete' link with which he can remove the uploaded file from the server. RapidShare treats all saved files as confidential and does not scan or open the files without users' consent. The services provided by RapidShare are essentially free of charge and require only registration by the user.
9] Deposit Files
DepositFiles is a well-known service to people from different occupations (students, businessmen, home-business operators, etc.) searching for uploading, storing, and sharing their files safely on the Internet. It allows uploading and downloading of files up to 2GB without any charges and requires no registration for this purpose. Any user who complies with the terms of service and user agreement and does not violate the laws is free to store files for a period of 30 days (90 days for the registered users).
10] Box
Box lets you store all of your content online so that you can access, manage, and share it from anywhere. It can integrate with Google Apps and can even be accessed on mobile devices. The latest version offers much new collaboration and real-time notification features. Its interface is more straightforward and faster and provides a better experience for interacting with content.
Now read: Free File-sharing websites to send Large files.
What rules should we follow when sharing a file online?
Always ensure it's not a public link and shared over an email. It will make sure no one else gets to see the files you are sharing and misuse them. You can also share files for a limited duration, so the user doesn't have access to it all the time and password protect it. Also, make sure the service offers end-to-end encryption.
Should I download a shared file?
The question you need to ask is if the shared file comes from a trusted source. There is a bright chance that shared files from an untrusted source can be malicious. It is best not to download them, but if you have to, make sure to scan it first with your antivirus software.
Let us know which one is your favorite or if you have any other recommendations to make!