Gone are the days when we use thumb or Pendrive to carry or transfer data. It is the time for extreme digitalization and we have many services like OneDrive, Google Drive, Dropbox, etc. to upload our data and access it anywhere on any device. You can share the links of the files with others for them to access them. There are websites that offer free and premium file-sharing or transfer services. In this guide, we list 10 file-sharing websites to send Small or Large files.
Free File-sharing websites to send Large files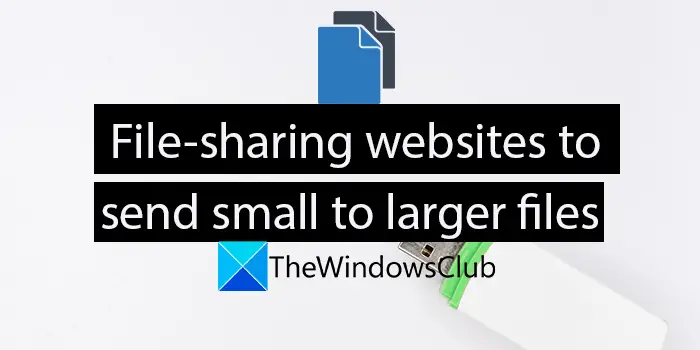 The following are the 10 of the popular and best file-sharing or transfer websites that help you transfer files over the internet.
WeTransfer
TransferNow
Wormhole
TransferKit
TransferXL
Send Anywhere
Smash
File Transfer
SurgeSend
Filemail
Let's get into the details of each service.
1] WeTransfer
WeTransfer is one of the most popular file-sharing websites. It has both free and paid services. With free service, you can send up to 2GB of files that can be downloaded for 7 days. If you want to send files that are larger than 2GB you need to subscribe to paid plans according to your need. You need to have an email of the person you are sending files to as well as your personal email to send files.
2] TransferNow
TransferNow is another file-sharing website using which you can send files up to 5GB to 10 people at a time. The files you send can be downloaded for 7 days after which the file will be inaccessible on the free plan. If you want to upload larger files and send them to more people and extend their availability, you need to upgrade to a paid plan.
3] Wormhole
Wormhole is one of the rare file-sharing services which do not require an email to use it. It is a secured online file-sharing website, which lets you choose when to delete the file. It is a free service using which you can send files up to 10GB. You just have to share the link with others. The only flipside of Wormhole is, the file will only be available to download for up to 24 hours or a maximum of 100 downloads. There is no premium plans available to change the expiry time.
4] TransferKit
TransferKit is a cloud-sharing platform that stores files on a decentralized network. It is a free service using which you can share any type of file up to 32GB without any issue. The files you share are stored on the decentralized network forever and not deleted once a week. Your files are end-to-end encrypted and no one can access them unless they have the link.
5] TransferXL
TransferXL is another free and premium file-sharing service that lets you share files without an issue up to 5GB. The files you share are available for 7 days on the free plan. You can use this service to share files up to 10GB on a single day. If you want to send larger files for a larger time for up to 3 months, you can subscribe to the paid plans.
6] Send Anywhere
Send Anywhere is one of the secured file-sharing platforms that can be used to send files in real-time. You can create a 6-digit key and share files to download with that key. You don't need to have a link to download the file. The six-digit key you create can be used to access the file just by entering it.
7] Smash
Smash is a free and premium file-sharing service that does not put any cap on the size of files you transfer. If the size of the file exceeds 2GB on a free plan, you need to wait in the queue to send them. The files you upload to send are available for 7 days in a free plan and they can be changed with paid plans.
8] File Transfer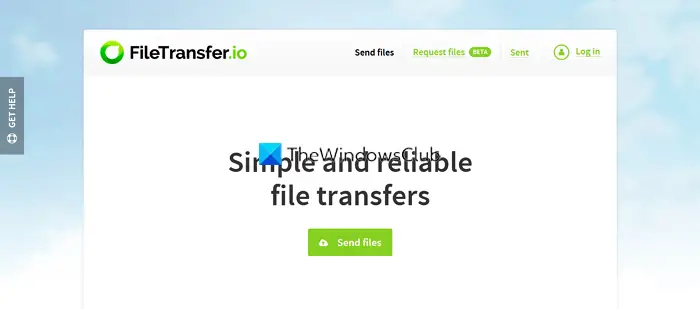 FileTransfer does not require an email or anything to share files. You just upload your files up to 6 GB and share the link. The file stays there for 21 days or up to 51 days whichever is earlier. The only difference from other file-sharing services is, you can monetize your file-sharing link on FileTransfer.
9] SurgeSend
SugeSend offers file-sharing as well as file storage features to its users. You get a space of 5GB to store your files on SurgeSenf and can upload a file up to 3GB.  With premium plans, you get more storage facilities, more file size as well as password protection for your file.
Read: Free Anonymous File Sharing Services
10] Filemail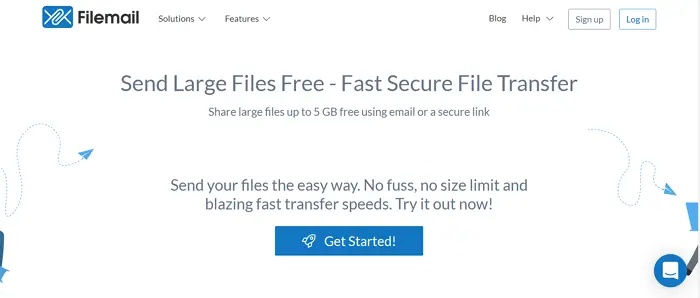 Filemail is another file-sharing service that offers great speeds. You can send files up to 5GB using email or a secure link. It is also a free and paid file-sharing platform that gives more features and sizes on paid plans.
Related: Free secure online file sharing and storage services
How can I send 20 GB for free?
If you want to send a file of 20 GB for free, you can use TransferKit. It lets you send files up to 32 GB that stays forever on the link. You don't need to bother about file security as it is end-to-end encrypted.
Read: List of best Free Video Sharing Websites
What is the best file sharing online?
There are many file-sharing services available online today. You can use any of the above services like WeTransfer, TransferKit, Send Anywhere, TransferNow, etc. to send your files.
Related read: Share or Transfer files between User Accounts on Windows.
What is the fastest way to transfer large files online?
There are multiple ways to transfer large files from one computer to another within moments. However, when it comes to speedy delivery, you can take a look at the Takeafile. It is an online app which helps you transfer large files to another location without massive restrictions.
What is the best app to send large files?
There are various apps to send large files from one device to another. For example, you can use the aforementioned app to send large files fluently. On the other hand, you can use WeTransfer, DropSend, MediaFire, etc., as well. However, you must check for the limitations while sharing a large file online.