Are you looking for a tool that can transfer your data and application from one system to another easily? If yes, then try EaseUS Todo PCTrans Free that can perform this task very easily without much of your effort. EaseUS Todo PCTrans Free is a free, reliable, and efficient Windows 7 to Windows 10 Migration Tool that provides you the ability to transfer data and applications from either one system to another or from an earlier version of the operating system to a newer version while upgrading.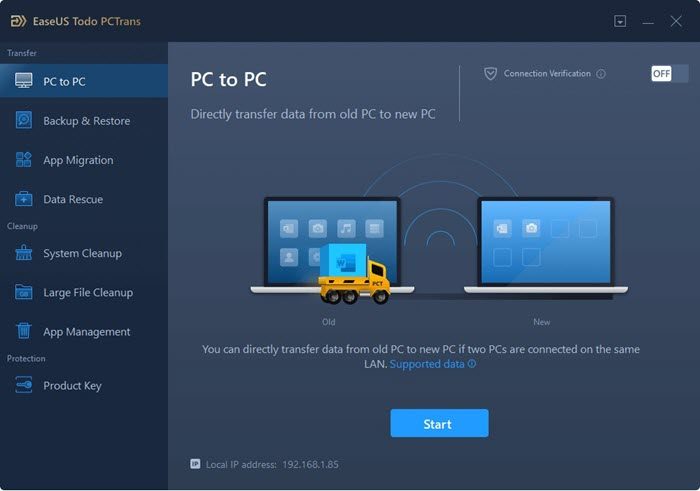 Free migration and data transfer software
The transferring of data and application takes place in real-time, so you should not forget to install Todo PCTrans Free on both the system if you are migrating data and applications between them.
Some of the features of Todo PCTrans Free software are listed below:
Easily transfer data and applications like music, document, pictures, etc from an old PC to a new one without involving much effort.
Easy to use and understand as the user interface of the software is very simple and impressive.
Secure and reliable as it does not cause any harm to the new PC and the old PC remains undamaged.
No technical knowledge needed to use the application.
7 X 24 free service is available that can attend and solve any of your queries.
How to use Todo PCTrans Free
Todo PCTrans Free is simple to use. What you need to do is to install the software and just start using it. Following are the steps to transfer data and application from one system to another:
1. Before transferring just make sure that the software is being installed on both the system. You should close all the applications on both the system, including firewall and antivirus and set "Put the computer to sleep" and "Never" in power options.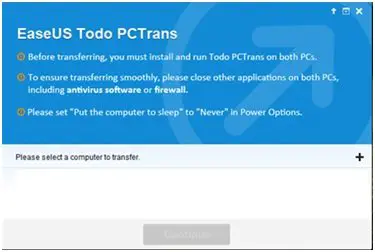 2. As soon as you launch the software all the systems with Todo PCTrans Free will be listed. Just select the destination system and click 'Continue'.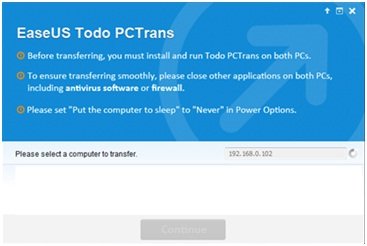 You should note that if the destination PC is not shown then click on the '+' icon input correct IP address to list it.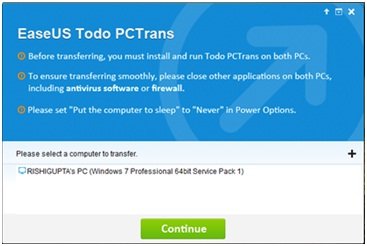 3. The next step is to select the transfer direction either from
Source PC -> Destination PC
Destination's PC -> Current PC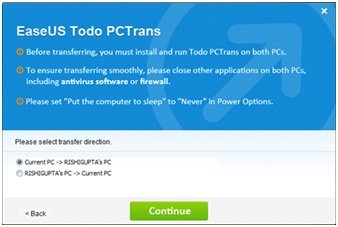 4. Now, as soon as you select and press "Continue" Todo PCTrans Free will take some time to load all the application and the data of the user from the source system. As soon as it is done the 'Edit' icon will be available to use.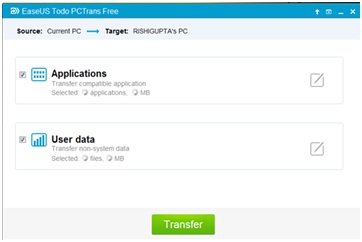 5. Click on the 'Edit' icon and choose the data and application which you want to transfer from the source system.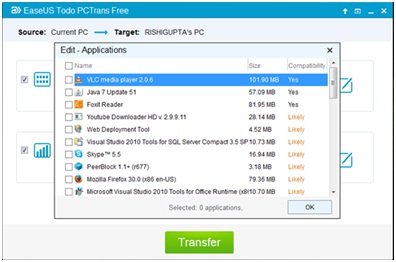 6. There is a Compatibility drop-down button with values Yes, No, Likely and Existing. These options show whether the application is compatible with the new PC or not or whether it already exists on both the PC or not.
7. Once you are done with the selection of data and application, click on 'Transfer' to transfer data and application and no sooner you will find that your content is getting transferred to the destination system.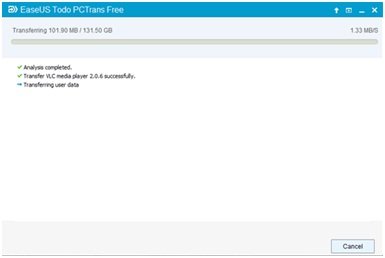 Note:
Before transferring you should make sure that the system to which you are transferring should be either equal or newer in version than the source PC.
The hard drive of the destination PC should be equal or larger than that on the source computer.
A network connection should be stable while transferring the data.
Todo PCTrans free download
Todo PCTrans Free is a useful application for those who want to transfer data and applications between the systems or from an older version to the newer version of the operating system. A point to be noted. Todo PCTrans Free will let you transfer only 2 applications – that can be a real dampener! Visit its download page and click on the Free Download button to download it.
You might want to check out similar freeware like PCtransfer, PCmover Express, PickMeApp, Application Mover and Steam Mover.