Whenever Microsoft ends support to an OS, it pushes consumers and enterprises to migrate to the latest version of Windows. The same has happened to Windows 7, and sooner or later, everyone will need to migrate to Windows 11 or Windows 10. In this post, we are suggesting some official, as well as some third-party Migration Tools for Windows OS. that can help you make things easy.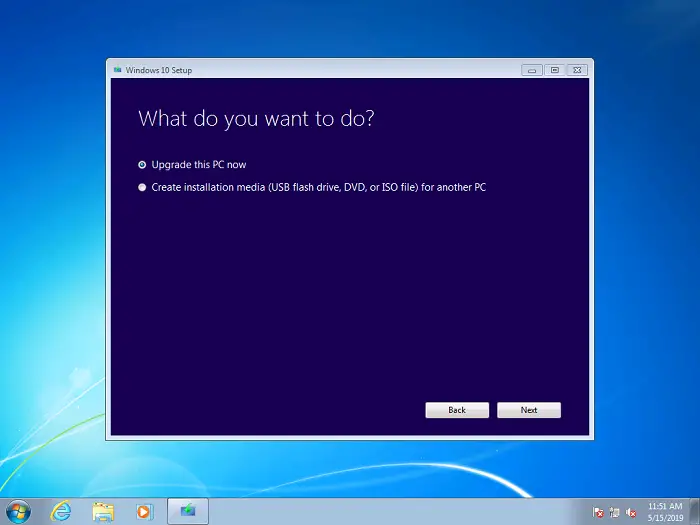 Migration Tools for Windows 11/10
Migration is not just about copying personal files into a new OS. It is also about moving apps and settings. While you can always install a new OS, and then restore all your data from backup, it works well when you have few computers, and you are technically sound with migration.  When you have multiple computers, and there is a lot of data, you need a professional migration tool which can automatically deploy and manage the process. In this post, we will take a look at the following tools:
Microsoft Deployment Toolkit (MDT)
SCCM
Using Media Creation Tool or ISO
PCMover
Zinstall Migration Kit Pro
ToDo PCTrans Windows Migration
Windows Backup and Restore.
Some of these tools are free but are limited. Two of these tools are from Microsoft and will need an IT admin to configure everything correctly. You will have to choose, depending on the number of computers and IT skills.
I remember there used to be an official program from Microsoft — Windows Easy Transfer — which folks used to migrate from Windows XP to Windows 7. While the software is still available, we are not sure how well it will work on Windows 10.
1] Microsoft Deployment Toolkit (MDT)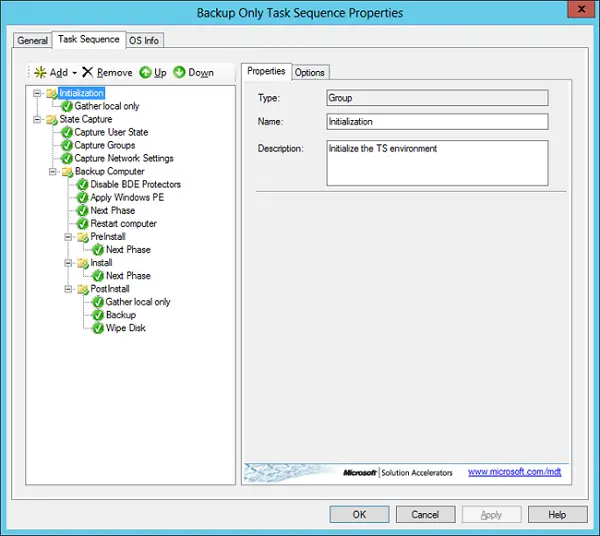 It's an official and free tool from Microsoft that can help Enterprise replace a Windows 7 computer with a Windows 11/10 computer. It captures the user state, network settings, group data, and so on. All the files are then saved into USMT.MIG compressed backup file. On the new computer, Windows 11/10 is installed, applications are added, and then everything is restored using the USMT backup. MDT is handy to deploy thin images and to customize them with task sequences that do the heavy lifting.
2] SCCM to migrate from Windows 7 to Windows 11/10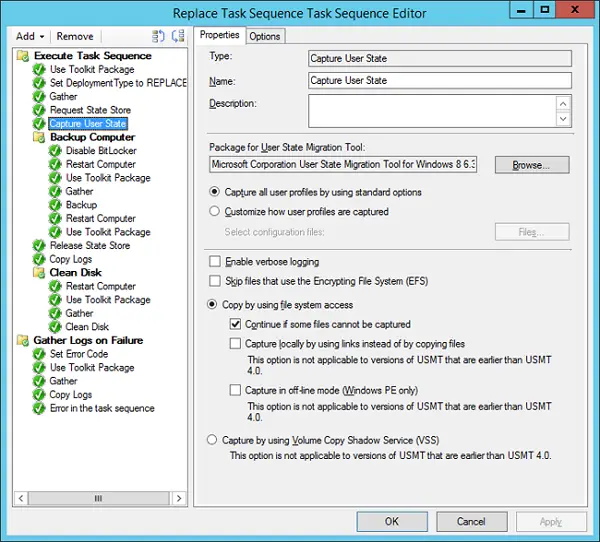 SCCM is a software management suite by Microsoft. Enterprise who are already using it can use it for migration. It can be used for both in-place upgrade, or wipe-and-reload install is chosen. However, its a paid tool, and only if you are a big company migrating all your computers, you don't need it. The advantage with SCCM is it gives fine control over everything and works with an Active Directory.
Read: How to migrate a User Profile to another new Windows PC.
3] Using Media Creation Tool or ISO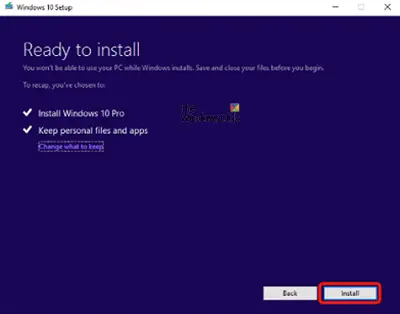 The good-old method for consumers where they can use either the Media Creation Tool or the ISO to upgrade from Windows 7 to Windows 11/10. The upgrade process offers a clear option where you can choose to keep personal files and data. Since Windows 7 to Windows 10 is a significant change, the folder structure for personal files will change.
3] PCMover
PCmover is offering a free version of their software for all Windows 7 users who plan to migrate to Windows 10. PCMover Express version is free, and it provides to Transfer Files, Data, and Settings, and Transfer User Profiles. Microsoft, Intel, and all major PC manufacturers recommend PCMover software.  Multiple modes are offered. It includes
Standard
User accounts, files, and settings but no Apps
File only transfer
Or choose as per your choice.
5] Zinstall Migration Kit Pro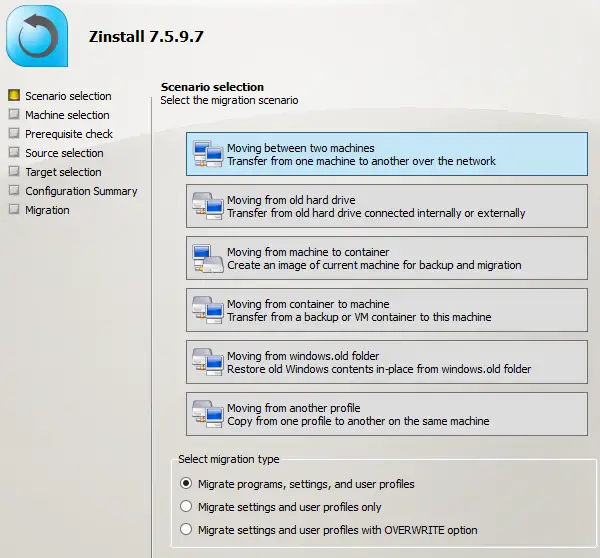 Zinstall Migration Kit Pro is a paid third party tool that is a powerful software that can perform Windows migration in multiple ways. Not only can it transfer between two physical machines, but you can also choose to move from external hard drives, SSD drives, an in-place upgrade, without a network connection, visualization, selective transfer, and transfers to Apple Mac-based Windows environments (Bootcamp, Parallels).
During the transfer, you can choose between Migrate Program, Settings, and User profile or Migrate Settings and User profiles only or Migrate Settings and User profiles only with OverWrite option.
6] ToDo PCTrans Windows 7 Migration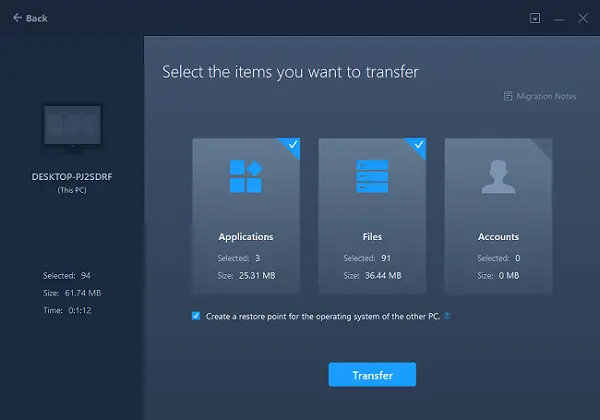 If you are looking for something simple, and that offers a better interface, EaseUS Todo PCTrans is an excellent choice. It offers both paid and free versions and works with computers on the same network. During the setup process, you can select files you want to move, and for apps, it can suggest if it will work on the computer. The transferring of data and application takes place in real-time. You should install the software on both machines.
Since there is no option to transfer files via Image, you need to keep the target computer ready.
7] Windows Backup and Restore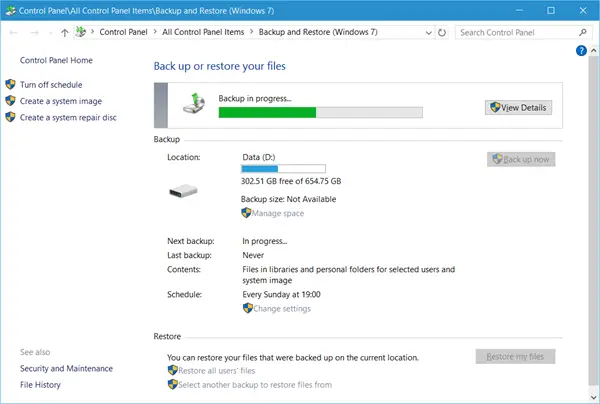 Windows 7 and Windows 11/10 offers the same Backup and Restore feature. This essential feature allows you to create an image of the primary drive. You can restore files from a backup that was created on another computer running Windows Vista or Windows 7 in Windows 11/10.
When creating a backup, make sure to create a system image, and then follow the steps in the wizard. When restoring, use the same Image but this time in Windows 10. However, it is only suitable for restoring files. And not applications.
These are some of the powerful tools that can help you upgrade from Windows 7 to Windows 10 along with files, personal settings, compatible applications, and so on. Since all of them are automated, you can reuse the setup again and again for multiple computers.