Microsoft is going to end support for Windows 7 on January 14, 2020 – and yet 30% of Windows PCs are still running Windows 7, even with Microsoft's Windows 7 End of Support less than two months away! Windows 10 was a significant change, and moving from Windows 7 to Windows 10 is not straightforward. While Windows 10 Upgrade assistant offers migration, LapLink's PCmover is a Windows 7 to Windows 10 Migration Tool that can make migration really easy. The company has decided to offer a free version for all Windows 7 users who plan to migrate to Windows 10. It is being recommended by Microsoft, Intel, and all major PC manufacturers. In this post, we will share details of the free version of PCmover to help you migrate from Windows 7 to Windows 10.
"Intel's research indicates that the data migration hassle is a key reason consumers delay buying a new PC. Our partnership with Laplink is all about eliminating that hassle. Together with Microsoft and Laplink, we want to make it as easy as possible for these consumers to move to Windows 10. As Windows 7 end of support approaches, we wanted to make it as easy as possible for customers to migrate their personal files and settings from their Windows 7 PC to a new Windows 10 PC, and Laplink delivers a great solution with their PCmover Express software, said Intel.
PCmover Express for Windows PC
PCmover application can transfer from a Windows  7 PC to an Intel-based Windows 10 PC. The processor requirement is unique, and you need to make sure the destination PC has an Intel processor. You can use it when you are either physically changing the PC or when you are upgrading on the same PC.
PCmover has two versions — Express and Professional. The former is free for everyone, and it offers two useful features:
Transfer Files, Data, and Settings
You also get access to Free 24/7 Transfer Assistance.  In the free Express version, there is no support to transfer applications, and the PC should not belong to any domain. The free version is available under a limited time special offer.
How to transfer files from old Windows 7 PC to new Windows 10 PC
Once you are through the checklist of the minimum requirement of the software, install it on both the computers and validate it based on the key. You need to run the PCmover on both the PCs at the same time, to migrate Windows 7  to Windows 10 – and it works over WiFi or using a cable.
The next option is to choose what you want to transfer. In the free version, you can only choose to transfer:
User settings
Files & Data
System Settings.
During the selection of applications and settings, you can always make a choice. If you do not want to move an app because there is no way to make it work in Windows 10, then you can skip it.
Do note that some applications need to be deactivated before moving. Similarly, applications such as AntiVirus, firewall applications, software that are hardware-specific, offer compatibility issues, and applications already installed on the new PC should be deselected by you.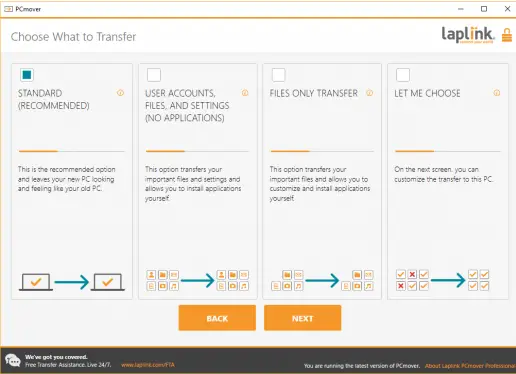 The same applies to Files and Users. While the former is straight forward, you should take a look at the User settings.  A list is presented where you can change user settings, which are migrated from old to new PC. You can choose:
Merge a user folder with an existing user folder. It is useful when the drive is different.
Configure E-mail settings, System hooks, application settings, troubleshooting, transfer printer files, and more.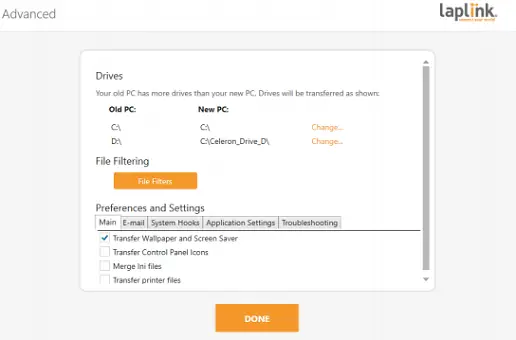 Post this; the system transfer will start. The time will depend on the network and the amount of data that is being transferred. You can choose to restart the new PC to apply new settings for the user. Laplink clearly says that internet connectivity is required so that PCmover can install Microsoft Redistributable packages needed by any of your applications.
Once the computer reboots, you should install the Antivirus solution, install drivers, and enable Digital Rights Management if required.
You can download the free version here from Laplink.
LapLink, as a software company, has been around for 36 years. I remember using a small handheld contact recorder, which needed Laplink to transfer to PC. They do have convincing reviews of moving PCs for business. So if you been long on Windows 7, you can use this application to migrate to Windows 10 finally.
You might want to also check out PCtransfer, a portable data transfer freeware for Windows.