Is your browser raising a flag for a website you want to visit? Well, that's common, even for legit websites. To avoid this, you can add the Trusted Sites to your Chrome, Edge, or Firefox browser. However, ensure that the site you want to access is safe.
Internet security is of primary concern these days and hence, Windows/Mac OS come with their own built-in security system. Nowadays, even browsers offer protection against unsafe or potentially dangerous websites. However, sometimes, browsers may flag even a safe website as potentially dangerous and block you from accessing it. In this post, we will discuss how to add a trusted website to a browser.
Why do browsers flag a trusted website?
A secure web browser may prevent you from accessing a website when it finds it potentially unsafe. This is because modern browsers are equipped with the latest security technology that helps them scan the server settings of the website on which it is hosted. The website can also be flagged due to an expired security certificate.
Such websites usually ask you for your user data or install a certain software before you can access the data. In such cases, the browser would warn you and ask you for your permission. Also, at times, some of the functionalities
How to add Trusted Sites in Chrome, Edge, and Firefox?
Having said that, sometimes, the website may not be dangerous, yet the browser may raise a false alarm. In such situations, you can add it to the trusted sites in your Chrome, Edge, or Firefox browser as shown below.
Add trusted sites in Chrome
Add a trusted website in Microsoft Edge
Add trusted websites in Mozilla Firefox
1] Add trusted sites in Google Chrome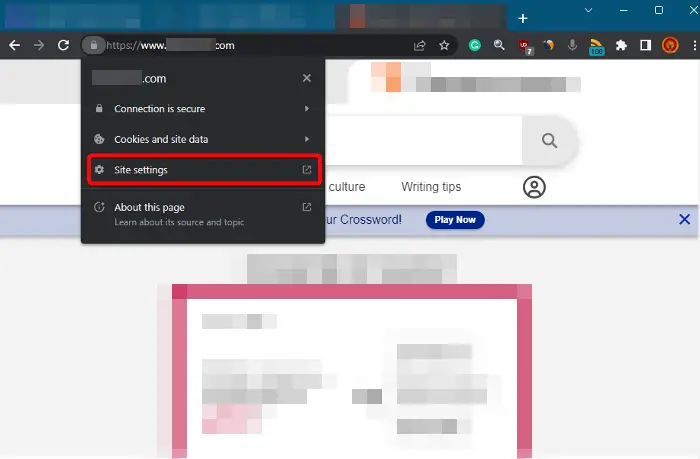 While there could be different reasons why you are unable to open a certain website in Chrome, one of them is if it's mistakenly flagged as unsafe. In such a case, you can add the website to the trusted list and also manage the website permissions in Chrome. For this, click on the Lock icon on the left of the browser's address bar, and click on Site settings. This will open a new tab for website the Settings. Here, under Permission, check which parameter needs access, for example, Location, Camera, Microphone, etc., and set them to Allow.
2] Add a trusted website in Microsoft Edge
One of the ways to add trusted sites in Edge is the same as how it's done in Chrome. Click on the Lock icon (View site information) on the left side of the browser's address bar, and click on Permission for this site. A Settings tab will open with the same options as you see in Chrome settings. Set the desired preferences (Location, Microphone, Camera, Images, etc.) to Allow you to add the site to the trusted list.
Additionally, you may also turn off the Tracking prevention for this site option. Alternatively, you can open the Run console (Win + R) and type inetcpl.cpl to open the Internet Properties dialogue.
You can now add the trusted site in Windows through Internet Properties.
Read: How to reset Internet Options to default in Windows
3] Add trusted websites in Mozilla Firefox
Mozilla Firefox makes it pretty straightforward for users to add trusted sites in the browser through its Permission Manager. All you need to do is to click on the Shield icon on the left of the browser's address bar and turn off the Enhanced Tracking Protection option. The website will now be added to the Allow list of the browser, and it will no more prevent you from visiting the site.
Read: Access Denied, You don't have permission to access this Server
How do I enable Safe Browsing on Edge?
Microsoft Edge makes it far better and more interesting than other browsers. That includes its new security feature – Enhanced security on the web. While this can be switched on by default for most users, if it's not, you can enable the Enhanced security exceptions in Edge to ensure safe browsing on the browser.
How do I set up Trusted Sites in Windows?
Sometimes, you may be unable to access certain websites on a browser (Chrome, Edge, or Firefox) due to the strict security settings of your Windows PC. Fortunately, you can add the site to the Trusted Sites list through the Internet Properties on your PC and you should be able to access the website as usual.