Startup programs strain the system's memory and cause high disk utilization. While you would want to launch many programs at startup, it usually isn't a choice because many applications including popular ones are scripted to launch at startup.
Free Startup Manager software for Windows 11/10
You can disable the startup programs using the Task Manager but that isn't the most comfortable method to manage startup programs. Furthermore, there are more ways of handling startup programs than completely disabling them.
You can try the following free Startup Manager software programs:
Microsoft Autoruns
WinPatrol
CCleaner
MSConfig Cleanup Tool
Startup Sentinel
Quick Startup
HiBit Startup Manager
Autorun Organizer
WhatsInStartup
Starter startup manager program
LaunchLater.
1] Microsoft Autoruns for Windows
What could be better than a software approved by Microsoft for managing your Startup programs? This is the case with Microsoft Autoruns. Since it is downloadable from Technet, you can trust the application. The software is similar to the MSCONFIG (System Configuration) window but more powerful. Along with the regular details, it would show you in detail the File Explorer & Internet Explorer shell extensions, toolbars, Browser Helper Objects, context menu items that start, the Drivers which startup, the Services, Winlogon items, Codecs, WinSock providers and more.
2] WinPatrol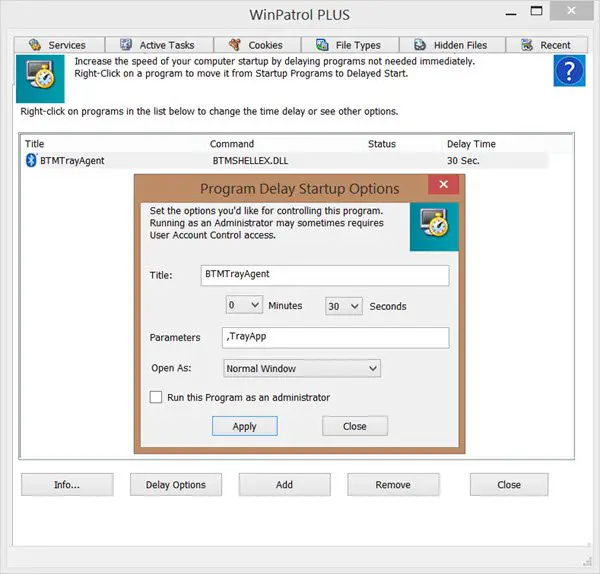 WinPatrol is an extensive software that can make your life much easier, no matter what the purpose of your computer is. The startup manager is simply a part of the WinPatrol software, which also helps with managing registry keys, user account control, file management, etc. The application's interface is easy-to-use. Simply scroll through the tabs and check what all you can do with it.
3] CCleaner
CCleaner is perhaps the most popular software products for cleaning your system of junk files, but it goes beyond that. One of the additional functions of CCleaner is to manage startup programs. The reason CCleaner is suggested in the list is that it is efficient and trusted, even though not specifically a startup manager.
4] MSCONFIG Cleanup tool
The inbuilt MSCONFIG System Configuration manager tool is good for disabling startup items. However, it doesn't give you the option to delete the items from the list permanently. However, personally I have never needed most programs to launch at startup for any reason. If such is the case with you, try the MSCONFIG Cleanup tool which not only disables but completely deletes the startup programs from the list.
5] Startup Sentinel
The Startup Sentinel tool is a light and easy-to-use substitute for the inbuilt System Configuration manager tool. While the original MSCONFIG tool is good, it needs learning. If you are new to computers and need a tool to manage your startup programs with ease, try the Startup Sentinel tool. All you have to do with the tool is to add the program in question to either the whitelist or blacklist and sort your system. Alternatively, you can use the tool to launch programs.
6] Glarysoft Quick Startup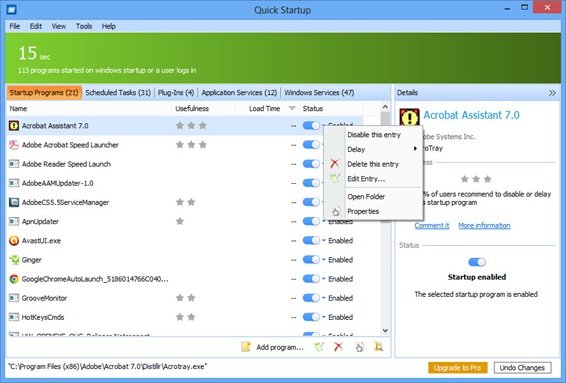 Glarysoft Quick Startup is a complex, but very powerful startup manager tool. This can be very useful for managing high-end systems. This tool allows you to create a manual list of startup programs and export the data as a .txt file. The data can be imported later. This method is useful when dealing with a large number of programs where it becomes difficult to change the settings for each one manually. Even more, unlike other programs in this list, Glarysoft Quick Startup supports multiple languages.
7] HiBit Startup Manager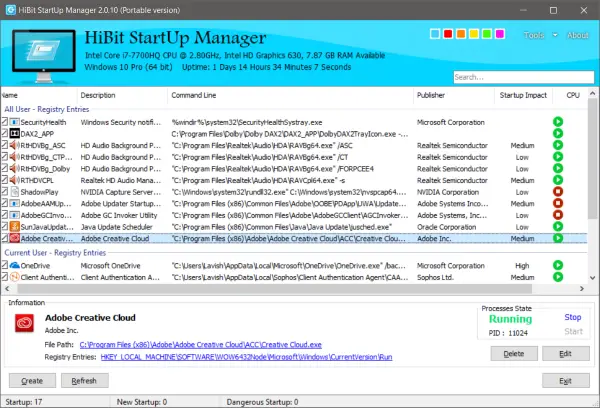 HiBit Startup Manager is a comprehensive software that helps users to view, modify, remove, create new entries in Windows Startup. You can manage startup Scheduled Tasks, Windows Services, and Context Menu. It allows users to manage entries using color-coding directly from the registry. So if you aren't proficient with the Registry Editor (which most of us aren't), try this software to do the job.
8] Autorun Organizer
Autorun Organizer is an excellent tool to manage the whole startup process and not just to disable startup programs. Basically, it explains how each startup program (and other programs) stress on the system. That would help you decide better on which program has to stay in the system and which has to be removed. Eventually, this utility helps you speed up the system considerably.
9] WhatsInStartup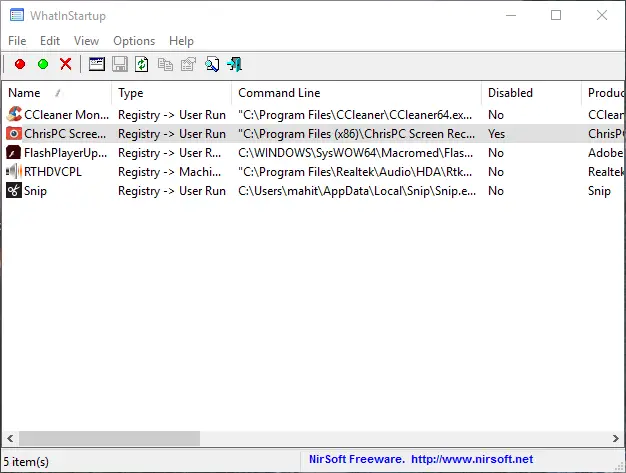 WhatsInStartup Startup Manager software helps in organizing the startup programs, thus speeding up the system. One of the main features of the WhatsInStartup program is that it allows deleting the startup function of programs from the registry instead of just disabling them.
An added feature is the external drive support.
10] Starter Startup Manager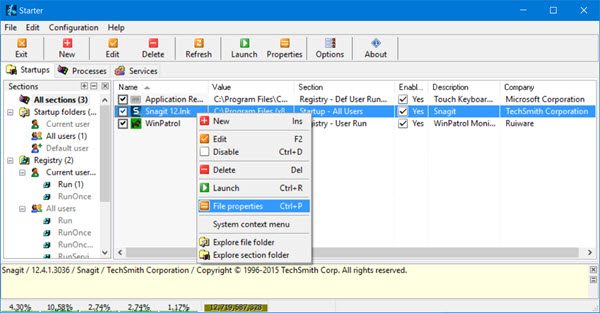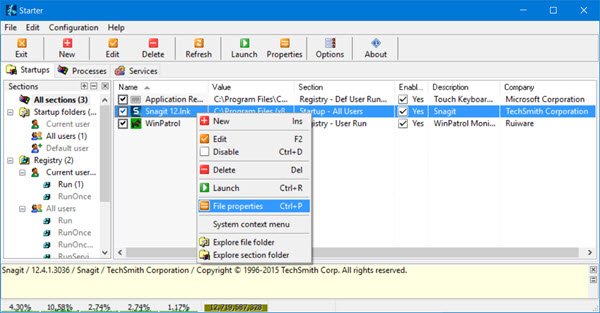 If you are a noob with Windows 10, I would definitely suggest downloading the Starter Startup Manager on your system. This triples as a startup manager, task manager, and services manager. So if you are not proficient with these utilities, just download this easy-to-use software and manage your system with ease.
11] LaunchLater
LaunchLater allows you to defer the launch of applications that run at Windows login. This lets Windows focus on booting itself first, then subsequently running a list of configured startup apps using a schedule that you control.
TIP: Tools like Startup Delayer and Startup Helper can also help you delay startup programs and set the Delay time.
Hope it helps!