Managing programs that automatically run on the system is required as unnecessary startup programs may cause your system to slow down. The system starts booting slowly as most of the programs add themselves to the startup list causing waste of resources and resulting in slowing down of your Windows 11/10 PC.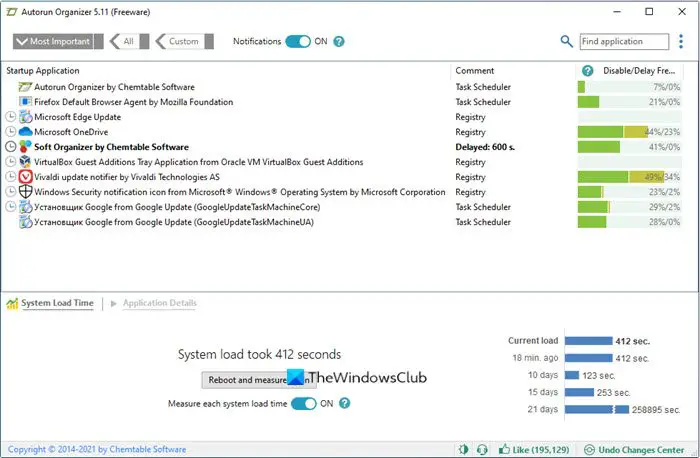 Autorun Organizer & Manager for Windows PC
Autorun Organizer is a free startup manager software for the Windows operating system that helps to speed up the booting process and increase the performance of the system as well. There are much freeware that are available that let you disable startup programs, but Autorun Organizer could be the right pick solely due to the features it provides. Some of the features of Autorun Organizer are as follows:
Easy to use user interface
Turns on and off autorun elements
Removes autorun elements
Batch processes autorun records
Automatically controls disabled records
Suspends running of programs
Shows a visual Windows boot-up time diagram
Checks startup programs for viruses in VirusTotal (more than 60 antivirus programs)
Notifies you of new entries in the Windows auto-start list
Quickly searches
Automatically detects erroneous records
Using Autorun Organizer
The application allows you to disable startup items and set delay times for Startup programs. It gives you the functionality to delay the load time of each application by entering the number of seconds taken by each application. Using Autorun Organizer, it is also possible to add new programs to the list.
Autorun Organizer shows you the software details like full name, path, and start-up status.
Below the startup item list, it also displays a chart of recent system load.
Using the Destination folder, you can add more programs to the startup list and can remove them as well if any application is taking much longer time to load than expected.
By right-clicking any program, you can view the rest of its Properties such as Search the program on the internet, mark as Recently added or temporarily disable it.
This Autorun Organizer & Manager is a good tool you may want to check out to speed up the performance of your system.
Click here to download Autorun Organizer.