The boot time of your PC depends upon, amongst other things, the number of programs enabled in the Startup. Many programs, drivers, and applications start loading when you turn on your Windows PC if you don't know.
The most common solution PC users find here is to disable the services from Startup, but delaying them is another good option. You can also go to the Sevices Manager of your PC and disable the services you are not using – but you need to know what you are doing! To manage startup programs, you can use the Task Manager in Windows 10 or Windows 11 to disable them, while Windows 7 users can use the built-in System Configuration Utility. But at times, using a good startup manager can help you disable startup programs, remove or delay Startup programs easily and make your Windows PC boot faster and perform smoother.
Quick Startup from Glarysoft is one of the excellent startup managers which can manage your startup order and avoid delays. It can configure your Startup well and improve the Windows boot time significantly.
Glarysoft Quick Startup Manager for Windows
Quick Startup is an excellent and straightforward program with a user-friendly interface, and the main overview displays all. It shows all the Startup programs, scheduled tasks, plugins, application services, and Windows services that start running when you turn your computer on.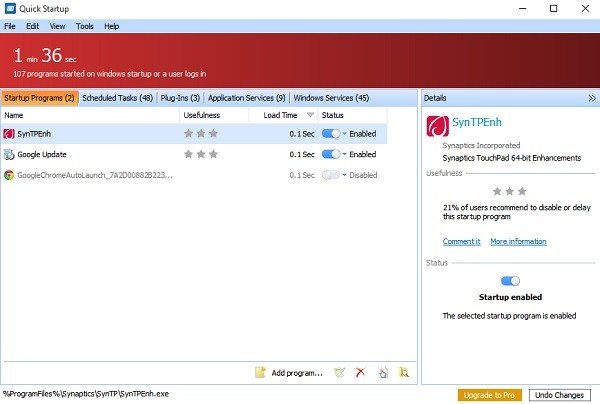 You have to select the program, and you can disable it from the Startup or delay it. When you choose a program, Quick Startup shows its usefulness, ratings, and status. You can also see how many people recommend disabling, enabling, or delaying the startup program. If you find any entry that is no longer in use, you can delete it from the list by clicking on the Delete button below.

Similarly, if you want to add a new program to the list, you have to click on the Add program button, name the application, write the program's path, select the location, and click on OK.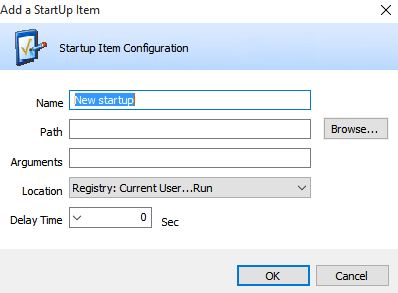 You can save your startup details with a single click. Click on File > Export, and you can save the details on your system as a text file. The program allows you to leave your feedback about any program just by clicking on Comment in the right panel of the program. It will open a new window where you can leave your comment about the program, rate it and also add the resource link for more information if you want to.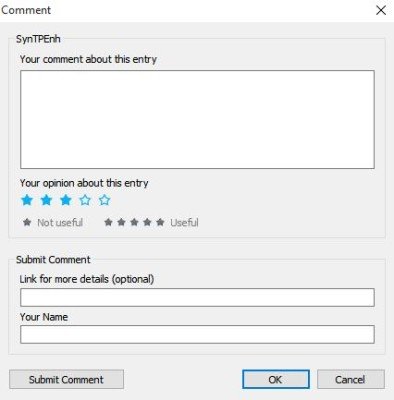 If you want to check the properties of any program before delaying or disabling it from your Startup, click on the properties icon in the small tool ribbon below or go via View > Properties in the ribbon on the top. This window shows the detailed properties of a program.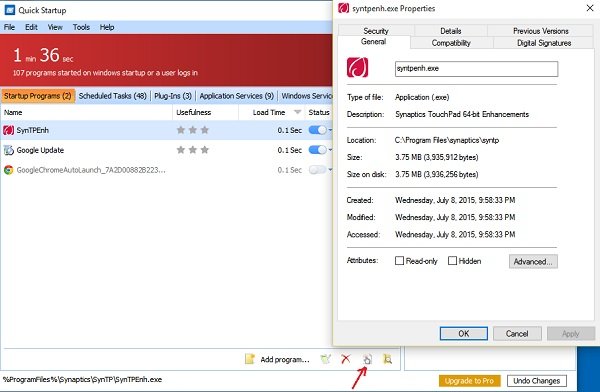 Quick Startup supports many languages, and you can select your language from the Help tab. Also, you can choose the program to get automatic updates or keep it manual. The Help Contents button under the Help tab takes you to the knowledge base of Glarysoft, the developer.
Overall, Quick Startup is a friendly and helpful program that helps you monitor the programs and applications that start running as soon as you turn your PC on. It lets you manage the Startup easily and make your PC work faster and smoother.
You can download this free startup manager from here.
There are several good other freeware like WinPatrol, CCleaner, MSConfig Cleanup Tool, Malwarebytes StartUpLITE, Autoruns, Startup Sentinel, etc., that can help you disable or remove your startup programs easily, thereby making Windows start faster. Let us know which one is your favorite.
How do I change what programs run at startup Windows?
Suppose you do not wish to use any program when using the Task Manager in Windows to remove or add programs from Windows Startup.  In the Task Manager, switch to the Startup tab, right-click on the program, and select enable or disable.
Which startup programs can I disable in Windows?
Many software adds themselves to Startup, so they become available as soon as you log into the PC. However, they also slow down the loading time and the experience. That said, you should be able to disable any program listed in the Startup tab of the Task Manager.