You might encounter a situation where you may not be able to open any .exe files or shortcut link files, i.e., EXE or LNK files. You might instead get a "Open with" dialog box, or it may open the file in another program. This happens if the file association of these file extensions may have got corrupted on your Windows 11/10 PC.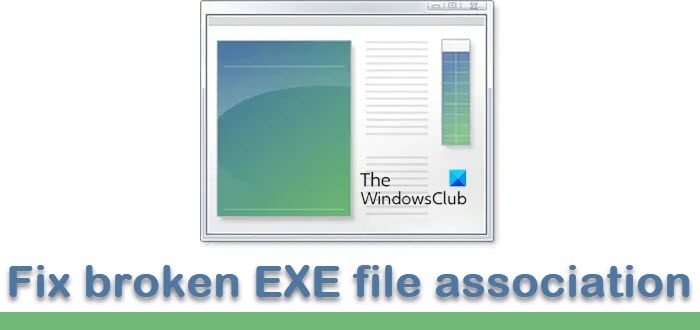 EXE files will not open or not working
A corrupted Registry, caused either by bad software or malware or any other reason, can lead to your Windows being unable to open exe file types.
When file associations for executable, batch, or COM files are changed, it could cause your executables not to start. For example, when you try to click open a .exe file the programs will not start, or the Open with box might appear, or Windows will say that it cannot open this file and ask what you would like to use to open the program, or it may start a different program.
Fix broken EXE file association
Before you begin, remember to backup your Registry or create a System Restore Point first.
1] To rectify the situation, I suggest you download and apply the following registry fixes.
For fixing the .exe file extension download this EXE Fix.
For fixing the .lnk file extension download this LNK Fix.
Right on the File and Click on Merge.
You will get a warning, asking Are you sure you want to continue.
Click Yes and reboot the system.
2] FixExec is designed to resolve these issues by rebuilding the executable file association's Windows Registry keys that may have become damaged or corrupted. If the tool detects any of these associations are missing, corrupted, changed or hijacked, the settings will be set back to Windows defaults. FixExec tool will fix the .exe, .bat and .com file associations in Windows. It will also terminate any malicious processes found in typical areas. You can download it from bleepingcomputer.com.
If the icons do not show up correctly, then you might need to rebuild the Icon cache. This post will show you how to reset all File Associations to default in Windows.
Generally speaking, in other situations, you can use our freeware File Association Fixer will let you repair and fix file associations and extensions in a single click. The app offers 18 file association fixes & 26 file association fixes for Windows.