We are pleased to release the Icon Cache Builder. While one can always rebuild the icon cache manually in Windows, our Icon Cache Rebuilder lets you do so in a click!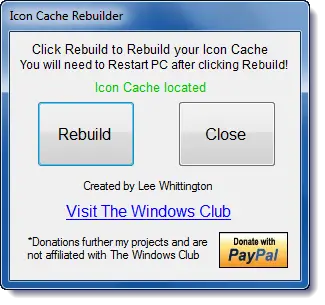 Icon Cache Rebuilder
If you are having problems with icons not displaying correctly. Run Icon Cache Rebuilder, click Rebuild, wait for Explorer to refresh itself, and hit Restart to restart your computer. Once your computer restarts it will build a new Icon Cache.
Do note that ending Icon Cache Rebuilder before it finishes can result in Windows giving you an error for your user profile as it needs to refresh Explorer and restart your computer to rebuild the Icon Cache.
If a user runs into the problem of icons displaying incorrectly or icons corrupted, the easiest fix is to remove the IconCache.db file from your local file, restarting explorer then rebooting your computer to make the changes.
With Icon Cache Rebuilder, a user simply loads the application and once the IconCache.db is located will allow a user to click Rebuild to remove the file and restart Explorer.
Once this is done will allow a user to Restart their computer and once logged on the IconCache.db will be re-created.

Icon Cache Rebuilder has been created by TWCF Member Lee Whittington for The Windows Club, on a request from TWCF member Bamajon197, and has been tested on Windows 7, but may work on Windows 8.1/8 too.
Windows 10 users may want to use Thumbnail and Icon Cache Rebuilder, which lets you purge and rebuild Thumbnail & Icon Cache in a click.