If you find that one or more of your icons are not displaying correctly, or that your Icon Cache is corrupted, you might want to rebuild the Icon Cache. The Icon Cache or IconCache.db is a special database file that Windows utilizes to keep copies of each icon handy. When Windows needs to draw an icon, it uses the copy from the cache instead of retrieving the icon image from the original application file. This helps in making Windows draw the icons faster.
Rebuild The Icon Cache in Windows 7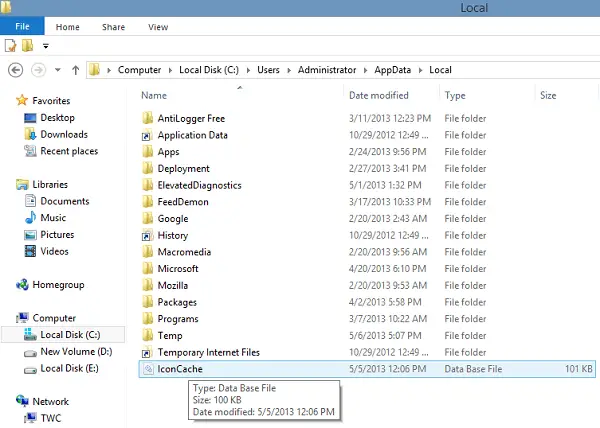 In Windows 8, Windows 7 and Windows Vista, this IconCache.db file is located at:
C:\Users\Username\AppData\Local\IconCache.db
Whereas, it is different in the older version of Windows i.e. Windows XP.
If you find your Windows displaying icons on the desktop in the wrong manner you can purge & rebuild the Icon Cache In Windows.
If you need to rebuild the Icon cache, Open File Explorer > Folder Options > Views to show Hidden System Files. Next, go to C:\Users\Username\AppData\Local folder and delete the hidden IconCache.db file. Reboot. This action will purge and rebuild the icon cache.
There is also another way to do it, should the above method not work for you.
Kill Explorer.exe process. In Windows 7, click Start button > Hold down Ctrl+Shift & Right Click on an empty area in the Start Menu > Click "Exit Explorer". In Windows 8, you may do so via the Task Manager.
Open the command prompt window, type each of the following, and after every command, hit the Enter button:
cd /d %userprofile%\AppData\Local
attrib –h IconCache.db
del IconCache.db
start explorer
Your Windows Icon Cache would have been rebuilt.
You may also want to check out our freeware Icon Cache Rebuilder Tool to automate the entire process of repairing icon cache.
Windows 10 users may want to read – Rebuild Icon Cache, Clear Thumbnail cache in Windows 10.