Thumbnail and Icon Cache Rebuilder for Windows 10 is a portable freeware that will purge, clear, and delete your Thumbnail and Icon Cache in a click.
If your icons appear blank or look corrupted or do not refresh correctly, when they should, then it is quite possible that your icon cache database may have become corrupted on your Windows 10 PC. The same thing applies to Thumbnails too. If they do not display correctly then they may have become corrupted. In such a scenario, you may need to delete the cache files in order to rebuild the Icon cache and clear the Thumbnail cache. We have already seen how to rebuild Icon cache in Windows manually –  but if-if you prefer to automate the process, use our Icon cache Rebuilder 2 for Windows 10.
Thumbnail and Icon Cache Rebuilder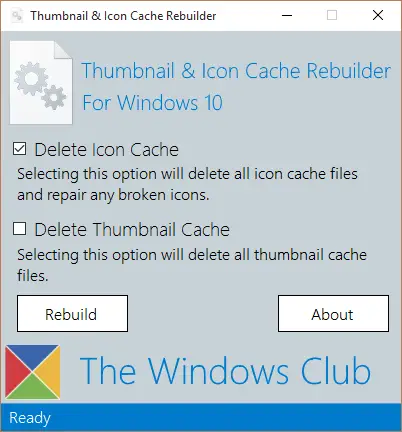 Once you have downloaded the zip file, extract its contents, and run the .exe file. You might want to create a system restore point first.
If you are having problems with Thumbnails or Icons not displaying correctly, open Thumbnail and Icon Cache Rebuilder.
You need to be signed in as admin to use this tool. Right-click on the exe file and select Run as administrator.
Check the delete Icon cache or Delete Thumbnail Cache or both, depending on your requirement.
Next click Rebuild, wait for Explorer to refresh itself.
Restart your computer. Once your computer restarts it will build a new Cache.
Do note that ending Icon Cache Rebuilder before it finishes can result in Windows giving you an error for your user profile as it needs to refresh Explorer and restart your computer to rebuild the Icon Cache.

Thumbnail and Icon Cache Rebuilder has been created by TWC Author Lavish Thakkar for TheWindowsClub. You may have to Run this tool as an administrator to get the best results.
If you have any questions or wish to give feedback, you may do so in the comments section.
TIP: FixWin 11 for Windows 11/10 lets you reset the thumbnail cache. You will find the fix under the System fixes tab.
NOTE: Windows 7/8 users can use Icon Cache Rebuilder v1.