Some Windows users have reported that Roblox games are taking an abnormally high CPU percentage on their PCs. As a result, the computer's performance deteriorates, and they keep experiencing various performance issues like app crashes, PC freezing, etc.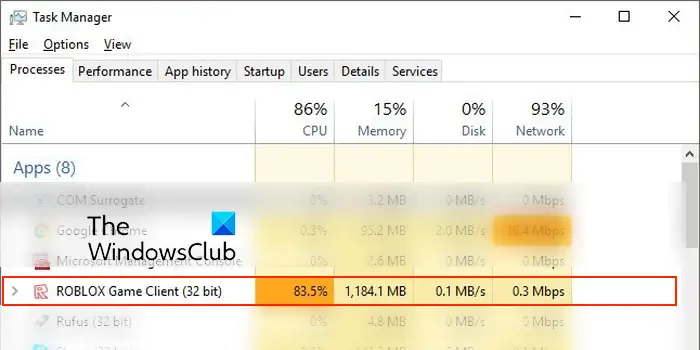 Why is my CPU so high on Roblox?
There could be generic issues causing high CPU usage by Roblox on your PC. These issues could be outdated or faulty graphics drivers, outdated or corrupted Roblox files, and malware present on your system. Apart from that, if your graphics in the Roblox game are set too high, which your system can't handle, this problem may occur.
Fix Roblox High CPU Usage on PC
If Roblox takes a high CPU usage on your Windows PC, restart the app and your PC and check if the issue is resolved. In case the problem continues, here are the methods you can apply to fix the problem:
Preliminary checks.
Tweak your graphics and in-game settings.
Update your device drivers.
Update Roblox.
Reinstall Roblox.
1] Preliminary checks
High CPU usage of apps and games can be caused by malware present on your PC. Hence, if the scenario is applicable, perform a virus scan and remove detected malware from your PC.
You are likely to face such issues if your system is outdated. So, ensure that you have installed all pending Windows updates.
You can also close all unnecessary apps using Task Manager and see if the problem is resolved.
2] Tweak your graphics and in-game settings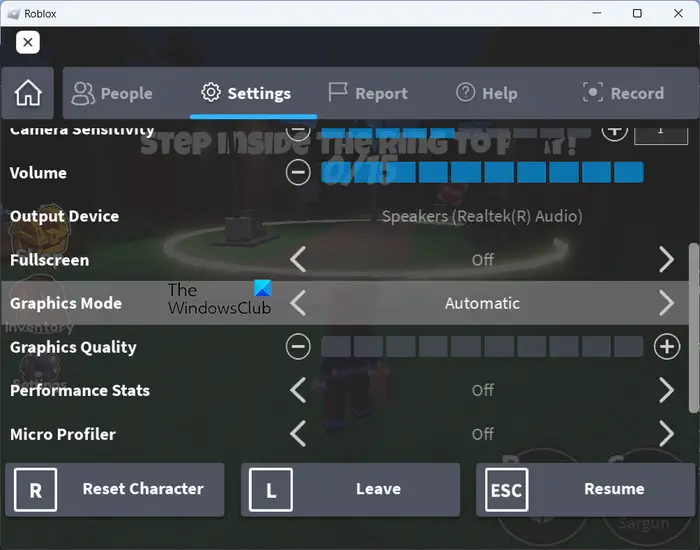 If your in-game graphics configurations are set too high compared to what your system can handle, you will experience this issue. Hence, try lowering your in-gam graphics settings and see if it helps. First, open a Roblox game, press the Esc key, and move to the Settings tab. Next, set Graphics Mode to Automatic or set it to Manual and lower the Graphics Quality.
On the other hand, if your graphics card settings are high, this issue will occur. So, change your graphics card settings and keep the settings lower.
Read: How to fix Roblox error codes 6, 279, 610?
3] Update your device drivers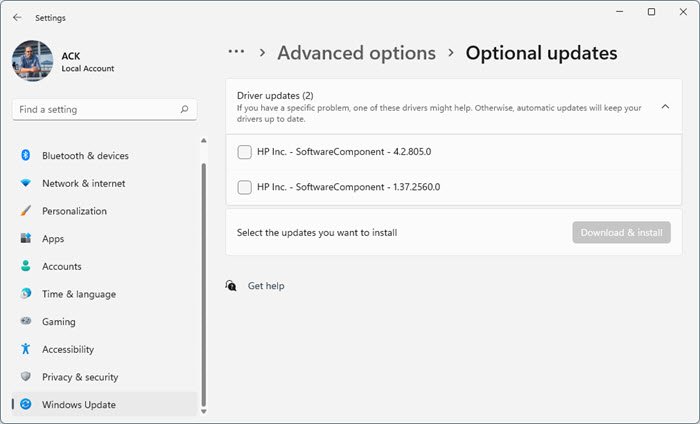 If your device drivers, especially graphics drivers, are out-of-date or corrupted, Roblox and other games will likely consume a high CPU usage. Hence, if the scenario is applicable, you can update your graphics and other device drivers and see if the issue is resolved.
To install driver updates, press the Win+I hotkey to launch the Settings app and go to the Windows Update tab. Now, click on Advanced options and then press the Optional updates option. After that, tick the checkboxes associated with the pending driver updates and then press the Download & install button to update your drivers. Once done, reboot your PC and open Roblox to check if the issue is resolved.
You can also use tools like AMD Driver Autodetect, Intel Driver Update Utility or Dell Update utility to update your device drivers. NV Updater will keep NVIDIA Graphic Card Driver updated.
Read: The application encountered an unrecoverable error in Roblox.
4] Update Roblox
Such performance issues are known to occur with outdated apps and games. So, it is recommended to keep your apps up-to-date. The same is the case with Roblox. If it has a high CPU usage, update it to its latest version.
If you have installed Roblox from the Microsoft Store, open the Store, go to Library, and click on the Get updates button to update Roblox. In case you have installed Roblox Player from its website, open Roblox in a web browser, open an experience page, click on the Play button, and then press the Open Roblox button. It will then update and launch Roblox Player on your PC. See if the issue is resolved now.
 Read: Fix Roblox Error Code 103 and Initialization Error 4.
5] Reinstall Roblox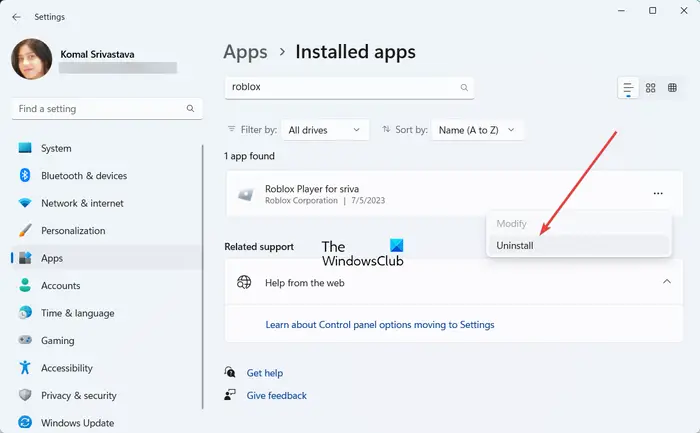 If none of the above fixes helped, it might be the case that the installation of Roblox is corrupted, which is causing the issue. Hence, if the scenario is applicable, you can uninstall Roblox from your PC and then reinstall it to fix the issue.
How do I improve my Roblox performance?
To improve the performance of Roblox, you can try running the game on high-performance GPU in case you have two GPUs including an integrated and dedicated GPU on your system. Other than that, you can keep your graphics driver and the Roblox app updated. Also, ensure that the power mode on your PC is set to Best performance.
Related read: Roblox not launching or working on Windows PC.