Some PC gamers are reporting although the internet works fine, when they start Valorant game on their Windows 11 or Windows 10 gaming rig, the Riot Games logo screen appears and then the No Internet Found error prompt is displayed. This post provides the most suitable solutions affected gamers can apply to fix the error.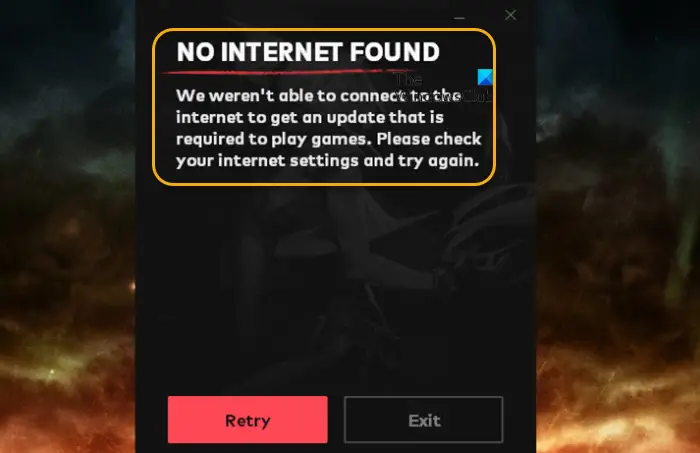 When this issue occurs on your system, you'll receive the following full error message;
NO INTERNET FOUND
We weren't able to connect to the internet to get an update that is required to play games. Please check your internet settings and try again.
NO INTERNET FOUND Valorant error
If you have run into the NO INTERNET FOUND Valorant error on your Windows 11/10 gaming PC, you can try our recommended solutions presented below in no particular order (but first begin with the initial checklist) and see if the error is fixed on your system.
Initial checklist
Run Internet Connections Troubleshooter
Configure third-party DNS
Use VPN/GPN
Contact Riot Games Support
Read: Fix VALORANT Connection Error codes VAN 135, 68, 81
Let's take a look at the description of the process involved concerning each of the listed solutions.
1] Initial checklist
The suggestions included in this initial checklist is intended as quick resolutions or eliminating of the most common underlying problems as it concerns internet connectivity issues generally. So before you try the solutions below, you can do the following, and after each task see if you can successfully connect to the internet and play VALORANT game without issues:
Restart gaming PC and internet device. If the issue is just a 'minor glitch', a quick restart of your gaming PC as well as your internet device should resolve the issue and re-establish a stable internet connection between PC and router/modem.
Check Valorant game server status. Go to status.riotgames.com/. Select Valorant from the list of Riot games. Select the applicable server region from the drop-down list. The current status of the region will be shown. If the website is down for your region, there's nothing much you can do but wait it out. On the other hand, if the servers are up and running, you can check and fix possible network and internet connection problems to resolve any connectivity issues at your end.
Check your PC security software. Check open and blocked ports and make sure all required ports are open. Also make sure Valorant and Riot client entries is allowed via Windows Firewall. For third-party AV or dedicated firewall, refer to the user manual for instructions. Consider you may have to temporarily disable your security software if need be.
Use ethernet (wired) connection. You can use a wired (ethernet) connection or if for some reason you're currently connected via ethernet and experiencing this issue, you can use the WiFi interface instead. In any case, you can fix ethernet connection not working or you can troubleshoot WiFi problems on your Windows 11/10 PC. Alternatively, you can connect via mobile hotspot on your Windows PC.
Flush DNS. If the DNS settings are corrupted, it can prevent certain applications from making contact with the internet. So you can reset TCP/IP, Winsock and DNS settings on your Windows gaming PC and see if that helps.
Read: Not connected, No connections are available in Windows
2] Run Internet Connections Troubleshooter
This solution requires you to run the Internet Connections Troubleshooter; one of the Network-related troubleshooters bundled into the Windows 11/10 OS to help PC users automatically fix network problems.
To run Internet Connections Troubleshooter on your Windows 11 device, do the following:
Press Windows key + I to open Settings app.
Navigate to System > Troubleshoot > Other troubleshooters.
Under the Most frequent menu, find Internet Connections.
Click Run button.
Follow on-screen instructions and apply any recommended fixes.
To run Internet Connections Troubleshooter on your Windows 10 device, do the following:
Press Windows key + I to open Settings app.
Go to Update and Security.
Click the Troubleshooter tab.
Scroll down and click on Internet Connections.
Click the Run the troubleshooter button.
Follow on-screen instructions and apply any recommended fixes.
If this Troubleshooter didn't help with issue in focus, you can use the Network Reset feature to reinstall your Network adapters, and reset networking components to default on your computer.
Read: Network icon says No internet access, but I am connected
3] Configure third-party DNS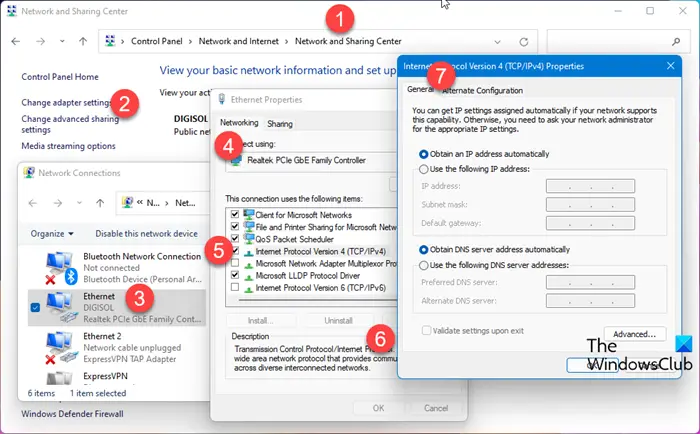 It's possible your ISP may have blocked the game's IP address at the DNS level. So if you're using default DNS, to see if the issue you're currently facing is resolved, you can change to an alternate free DNS like Google Public DNS or Cloudflare DNS.
4] Use VPN/GPN
When it comes to online gaming in general, most internet issues can be resolved by using a VPN/GPN especially if the issue is region-specific and not game server global outage.
On the other hand, a VPN service (if already in use) could be the culprit here; probably the VPN connected but cannot browse the internet or due to some kind of interference that ends up blocking communications between your Windows 11/10 gaming device and the Riot Games server. In this case, to resolve the issue, you can disable or disconnect from your GPN software.
5] Contact Riot Games Support
If you have exhausted all your options as presented in this post, but the issue in hand is still unresolved, at this point your only option is to contact Riot Games support at support.riotgames.com; possibly there are pending issues in-house that are yet to be resolved.
Related post: Fix Origin installation requires an internet connection error
Why does Riot client say no Internet found?
The 'connection error' mostly occurs due to a problem caused by Vanguard, Riot's anti-cheat engine which aims to keep cheaters at bay. Relaunching Vanguard may solve this problem. To do so, first, you'll need to restart your computer. Vanguard will launch automatically at your next boot.
Does VPN ban Valorant?
Geo-blocked games like Valorant are against VPN usage. If they detect you use a VPN, they will block your IP address and/or DNS server. However, you can use a VPN for Valorant to unblock the in-game VoIP chat feature or to access the game if your country doesn't have servers for the game.