This post will help you if you receive DRIVER IRQL NOT LESS OR EQUAL or SYSTEM THREAD EXCEPTION NOT HANDLED, Netwtw04.sys failed error in Windows 11/10. This error can also occur due to Netwtw08.sys, Netwtw06.sys, Netwtw10.sys, etc, files. System files or .sys files are an essential part of the Windows operating system. It is a repository of system driver settings used by the Windows system to communicate with the connected hardware and devices. System files are necessary for the normal functioning of the operating system. Many Windows users are facing the Window Blue Screen of Death error during the app launch or while disconnecting the external devices from the system.
Netwtw08.sys,Netwtw04.sys, Netwtw06.sys, Netwtw10.sys are a part of the Intel PROSet/Wireless WiFi software. You may see two Stop Errors if these drivers fail to load:
DRIVER_IRQL_NOT_LESS_OR_EQUAL What failed: Netwtw04.sys. This indicates that a kernel-mode driver attempted to access pageable memory at a process IRQL that was too high.
SYSTEM_THREAD_EXCEPTION_NOT_HANDLED What failed: Netwtw04.sys. The root cause of this error might be incompatible drivers with the operating system.
Generally speaking, the cause for the Netwtw04.sys blue screen error may be because of several reasons like corrupt files, misconfigured device drivers, malicious programs, outdated drivers, bad drivers, corrupted Windows registry, or due to damaged system files.
Fix Netwtw08.sys, Netwtw04.sys, Netwtw06.sys, Netwtw10.sys BSOD Blue Screen error
In this article, we explain some solutions to fix Netwtw08.sys,Netwtw04.sys, Netwtw06.sys, Netwtw10.sys Bblue screen errors on Windows 11/10.
If you can log in normally, good; else you will have to boot into Safe Mode, enter Advanced Startup options screen, or use the Installation Media to boot to be able to carry out these instructions.
1] Rollback Network driver
If you recently updated the driver software, you need to Rollback the device driver, ie, go back to the previous working version.
Open the Device Manager and click on the entry labeled as Network adapters and expand it. Then, select the driver entries labeled appropriately other than anything in the context of WAN Miniport. Select them one by one and double click on them. It will open a new mini window.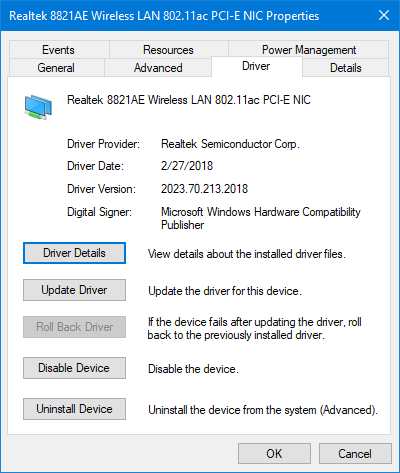 Make sure that you are on the tab named Driver. If you are not, navigate to it. Now, click on the button called Roll Back Driver.
This will install the previously known stable version of the driver installed on your computer.
Restart your computer for the changes to take effect.
2] Update Network driver
If your present driver is giving you this problem, you need to update the device driver. Open Control Panel and click on Device Manager. Click on Network adaptor and right-click on the current driver. Click on Update driver option from the drop-down menu.
You can also download the driver from the manufacturers' website, use Intel Driver Update Utility or can update it online automatically.
3] Run SFC scan
System File Checker is a command prompt tool that scans for corrupted system files including Netwtw04.sys  files as well as repair the corrupted system files. It is recommended to run an SFC scan to repair the problematic system files.
4] Run DISM
Search Command Prompt in the Start Menu. Right-click on the Command Prompt and select the option Run as administrator from the drop-down menu
Type the command the following command to Run DISM and click Enter:
DISM /Online /Cleanup-Image /RestoreHealth
Restart your system. This will repair a corrupted system image.
5] Run CHKDSK
A corrupted hard drive may lead to Netwtw04.sys blue screen error. CHKDSK scans the disk to check if there are any corrupt hard drives.
Open Command Prompt as administrator. Type the command CHKDSK and click enter to check your disk.
Restart your system.
If nothing helps, you may want to consider disabling Hardware Acceleration or performing System Restore and see if that helps you.
All the best!