In this post, we show you how to fix the mtkwl6ex.sys Blue Screen on Windows 11/10 computers. The mtkwl6ex.sys is a MediaTek WiFi device driver, and since you are seeing this BSOD, we can make an assumption that you have a MediaTek WiFi driver that is giving some issues.
There are various BSOD caused by mtkwl6ex.sys, such as the System Service Exception, System Thread Exception Not Handled, DPC WATCHDOG VIOLATION, etc. All of them are primarily caused due to the failure of the mtkwl6ex.sys MediaTek WiFi driver. The symptoms may vary – but the cause is the same!
Fix mtkwl6ex.sys Blue Screen on Windows 11/10
If you want to fix mtkwl6ex.sys Blue Screen on Windows 11/10, then check out the following solutions:
Update MediaTek WiFi Device Driver
Rollback Network Driver
Reinstall the WiFi Driver
Fix Corrupted files
Use System Restore
Let us talk about them in detail.
1] Update MediaTek WiFi Device Driver
You can see the BSOD because of a compatibility issue or a bug, either way, an update is required. So, first of all, we need to update MediaTek WiFi Device Driver. There are various methods to do the same. You can Install Optional Updates as it will update the drivers.
Or, go to the manufacturer's website and download the latest version of the driver. Since the issue is seen on Lenovo Laptops running MediaTek MT7921 driver, they have released an update of the driver that can be downloaded from support.Lenovo.com. You can also go to mediatek.com and see if they have an update.
After downloading the driver, open Device Manager, expand Network adapters, right-click on the driver, and select Update driver. Then click on Browse my computer for drivers, go to Downloads, select the downloaded driver and install it. After updating the drivers, restart your computer and check if the issue persists.
Read: How to find which Driver is causing the Blue Screen
2] Rollback Network Driver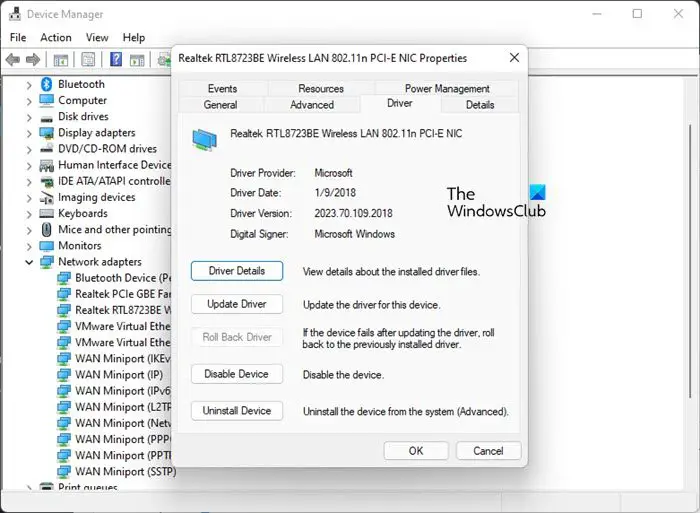 If there is no MediaTek update available, and if you recently updated your drivers, then it is better to roll back to the previous version when everything was working fine. Once, the developer releases an update, you can install it and resolve the issue. Follow the given steps to do the same.
Open Device Manager.
Expand Network adapters.
Right-click on your WiFi driver and select Properties.
Click on Driver > Roll Back Driver.
If the button is greyed out, move to the next solution.
3] Reinstall the WiFi Driver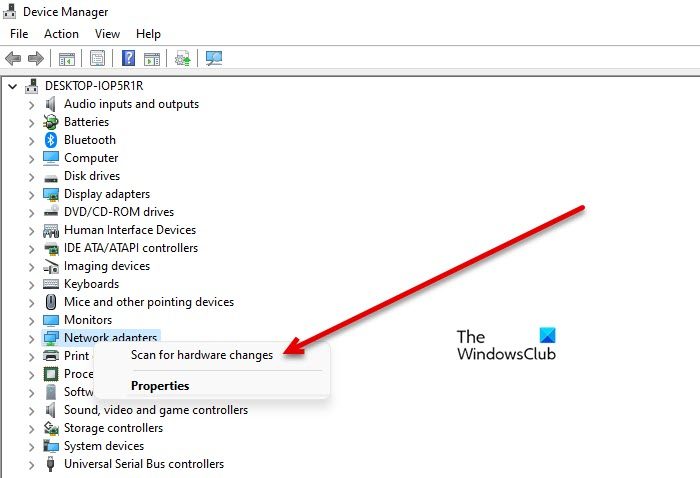 Apart from compatibility issues, you may also see BSOD because of your MediaTek driver if it is corrupted. To resolve it, we need to uninstall and then reinstall the driver.
Before moving forward, it is better to download a copy of the driver from the website, you can check Device Manager to know the exact name of your driver. However, Windows usually detect and install the required driver if it goes missing.
To uninstall the MediaTek driver, open Device Manager, expand Network adapters, right-click on your MediaTek WiFi driver and click Uninstall driver. Confirm your action when prompted. Finally, restart your computer and Windows will install the driver. Alternatively, you can also right-click on Network adapters, and select Scan for hardware changes.
Hopefully, this will do the job for you.
4] Fix corrupted files
You may also see BSOD because of corrupted system files. However, the good news is, these can be repaired. We are going to use some commands to do the same. So, open Command Prompt as an administrator by searching it out of the Start Menu. Then execute the following System File Check command.
sfc /scannow
This will take some time to execute. So, wait for the completion and then restart your computer. If that doesn't work, we are going to execute the DISM command. So, type the following text in the command-line interpreter and hit Enter.
DISM /Online /Cleanup-Image /RestoreHealth
Hopefully, this will do the job for you.
5] Use System Restore Point
If you have created a System Restore Point then this is the right time to deploy it. We are going to restore your system to the point when the BSOD was absent. Follow the given steps to do the same.
Search out "System Restore Point" from the Start Menu.
Click System Restore.
Select a restore point and follow the on-screen instructions to complete the task.
It should do the job for you.
How do I fix inaccessible boot device error in Windows 11?
The Inaccessible_Boot_Device Stop error occurs on Windows computers due to many causes, like corrupted system files, corruption in Boot Partition, etc. To fix this error, you can use some fixes, like editing the boot options, removing the recently added hardware, performing the System Restore, performing a clean installation of Windows, etc.
Does RAM cause BSOD?
Yes, RAMs can cause BSOD, but they are not the only reason. BSOD is a result of your system failure, that be your Hard Disk, RAM, Driver, etc. So, your system can crash because of a faulty RAM stick. If you have two sticks, and one of them has malfunctioned, you can see the error.
Also Read: