The MBR2GPT.exe is a Windows 11/10 native disk conversion tool PC users can use to convert a disk with the MBR partition table to a GPT without data loss and without the need to delete the existing partition. In this post, we will explore the various instances of the MBR2GPT failed errors message, each with its unique description, as well as provide the most suitable solutions as it relates to each of the instances.
Fix MBR2GPT failed errors on Windows 11/10
This guide covers 5 types of MBR2GPT failed errors on Windows 11/10, explaining the causes and providing step-by-step solutions for each situation.
MBR2GPT disk layout validation failed
MBR2GPT cannot find OS partition
MBR2GPT cannot find room for the EFI system partition
MBR2GPT non system disk
MBR2GPT cannot install new boot files
See the sections below in line with the exact error information on your computer to view solutions.
MBR2GPT disk layout validation failed

You'll encounter this error because MBR2GPT program only applies to Windows 10 version 1703, Windows 11 or later. So, if you're running the tool on Windows 10 version earlier than v1703, this MBR2GPT disk layout validation failed error will occur.
Solutions
If you are using a computer running Windows 7, 8, or 8.1, you can upgrade to a currently supported version/build of Windows 11/10.
If you have installed earlier versions of Windows 10 such as versions 1507, 1511, and 1607, you must run the tool while booting into later versions of Windows 10 or Windows 11 and perform an offline conversion.
If the MBR disk has 4 partitions the conversion will fail and you'll receive this error. In this case, try deleting one partition and see if that helps.
MBR2GPT cannot find OS partition

There are a couple of reasons for this error; one of the most common is bad entries in the Boot Configuration Data (BCD). You may also encounter this error if Windows RE (Recovery Environment) is disabled and its location is not set, but it had assigned the same GUID that was failing when running MBR2GPT.
Solutions
MBR2GPT cannot find room for the EFI system partition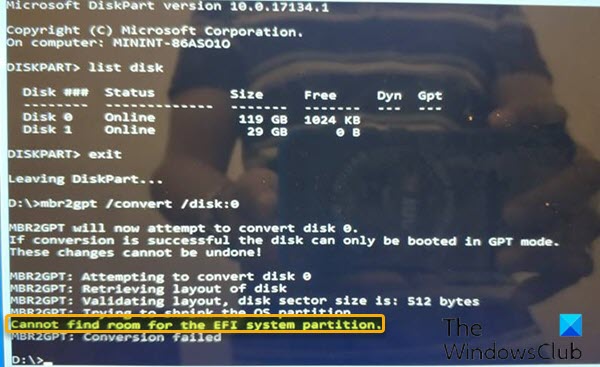 The most common reasons for this error are as follows:
More than four hard drive partitions.

Hard disk with multiple bad sectors.

Shrinking or defragmentation failure due to system files, locked files.

Insufficient space for System Reserved partition.
Solution(s)
Check if the disk is encrypted. If it is, unlock it.
Before conversion, you should check if Windows 10 version is 1703 or higher. To check, click Start, type winver, and hit Enter. You'll receive an output stating your current version/build of Windows 10.

Although MBR2GPT can run in full OS we strongly suggest running it in WinPE. Since MBR2GPT is a low-level operation there are many things that can interfere with the conversion. WinPE is relatively clean and doesn't have a lot of the things that may cause issues, like certain types of filter drivers that touch the disk. However, if you

can't run MBR2GPT in WinPE, then you may need to consider disabling the Page file, Hiberfile, and then rerun MBR2GPT.exe.
Open Disk Management and shrink C drive to about 2GB and leave it unallocated. If that fails, then that means your C drive is fragmented. In which case, you can defrag the disk and shrink it again. Once done, try MBR2GPT. If it fails again, you can use EaseUS Partition Manager to resize the system partition to 600 MBs and then extend the System Reserved partition/volume.
MBR2GPT non system disk
You cannot use MBR2GPT to convert data (non-system) disk from MBR to GPT. If you do want to convert a data disk, you can convert MBR to GPT in Windows 11/10 via Disk Management or Command Prompt – keep in mind, you are at risk of data loss because you have to delete all partitions or volumes on the disk before conversion.
MBR2GPT cannot install new boot files
As already pointed out, it's not possible to convert disks with older versions of Windows OS, such as Windows 8.x and Windows 7, but you can upgrade to Windows 11/10, and then use the tool to convert from MBR to GPT.
Let's know in the comments section below any other MBR2GPT failed errors that you might have encountered that none of the solutions outlined in this post didn't resolve the issue.
Related post: MBR2GPT failed to enable backup/restore privileges.