When trying to update OneDrive, if you receive an error code 0x80070005, this post will help you resolve the problem. The error primarily occurs because of the issue with OneDrive Updates.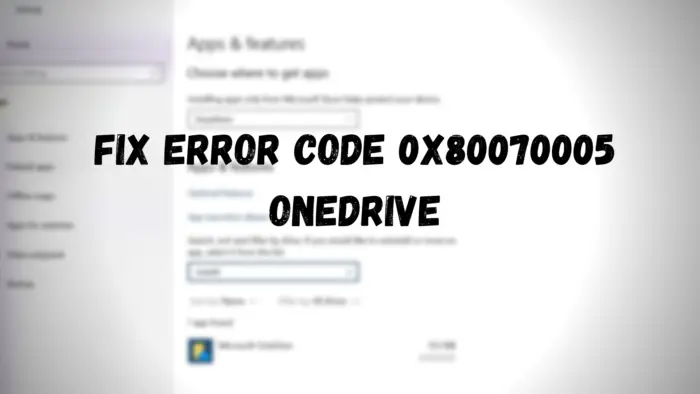 Fix OneDrive Error Code 0x80070005
Microsoft has clearly mentioned that the problem is because of updates with OneDrive. So follow these suggestions to resolve it.
Reset OneDrive App
Reinstall OneDrive
Check for a Windows Update
You will need admin account permission to follow these.
1] Reset OneDrive App
The easiest way to resolve the issue is resetting the OneDrive app by using the built-in command.
Open Run prompt by pressing Win +R. Then Type and execute the command.
%localappdata%\Microsoft\OneDrive\onedrive.exe /reset
Once done, you can then manually restart OneDrive by launching it directly from the Start Menu listing.
Do note that when you reset, it disconnects all existing sync connections, including work and school. However, the files will remain intact.
2] Reinstall OneDrive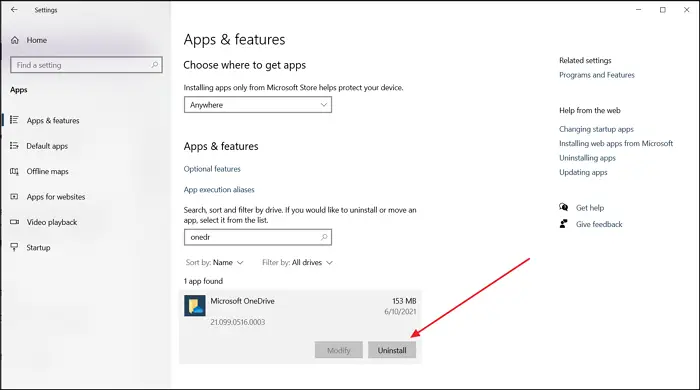 If this doesn't work, then you can reinstall the OneDrive app.
Go to Windows 10 Settings > Apps. Find OneDrive in the listing, select it, and choose to uninstall. Then you can either download the setup file from OneDrive's official website or use Microsoft Store to reinstall it. When you reinstall, link it to the same location, so you do not have to download everything again.
3] Check for Windows Update
Some updates are downloaded through Windows Update. It applies to OneDrive as well.
Open Windows 10 Settings (Win + I), and then navigate to Update & Security. Check if there is an update available related to OneDrive. If yes, download it.
Next, press Win + R to open the Run window, type the following path, and press the Ok button.
%localappdata%\Microsoft\OneDrive\update
Double click on OneDriveSetup.exe to install the latest version of OneDrive
It is important to keep apps updated for them to work as expected. The Error code 0x80070005 appears because the OneDrive is not updated or is not able to update itself. I hope the post was able to help you understand the problem and resolve it.
Useful reads: