This article lists some solutions to fix 0x80040605 Unknown error in Outlook on Windows 11. According to the reports, this error occurs when users try to open their account settings under the Data files tab in Outlook. Such types of issues usually occur due to corrupted Outlook profiles or corrupted Outlook data files.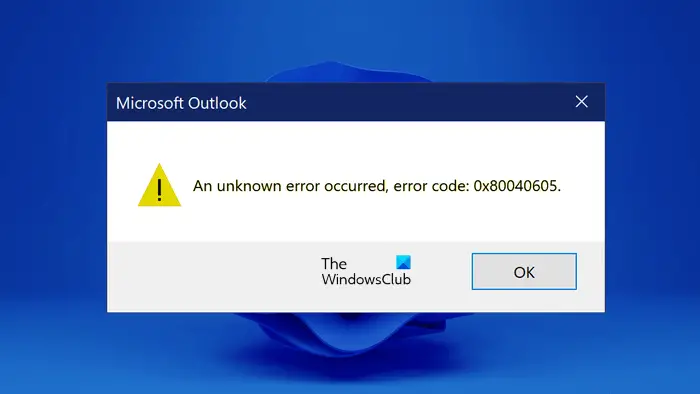 Microsoft Outlook

An unknown error occured, error code 0x80040605
Fix 0x80040605 Unknown error in Outlook on Windows 11
Use the following solutions to fix the 0x80040605 Unknown error in Outlook on Windows 11.
Repair Outlook Data files
Create a new Outlook profile
Export the Registry key
Repair Office
Let's see all these fixes in detail.
1] Repair Outlook Data files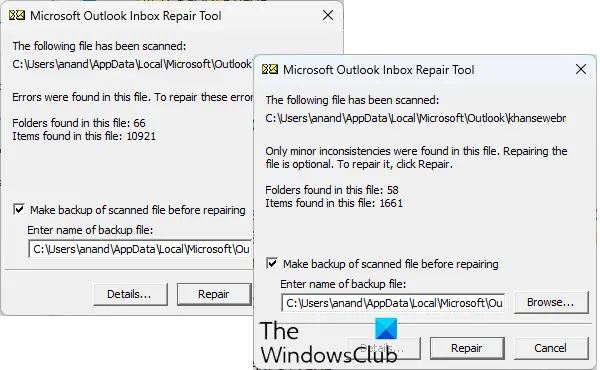 As explained earlier in this article, one cause of this problem is the corrupted Outlook Data files. This may be the case with you. You can repair Outlook Data files and see if it helps.
2] Create a new Outlook profile
Your Outlook profile may have been corrupted due to which you are encountering this error. We suggest you delete your profile and create a new profile. After creating a new profile, add your account to that profile.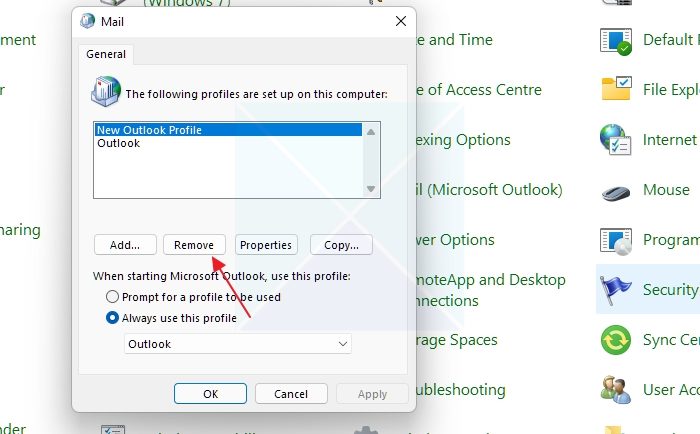 Go through the following instructions:
Open the Control Panel.
If the View by mode is set to Category, go to "User Accounts > Mail." If the View by mode is set to Large icons or Small icons, the Mail option is visible on the Control Panel Home page.
In the Mail Setup window, click Show Profiles.
Select the problematic Outlook profile and click Remove.
After removing the profile, click on the Add button to add a new profile. Follow the on-screen instructions to add your account.
3] Export the Registry key
Outlook lets you create multiple folders to organize your emails in a better way. When you export Outlook .PST file, that file also contains all your folders and subfolders. After exporting the .PST file, you can use it to import your data to Outlook on another computer. Some users encountered the Unknown error 0x80040605 in Outlook during this process. They are not able to export the Outlook .PST file because of the Unknown error 0x80040605. In such a case, you can export the Profiles key from the Registry Editor and merge this key to your Registry on another computer.
Before you merge the exported Registry key on another computer, we recommend you create a System Restore Point and back up your Registry.
Open the Registry Editor. Now, copy the following path and paste it into the address bar of the Registry Editor. Hit Enter after that.
Computer\HKEY_CURRENT_USER\Software\Microsoft\Office\16.0\Outlook\Profiles
In the above path, 16.0 indicates the version of Microsoft Office. You may find it the same or different depending on the version of Microsoft Office installed on your system.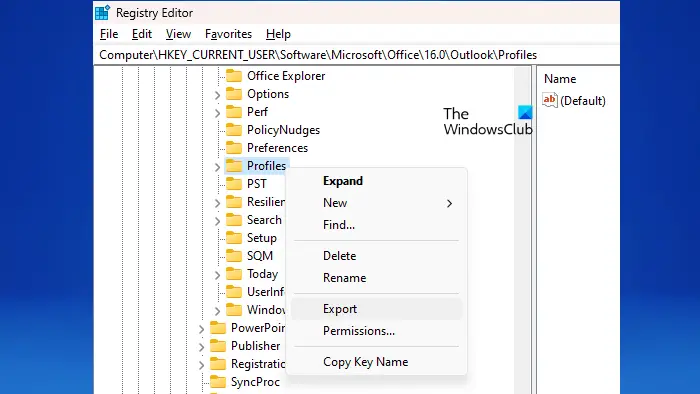 Now, right-click on the Profiles key and select Export. Give the Registry file a name and save it. The file will be saved with the .reg extension. Now, copy the .reg file into your USB storage device and paste it into another computer.
Now, open the Registry Editor on another computer and go to "File > Import." Select the Registry file and click OK. Alternatively, you can also double-click on the Registry file to merge it into the Registry Editor.
When you are done, restart your computer and launch Outlook. Proceed to set up your account if you are prompted to do so. The issue should get fixed.
4] Repair Office
If none of the above fixes resolved the issue, repair Microsoft Office. Run an online repair. This process takes time but helps fix most issues.
That's it. I hope this helps.
How do I fix error 0x80040600 in Outlook?
The Unknown error 0x80040600 in Outlook occurs due to some damage to the Outlook PST file or if the PST file has been corrupted. To fix this error, you should repair the corrupted Outlook Data files.
Why is Outlook not sending emails 0x80040115?
When the error code 0x80040115 occurs, Outlook displays the "We can't complete this because we can't contact the server right now" message. There are many causes of this error, like bad internet connection, conflicting add-ins, corrupt Office installation, etc.
Read next: Cannot select Multiple Attachments in Outlook.