The Windows Installer, also known as Microsoft Installer, is a software component of the Windows operating system, that is used for the installation, maintenance, and removal of software. Sometimes installations fail because the Windows Installer is not able to do its job. Such Windows Installer issues can typically be caused by data corruption, corrupt installations, and so on. While Windows may rollback the installation, the issue would remain unresolved.
In case you face problems while installing programs on your Windows machine, you can refer the logs which are maintained by Windows Installer. But for that, you have to enable logging first. After you have enabled Microsoft Installer logging, you can try to install the application again. Windows Installer will then track the progress and record all the data in a log file. These log files and events can help you troubleshoot installation issues and you can even share them with support professionals.
Verbose logging records more information in the logs generated by the Microsoft Installer. It tracks all changes and settings applied using Group Policy and its extension to the local computer and to users who log on to the computer. They are usually enabled if you need additional data. Such log files are usually found in C:\Debug and are typically large in size.
Enable Microsoft Installer logging & Verbose logging
To enable and collect the Windows Installer logs, download Microsoft Fix it 20095 and run it. This Fix it is for Windows 8 and Windows 7 users only.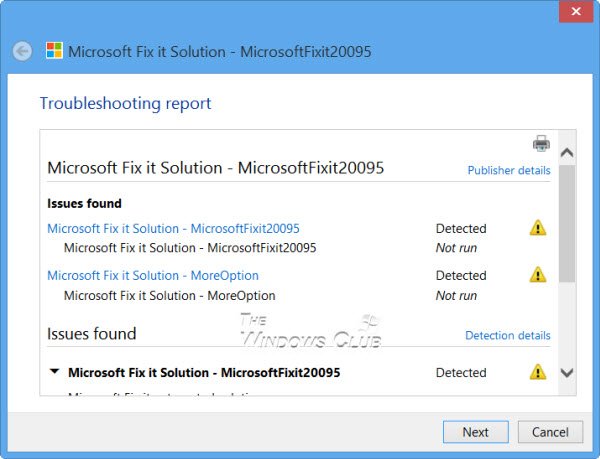 When you enable Microsoft Installer logging, the error codes generated by Windows Installer are captured and stored in the log files. You can also contact Microsoft Support and pass on the error codes or log files to them.
These Windows Installer log names start with 'msi', followed by a bunch of alpha-numeric characters, and are saved in the  .log file format. They are normally stored in the following location, which is hidden:
C:\Documents and Settings\UserName\Local Settings\Temp\
Once you are done, you may disable Microsoft Installer logging using Microsoft Fix it 20096.
Related posts:
Hope this helps!