Microsoft Office installations are usually straightforward, but then it's software and it can throw errors at times.. In this guide, we will look at some common problems & errors during Office installation and see how to troubleshoot and fix them.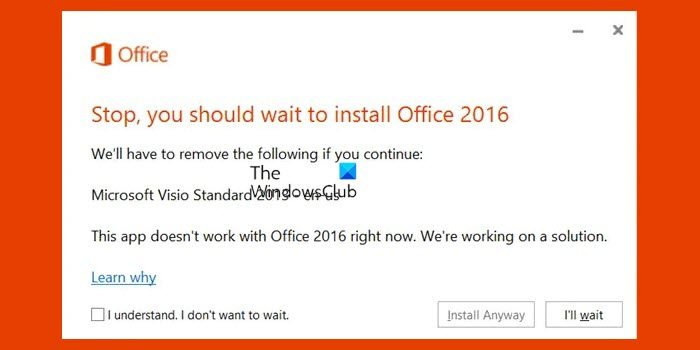 There are a few checks you should always make before any troubleshooting.
Make sure you have an active subscription or an active license.
You have not crossed the limit of the number of allowed devices for install.
Use the same account to activate Office with which you made the purchase.
The fixes can be done by individuals if they are using Office for Home, Office 2021/19. Users of Office for Business & Enterprise admins should view the issues and resolve them.
How to fix Microsoft Office installation errors
If Microsoft Office has encountered an error during setup & it is not installing on Windows 11/10, then this post will help troubleshoot & fix problems & errorsduring Office installation.
1] Uninstall Office for a quick fix
First, you should abort the installation, restart your computer, and try resuming the installation if that doesn't work, use this easy fix tool to uninstall Office completely.
Download the Microsoft Office Uninstall Tool from Microsoft. Use it to uninstall the existing installation and reinstall Office.
2] Office is taking very long to install
This post will help you if Office is taking a long to install or You're on a slow connection message.
3] Unsupported operating system error
You may have downloaded an incorrect version, and when you try to install, you get this error. The best way to install Office is from Office.com or products.office.com.
You may have to uninstall 32-bit & reinstall 64-bit Office.
4] Stop, you should wait to install Office
It is a common Office error. It occurs in two scenarios
If you haven't updated Office to the latest version
Or when you have a standalone Office app that is already included in the newer Office suite of apps
The resolve this, you need to update Office by going to File > Account > Product Information > choose to Update Options > Update Now.
The second option is to uninstall the standalone version of Office.
5] The Install button doesn't install Office
If the Install button is inactive or greyed out, you do not have an active Office 365 subscription. For Home version, you can manually renew it, and for the enterprise, connect with your Admin.
Related: We had a problem installing your Office programs
6] The Dynamic library KERNEL 32.dll can't be located error during Office installation
If you see this error, make sure that your Office installation is supported by your Windows version. You need to download the right Office version for your Windows.
These suggestions should take care of most of the general issues around Office installation issues. If there are some specific error codes, do share them in the comments, and we will cover it in separate posts to solve the problems during Office installation.
If you have the specific error code you face during Office installation, you can search for it here on TheWindowsClub.
All the best.
Read: Office stuck on We're getting things ready screen
How to enable Verbose Logging for Office?
To further troubleshoot Office installation failed errors, enable MSI verbose logging as follows:
Set the following registry keys:
HKEY_LOCAL_MACHINE\SOFTWARE\Policies\Microsoft\Windows\Installer
"Debug"=dword:00000007
"Logging"="voicewarmup"
With verbose MSI logging enabled, you'll get a verbose log file for each component that Office installs. You'll have a verbose log for the installation of the Word component, Excel, and so on.
How do I repair Office 365 installation?
You can repair Office 365 using Settings in Windows 11 as follows:
Press Win+I to open Windows Settings
From the left side, select Apps
Search for Office
Click on the 3-dots to open more options
Select Modify
From the pop-up select:

Quick Repair or
Online Repair

Once the process starts and completes, restart your computer.
You can also repair Microsoft 365 using Command Prompt.