Many folks might not know this, but there are several ways to open or launch the Command Prompt (CMD) in Windows 11/10. It's so easy to do that even if a newborn could do it. OK, maybe we're exaggerating here, but that still doesn't mean the processes are not downright simple. Don't believe us? That's fine because we're going to share with you how to do this without much fuss. For this, we're going to focus on Windows 11/10 so some aspects of opening the command prompt might be slightly different due to the new Start Menu and other things.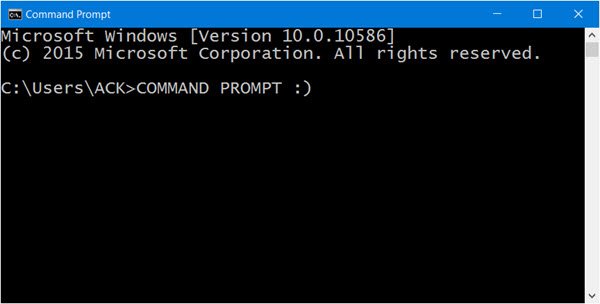 Launch Command Prompt in Windows 11/10
1] Locating the CMD from the apps menu
Click on the Start Button then go to "All Apps." Wait for it to load then scroll down to the Windows System folder, from there, the Command Prompt software should be visible. Bear in mind that if you do not want to scroll, just click on the letter "A" then "W" for faster access.
2] Launch Control Prompt from the Explorer address bar
Bet you had no idea this was possible, eh? To do it, just slide into the area by launching File Explorer. Move the cursor to the search bar. Type "CMD" and click search, the Command Prompt should launch right after.
Read: Ways to open Command Prompt in a folder in Windows.
3] Launch Command Prompt from Task Manager
If you're a regular user of the Task Manager, then there is a cool way to open the CMD without having to move away from the tool. Open Task Manager. Now just press and hold CTRL while clicking on File > Run New Task. That's it, the CMD should now be visible.
4] Launch CMD using Win+X keyboard shortcut
This option is one of the easiest ways to get the job done. Just click on WinKey and X. After that, look for the words Command Prompt and click on it. Easy right? We agree. This option also makes it possible to fire up the CMD as an administrator.
5] Open Command Prompt via the Start Button Win+X Menu
Right-click on the Start Button and select Command Prompt!
6] Launch the Command Prompt using Cortana
Launch Cortana from the Windows taskbar, then search for "CMD" and right away the tool should pop up. This is one of the fastest ways to start the Command Prompt from anywhere on your desktop.
7] Launch the Command Prompt from File Explorer
If everything we've noted above does not work, then go directly to where the file is located. Open your File Explorer, and visit the following section: C:\Windows\System32. The CMD exe file is right there, so just right-click and click "Open."
There are other ways to open the CMD, but we believe these are the best ways to do it. Here is an interesting geeky trick that shows you how to open an elevated Command Prompt using a CMD.